Network Marketing Leader Hicham Laarej Enriches Validus As Manager Of French-Speaking Territories
March 10, 2022
By Team Business For Home
Validus are delighted to announce the appointment of Hicham Laarej to the role Manager of French-speaking Markets. Hicham brings top-flight leadership experience gained from over a decade of ground-breaking achievements in the world of network marketing.
Hicham's accomplishments have achieved unrivalled global success. Through his determination and goal-driven approach, he has dominated the industry, built impressive networks and developed and enabled leaders worldwide.
In 2021, with over a decade of record-breaking sales to his name, and having attained the highest and most sought-after industry positions, Hicham scanned the globe to find the ideal home for his experience, enthusiasm and insight.
"People say I have very high standards. It's true. Second best is never enough for me. When I encountered Validus and learned about its mission and aims, I knew it matched up to my expectations.

I was looking for a company, a family, where I can express my leadership and inspire more people, and my heart tells me that Validus is the place to be."
Validus is proud to welcome Hicham and his trail-blazing direct sales experience to the company. For Hicham, it was Validus' unique setup, its combination of education and universal financial gains, that made up his mind on exactly where his home should be.
"Validus has created a company that has no direct competitor in the industry. The company combines financial education and recurring income. Education is the core of our development, but Validus offers even more than that: it offers an incredible compensation plan."
Looking back, Hicham recognises the value of education for the novice and can see where the Validus system would have fast-tracked his own early development. Raised in the French countryside, later studying business and working within real estate, his intelligence and curiosity led him to seek new ways of living and earning.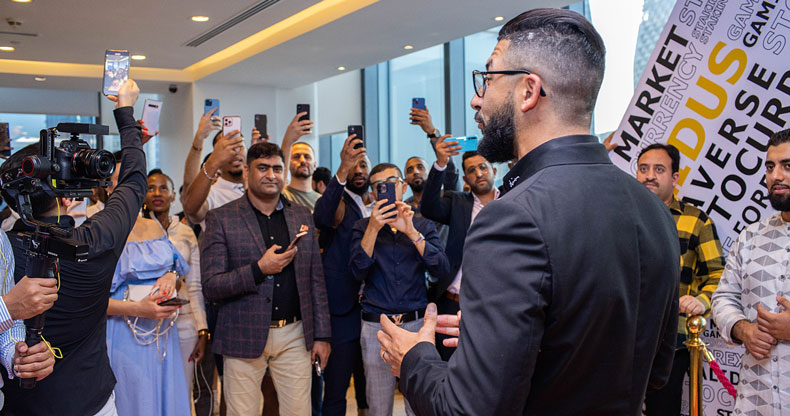 Discovering network marketing, he realised a better living could be made. His adventures in network marketing began, providing the income he desired and the opportunities he craved for time with family and friends.
"I had to create success for myself. The success I created made it possible for people to believe in me. Sustaining success is straightforward – I simply continually IMPROVE myself as a leader, a leader worth following."
It's clear, for Hicham, success has many facets. Central to this is not relying on hype or bending the truth.
The most important things are trust and teamwork. You cannot have one without the other. My favourite challenge and proudest achievement has been building my teams.
Honesty has to be at the heart of everything we do. Only with this true motivation can we achieve. And, with honesty at heart we can achieve anything.
 Looking to the future, Hicham shares his exciting vision of what comes next, as Validus takes its unparalleled networking marketing and education system to every part of the globe.
"I joined Validus to continue accomplishing great things in my life, but most of all to inspire others to identify and achieve their dreams.

In one year's time Validus will have revolutionised network marketing to become the number one choice for network marketing. In five years' time we will have transformed tens of thousands of lives."
 While devoting himself full-time to Validus, Hicham is also philanthropic. His ultimate aim is to create a humanitarian foundation for the betterment of others. But there is a playful side to Hicham too. He enjoys playing football and his favourite times are spent with his family, especially his children.
 On the importance of inspiring others, Hicham is uncompromising in his positivity and focus. He promotes confidence and courage each step of the way, drawing inspiration from great writers and thinkers.
Believing in David Allen's analysis that"
"Those who make the worst use of their time are the first to complain of it's shortness".
 Hicham advises,
"Don't do things that won't pay off – Trust the process. With consistency, discipline, and big ambition, you will succeed."
About Validus
Validus is a network marketing company that provides online education on the financial markets to educate those who are underserved by financial institutions globally.
Validus prides itself on delivering a unique payment and reward programme that pays out those who choose to network and even those who choose not to.
For more information please visit teamvalidus.com
Recommended Distributors Validus