Success Factory Launches Its First Event Of 2022
March 22, 2022
By Team Business For Home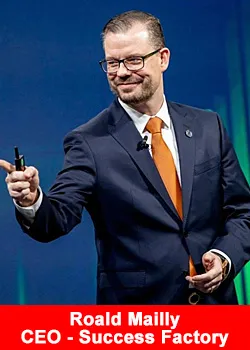 Success Factory's annual Dubai event, "Evolution to Revolution," was taken online this year for yet another spectacular event with top industry leaders. Streamed in multiple languages, the event was broadcasted live as thousands watched worldwide.
Nils Grossberg, one of the cofounders of Success Factory, made a spirited speech that set the tone for the incredible three-day event. From product updates to profound training – and surprising announcements.
Craig Cushman and Jason Tyne, who have been consultants for Success Factory since its launch, are also taking more administrative roles.
Roald Mailly, former marketing director of Success Factory, will be the new chief executive officer of Success Factory Global.
 Craig Cushman will be the new USA Chief Sales Officer.
Jason Tyne will be the new USA Chief Executive Officer.
"I have no doubt that this next step will lead to an explosion for members in the United States and everyone in the field around the world. It is an honor and privilege to be here."
Jason Tyne said as he was promoted.
Confident about their initial vision being fulfilled, cofounders Nils Grossberg and Kris Ress reassured the audience that they would still be on the board and oversee operations.
With world-renowned mentorship and training, the event also unveiled Success Factory's 2022 new Circle of Champions and celebrated those who achieved new ranks.
Updates on their cutting-edge products and were introduced to The View. The View, a developing virtual reality platform – is Success Factory's latest product. It will allow anyone to do anything – virtually.
Kris Ress gave a small glimpse into what the world of The View will look like. His avatar changed a few times, went snowboarding in Spain, then took a stroll in the streets of Jeddah – all in 10 minutes.

Kris also rode a futuristic motorcycle and traveled to a completely different world?
Success Factory's implementation of product innovation like Forex Insiders and The View and mentorship has laid a foundation for continued success.
Success factory is committed to making wealth creation accessible to all of humanity. It seems their commitment is coming true.
About Success Factory
Success Factory is a network marketing company whose primary goal is to promote human potential and support the latest technology, relying on innovative and creative proposals that bring real solutions to the lifestyle in the 21st century.
The company's product catalog is mainly digital, covering the spheres of technology, education, sales skills, and financial expertise.
All while continuously improving quality, usability, and exceptionality and offering its sales force different products to work with. The most outstanding items within the extensive ecosystem of the company are Forex Insiders, The View, and Dagcoin.
Success Factory has become the company that transforms network marketing human lives above all. This company detects, trains, and empowers the sales professionals who will be the industry's great legends tomorrow. Find more information on the company's website www.successfactory.com.
Recommended Distributors Success Factory