Top Leader Trixie Koki From South Africa Joins Validus
March 24, 2022
By Team Business For Home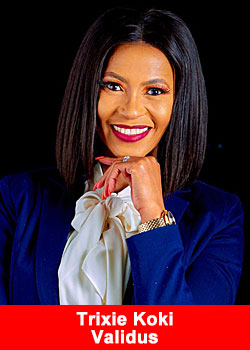 Out of adversity Trixie Koki triumphs as Validus African leader:
Trixie brings her track record of stellar network marketing achievements and her ambitious and highly motivating personality to her role with Validus.
Based in South Africa, Trixie has oversight of the entire African continent. With network marketing contacts spilling from her fingertips, Trixie is poised to make Validus the number one network marketing company in Africa.
Trixie believes in network marketing wholeheartedly and works her business tirelessly to pursue success. This drive, combined with her understanding of many unique social and cultural values, make her the ideal Validus Leader in Africa. However, it is fair to say her journey to success has not been without its challenges.
Trixie Koki says:
In South Africa and Africa generally, online business is not as prevalent as in developed economies worldwide. People believe in live presentations. Sometimes I would drive up to 8 hours for a single presentation, day or night.

My car would get damaged along the way to such an extent that the insurance company criticised me, saying I'm a serial claimant, but I kept going.
Having put in the long hours and the road miles, Trixie saw the fruits of her labour. In her former company, she hit three ranks within a month, becoming the second-highest ranking member of that company in South Africa.
Her ambitions within Validus will take her higher still, as Trixie has the Validus top tier, Crown Diamond, as her prize. But she would be the first to tell you that it's not just about achieving the ranks. It is what lies behind that ranking and what it means for all the others in her teams that counts.
Crown Diamond is my ultimate goal in Validus. Hitting the highest rank will mean I have empowered people because such ranks are not achieved individually.

It would help if you had well-coordinated teams that are motivated and hungry for success. 
When asked about her success, Trixie confirms that communication and accessibility to her teams are crucial. She identifies inspiring and motivating her team as being her greatest strength.
For Trixie, it is all about good communication. She engages with her teams daily and ensures to remind them of the company's vision to keep them locked in on their goals.
Discovering Validus through previous associates, Trixie was initially impressed by the Validus compensation plan and road map. Learning more about Validus, Trixie identified the well-structured detail of the compensation plan and the empowering Forex trading education as being of great importance.
She believes the Validus system will create confidence in online business while the platform empowers communities in her home continent.
Holding qualifications in Financial Accounting and Banking, Trixie has a background in airlines, banking and catering. But she found her true path when she attended a presentation on Bitcoin near her home in South Africa.
This event marked a hugely significant transformation point in her life. Trixie found this event so transformational that she now believes her professional career can be split into two parts: life before and after network marketing.
As a married woman and mother of two, Trixie had been searching for the right place for her talents and had suffered significant business losses. Today, Trixie has both properties and businesses to her name, and her focus is full-time on Validus.
To say network marketing has changed my life is an understatement. This business has allowed me to live a more positive life.

I travel a lot, and I can also spend more time than ever before with my loved ones. 
An ambitious overachiever, Trixie's long term goals are unsurprisingly set very high. A humble philanthropist, she hopes: To produce more leaders and to eradicate poverty and unemployment in her country through network marketing.
About Validus
Validus is a network marketing company that provides online education on the financial markets to educate those who are underserved by financial institutions globally.
Validus prides itself on delivering a unique payment and reward programme that pays out those who choose to network and even those who choose not to. For more information, please visit teamvalidus.com.
Recommended Distributors Validus