Vyvo Appoints Robert "Bo" Short As CEO Of Vyvo Inc.
March 11, 2022
By Team Business For Home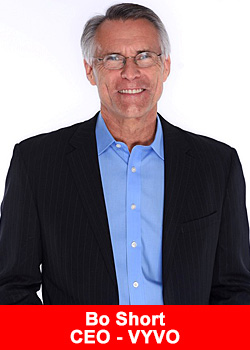 Robert "Bo" Short has been appointed to serve as Chief Executive Officer of Vyvo inc., to develop, implement and lead its growth, beginning with its U.S. launch and subsequent global expansion.
Fabio Galdi, the current CEO remains as Vyvo Chairman, Chief Technology Officer and takes on the role of Vyvo's Chief Visionary Officer.
Short has spent 32 years in the direct selling industry and has built teams in 100 countries. He is a legendary leader and currently ranks as one of the top lifetime income earners in the industry. Short has also owned two direct selling companies and has served in C-level positions in two publicly traded companies.
Vyvo's founder and visionary, Fabio Galdi, said:
"I am delighted to welcome Bo Short to Vyvo. He brings to this team the undisputed success of a team-builder, the insights and understanding of a company owner, and the much-sought-after skills of an exceptional business leader.

We recognize Bo's experience, and we are excited to work with Bo as he leads our U.S. launch and subsequent global expansion."
In his new role as CEO, Short says,
"I am honored to be a part of this innovative company that is ready to deliver its disruptive, life-changing technology worldwide.

I am confident Vyvo will set the standard for customer engagement and interaction when we introduce this incredible technology, along with the most generous customer rewards program on the market.

We will pre-launch the U.S. market within 90 days, setting the stage for our global expansion. Stay tuned for pre-launch information."
Short also brings leadership expertise from outside of the direct sales industry. As former president of the American Leadership Foundation, he's reached more than 1 million people in 34 countries with his insights on leadership and personal development. His bestselling books include The Foundation of Leadership and Living to Win. He has appeared on numerous radio and television broadcasts as a leadership expert.
About Vyvo Inc.
Winner of a 2021 Deloitte Technology Fast 500 Award for being one of the fastest growing tech companies, Vyvo's mission is to use its Life Sensing Technology™ to improve the health, wellness, and financial well-being of its Members.
Vyvo has created a unique revenue-sharing business model that empowers millions of people worldwide by enabling them to bring tangible benefits to all Vyvo LifeWatch wearers.
These benefits include personal health and wellness reports, Guardian Alerts, and rewards for using a Vyvo LifeWatch. Vyvo's technology, inspired in Silicon Valley and used worldwide powers the first self-funding Decentralized Digital Health Ecosystem where everyone can prosper. For more information, please visit Vyvo.com.
"Vyvo" is a trade name of Helo Corp., a US public company (OTC: HLOC) with two subsidiaries in the US (Vyvo Technology Corp., in California and Vyvo Inc., in Florida) and other subsidiaries worldwide, including Vyvo Network Japan KK in Japan, Vyvo Network Pte Ltd in Singapore and Taiwan, and Vyvo Smart Ltd in Ireland.