Jose Estrella From Peru Achieves Crown Diamond Rank At OmegaPro
April 19, 2022
By Team Business For Home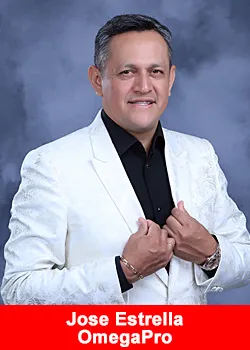 Jose Estrella is one of the most prominent leaders in the entire network marketing community in Latin America, and not only within his company, OmegaPro. His rise over the last couple of years could certainly be labelled "stratospheric".
Jose Estrella has positioned the Peruvian leadership at high levels in the Latin market, creating an important number of Diamonds within his organisation in his home country. However, Jose Estrella is an international leader, with his team spreading across several countries and adding new ones to the list in short order.
The success of Jose's leadership lies in his ability to dream, his willingness to work hard and his open-mindedness to learn.
Jose is a humble person. However, he insists it hasn't always been like this: Jose had to learn a lot. Born into a poor family, Jose defines his childhood and young adulthood as a period of "survival", a state of survival rather than a state of poverty, which taught him to develop the willpower to work hard, always in search of an improvement for his situation.
Another of this leader's characteristics when it comes to achieving goals is an iron determination, which led Jose to a stable job in the mining industry. But stability doesn't always mean security, much less abundance and definitely not growth.
Jose Estrella soon realised that in this way, he was never going to achieve a real improvement in his standard of living and that he was only at a somewhat higher level of his "survival status".
"Stability is often at odds with freedom. You can understand that you could be worse off, but you also have to understand that if everything stays the same, it won't get better either. And that is a thought that kept me awake at night".
Jose Estrella then began to consider making a change in his life: another industry, profession. And that was where he decided to become an entrepreneur. Jose's first business venture didn't turn out as he had hoped, but it was a learning experience, despite having brought him some very hard times with lot of debts and failed projects.
Jose was already starting to get his career back on track, learning from his mistakes and settling debts when he discovered network marketing, another entrepreneurial model that he hadn't dared to approach until then.
"I knew about network marketing, but from afar. I didn't see myself as a salesman knocking door to door with a briefcase, which is how I thought it was going to be.

But a friend of mine invited me to a business presentation, and I saw that I was wrong, that there was so much more I could do.

There were very modern and innovative companies, offering new services more in line with these times of digital economy. That really appealed to me. I went in thinking about a very old business model and I came out discovering a whole new world."
In June 2019, Jose Estrella joined OmegaPro and there, he began to build his success step by solid step.
"It wasn't just about doing business, but I started a personal transformation, on a mental and spiritual level. A transformation of my knowledge and values."
One of the achievements Jose Estrella is most proud of is having created in his first year of work over 200 new entrepreneurs in the city of Iquito, which is a traditionally impoverished region of the Amazon.
In September 2020, Jose achieved the Diamond rank, his first major triumph in the industry. By then, he had already completed much of the life transformation he was seeking: a freer and more abundant lifestyle, his debts completely paid off and forgotten. However, Jose was beginning a new transformation he hadn't expected.
Over the following few months, Jose set his sights on transforming more people and impacting entire regions, bringing his personal story as a testimonial that change is always possible.
By February 2021, Jose already was Blue Diamond.
"I was breaking the cycle and creating a new legacy. And it is at this point in my life that I am aware of how much I have changed to get to this point.

I had learned something very important, and it is service: being there for people. Leadership is that, it is taking care of your people and leading them on the best path, taking the right steps".
In September 2021, Jose Estrella achieved the rank of Black Diamond. In just 2 years, he was already generating 7-figure earnings, something he couldn't even dream of in his youth. For Jose Estrella, reaching this rank was, above all, a simple reflection of having brought hope and prosperity to areas where it is not abundant.
One of Jose's current goals remains to impact more than 30,000 people and to bring a drastic change in the lives of at least 10% of Peruvians in the next 4 years.
Now, in April 2022, Jose Estrella has reached the rank of Crown Diamond, a big dream and the highest rank at OmegaPro.
Jose doesn't speak of wealth, but of a transition from a state of survival to a state of abundance. A transition that has been a hard road, but one that is walked with perseverance.
These are emotional moments for this leader, who thanks all those who have believed in him along the way.
"My family has been a great pillar for me, they have been an essential part of everything we are achieving.

I would also like to thank Angie Amaya, who first showed me the way so I could walk it, and Juan Carlos Reynoso, without whom we wouldn't have this transformative project in Latin America.

And, of course, to Mike Sims for being a great inspiration".
Jose Estrella, in addition to his work with OmegaPro, is active in personal development projects outside the network, promoting conferences and educational activities that seek to empower people through a process in which they must connect with themselves, their desires, discovering their potential and strengths.
In fact, it was while preparing a multi-day training event when Jose found himself receiving and celebrating his promotion to the highest rank at OmegaPro, Crown Diamond. An event where he will share with numerous participants, in Peru, trainings and activities, in collaboration with his friend and personal development professional Yoniel Garcia.
This facet of Jose's career as a developer of human capacity is proving to be a particularly important one for him. The teachings and the values are faith, service and humility, which Jose has put above all else and which are bringing him the greatest benefits: those that are not monetary.
About OmegaPro
The mission of OmegaPro is to deliver a secure world class trading experience to all clients – both retail and institutional. We continually invest in new technologies and people, to provide our clients with a diverse range of trading products and exceptional trading outputs.
Moreover, we put a major emphasis on account security – we use the most advanced tools and encryption protocols and provide plentiful market liquidity to ensure your capital. Thanks to the vast market volume that OmegaPro handles and our strict risk policies, we can ensure that your account with us is secure, while connecting you to the fast-paced global markets.
With over 1.5 Million members joining the OmegaPro family since its recent inception in 2018 – this revolution of bridging the gap between the traditional and the digital is just getting started!
Driven by the virtue of innovation and an ambition towards unparalleled idiosyncrasy – OmegaPro is 'Building wealth without border for people without borders'. For more information please visit: www.omegapro.world