ByDzyne's Fernando Garcia and Tatiana Ruiz from USA Achieve 1-Star President Ranking
June 16, 2022
By Nicole Dunkley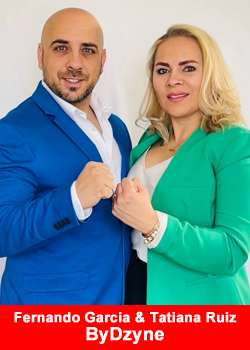 The latest stars to join ByDzyne's boundless list of emerging leaders are Fernando Garcia and Tatiana Ruiz, as the couple from the USA recently accomplished the 1-Star President rank.
* A President generates over $200,000 in sales revenue during a half-a-month span. 
Fernando and Tatiana, originally from Spain and Colombia, but currently reside in the rocky mountains of Colorado, USA, have been entrepreneurs in the traditional market for almost two decades.
It was not until five years ago, that they were first introduced to network marketing and the unlimited potential the industry provided then and strongly believe to this day. 
Currently, as fresh and compelling leaders with ByDzyne, they've impressively built a team that spans over 10 countries, at a company they believe is set apart from the rest.  
 "It was like love at first sight; ByDzyne's corporate vision is incredible. The variety in terms of trends in our company means that we are always in momentum and growth.

I think that ByDzyne marks a milestone in the industry because this corporation actively listens to networkers, its compensation plan is fair and sustained over time, and the corporate team is always looking for innovation.

We are so grateful for them because they are creating a company for the generations to come, and it gives us a lot of peace of mind to building it big here,"
expressed Fernando and Tatiana. 
Motivated by their combined goals of helping at least 5,000 people change their mentality, reach their financial aspirations, and ultimately be able to 'dream' again, the couple has been appreciative of their journey, from the people that have encouraged them along the way in addition to the invaluable life lessons they've learned over time. 
"Thank you to God for giving us every day the opportunity to continue improving in this world and with the energy and strength to continue growing.

We are so grateful to our mentors, Crowns Gustavo Salinas and Marcell Rodriguez, for always supporting us unconditionally in training, leadership, meetings, and physical events.

The great Tony Robbins says 'make a decision not with your head but with your soul because it is the only way to achieve it.' We did that here together with people from our organization, massive action, and teamwork,"
shared the appreciative couple. 
Chanida Puranaputra, ByDzyne's chairwoman, is delighted with their recent triumphs and is confident that if they stay the course, even shinier victories are up ahead. 
"Congratulations to Fernando Garcia and Tatiana Ruiz for hitting 1-Star President!

Your hard work, your desire to change the lives of others, and your 'never quit' attitude has brought you to this point, and we celebrate both of you and this well-deserved accomplishment today.

Keep believing in yourself, keep dreaming big, and we know you're going to be even more successful,"
declared ByDzyne's co-founder.
The success they dream of is to reach the 3-Star President rank by the end of the year, and simultaneously lead their team of people to generate more income than ever before.
Regardless of that outcome, for Fernando and Tatiana, the story remains quite simple—it is about their connection, empathy, and true understanding. 
"Our great rapport as a couple and partners has allowed us to get the best out of each other and help many people improve their income, pay off debts, and be able to travel and create a beautiful family of networkers. We are grateful,"
disclosed the couple. 
* ByDzyne makes ZERO income guarantees. It takes hard work and dedication to make a substantial income. All results may vary. In the year of 2020, the typical annual income earned by an active ByDzyne Brand Ambassador is $540.05 and the median amount of commissions, bonuses, and overrides received by all active Brand Ambassadors in ByDzyne is $0.00. For the full income disclosure, please visit www.bydzyne.com/IDS
Recommended Distributors ByDzyne