ByDzyne's Juan Pablo Velasquez from Colombia Achieves 2-Star President
July 14, 2022
By Nicole Dunkley
Another breakout star has emerged from Latin America, with the arrival of ByDzyne's newest 2-Star President from Colombia, Juan Pablo Velasquez.
*A 2-Star President generates over $400,000 USD of sales revenue in two weeks or less. 
Juan Pablo, a 25-year-old leader on the rise that has remarkably only been in the industry for the past four years, knew it felt right when he was first introduced to ByDzyne 18 months ago.
He remembers not hesitating for even a single second, for he knew it was and still is the very best opportunity out there.   
"I decided to start in ByDzyne because it is a company 'dzyned' for all types of people, from youth to old.

This opportunity provides excellent products and services and allows us to anticipate different trends that are on the rise in the world. For this reason, I am very grateful to the ByDzyne executive team.

They are people who are always willing to innovate and improve, and create the right environment for the company and its people to be able to grow faster, bigger, and more sustainably,"
shared Juan Pablo.  
Motivated to earnestly inspire his family, including his mother, father, and brothers, as well as his ByDzyne team, Juan Pablo has worked tirelessly from day one to see those around him thrive.
He describes the last four years as monumental in his rise to stardom, reminiscing on the everyday moments that have gifted him the privilege to grow, improve, and develop into the best version of himself.
He knows he's now reaping what he has sown but is quick to acknowledge all those that have been instrumental along his journey. 
"I attribute this achievement first of all to God, for none of this would be possible without Him.

In addition, my mother has been a fundamental person throughout my process and she's the person that has been there for me from day one in both the good moments and the not-so-good ones.

God also rewarded me with the best team, and I have some superstars co-creating with me.

And finally, to my mentor Daniel Lopez, a person who has taught, guided, and trained me from the first moment I am eternally grateful for you for always keeping me on the path, no matter the difficulties,"
expressed the Colombian leader. 
Chad and Nattida Chong, ByDzyne's cofounders, are delighted for their South American breakout star and believe he's a prime example of what true hard work and confidence can do.
"Congratulations to Juan Pablo Velasquez on hitting the 2-Star President ranking!

BD Nation celebrates you today, and it is well deserved. You have not even been in this industry for five years, and you are already on your way to becoming a mainstay in Latin America.

You are living proof that with the right mindset, hard work, and a never-give-up attitude, your dreams are possible,"
conveyed the Chongs. 
Those dreams don't stop here. Juan Pablo, who hails from Rionegro, a small city in the Colombian Andes, is determined to lead his team to even greater heights—in income, flexibility, and self-belief. And if ByDzyne's newest 2-Star President has achieved what he has in just four years in the industry, there's no telling how high he will go.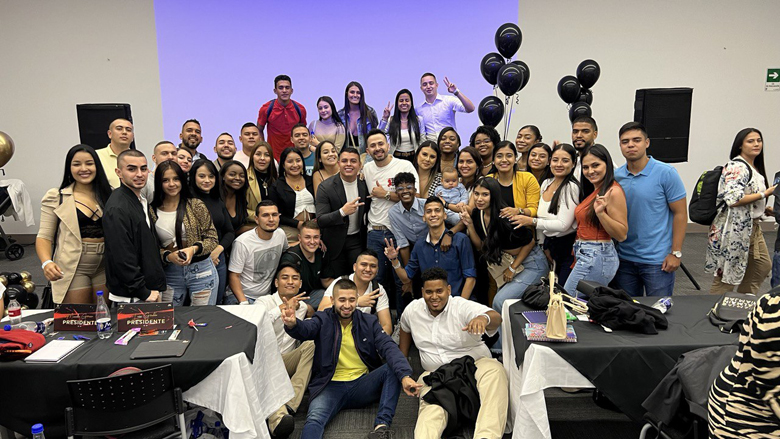 * ByDzyne makes ZERO income guarantees. It takes hard work and dedication to make a substantial income. All results may vary. In the year of 2020, the typical annual income earned by an active ByDzyne Brand Ambassador is $540.05 and the median amount of commissions, bonuses, and overrides received by all active Brand Ambassadors in ByDzyne is $0.00. For the full income disclosure, please visit www.bydzyne.com/IDS
Recommended Distributors ByDzyne