ByDzyne's Paula Landino and Samer Yorde Become First 2-Star Crowns From USA
August 24, 2022
By Nicole Dunkley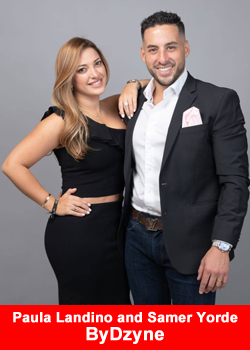 Living proof that anything is possible with the right motivation, attitude, and vehicle, ByDzyne's Paula Landino and Samer Yorde have scaled yet another formidable mountain by becoming the company's first 2-Star Crowns from USA. 
* A 2-Star Crown generates between $2 – $4 million in sales revenue during a two-week span. 
From former restaurant owners to network marketing icons, the couple has reached this historic milestone with less than five years of industry experience.
Although Paula and Samer, who currently reside in Miami but are originally from the vibrant northwestern city of Maracaibo, Venezuela, have shattered numerous company sales records en route to becoming 2-Star Crowns, the journey has been rather quite simple for them—it's always been about others. 
"We only reached this rank by fulfilling our same work principle, which is to help our business partners and allies achieve their goals and their ranks.

It motivates us at this time to continue being a source of inspiration for thousands of people who know that if they try hard enough they can achieve much more in their lives.

We have achieved a very beautiful chain of favors with all our partners and leaders, and therefore we want to continue and help more than 10,000 families to achieve their personal goals, to achieve their dreams, and whatever else they want!"
expressed an inspired Paula and Samer. 
And the Venezuelan leaders believe there's no place better suited to fulfill those needs than at ByDzyne. In just four years, the company is operating in close to 50 countries, has sales that have doubled year after year, and continues to infiltrate the world's most dynamic trends, including in the digital, travel, and wellness sectors. 
"We met and saw the vision of the owners of the company and we loved it! What makes this company different are the owners of this company with all their experience and the leaders that are present here.

Look, companies can be copied, the products too, but the servant leadership that we share, few can duplicate it. That is why this company is different; we are all here to receive and help the next leaders who will join us,"
shared the Floridians.  
ByDzyne's executive team couldn't agree more. They not only have high praise for their newest 2-Star Crowns but also rejoice in the mindset of that instrumental expression of servant leadership. 
"Congratulations to Samer Yorde and Paula Landino on becoming the company's first 2-Star Crowns from USA! Your care for others is infectious, and it is the reason why you both are victorious today.

You are an inspiration to so many, and we believe your desire to see others succeed will be transformational for ByDzyne and all current and future Brand Ambassadors,"
conveyed Nat and Chanida Puranaputra, ByDzyne's chairman and chairwoman.
 "We are so proud of you Paula and Samer! You both have a drive that impacts all those you lead, and we see it day in and day out in how you care for others.

We celebrate you both today on this wonderful accomplishment, and believe there is so much more to come,"
declared Chad and Nattida Chong, the company's co-founders. 
Deeply grateful for their faith in God, for each other, the company's executive team, their team worldwide, and for all the victories and the challenges on this journey, Paula and Samer are appreciative of it all.
While becoming ByDzyne's first 3-Star Crowns is on their list of future aspirations, Paula and Samer's next goal is actually to develop 3 new Crowns and 10 new presidents in their Elite Family Team. Like it has always been, and will always continue to be, the couple has dedicated themselves to helping people rediscover themselves again and find true happiness. 
"We are aiming to create a platform that is the home of the best leaders in the world and by helping more families find a better way to earn a living with quality time with their children or loved ones!

Let's continue building from love and we can overcome all challenges!"
proclaimed the motivated leaders. 
* ByDzyne makes ZERO income guarantees. It takes hard work and dedication to make a substantial income. All results may vary. Between 07/01/2021 to 06/30/2022: The number of active Brand Ambassadors (BAs) who have not received any commissions, bonuses or overrides is 19,901 or 77.12% of such BAs. The median amount of commissions, bonuses and overrides received by all active BAs is $0.00. 77.12% of all active BAs have received, in the aggregate, less than or equal to this amount.   22.88% of all active BAs have received, in the aggregate, more than this amount. The average amount of commissions, bonuses and overrides that have been received by all active BAs is $688.90. For the full IDS, please visit www.bydzyne.com/IDS.
Recommended Distributors ByDzyne