Armando Val From Peru Achieves Black Diamond Rank With OmegaPro
September 8, 2022
By Nicole Dunkley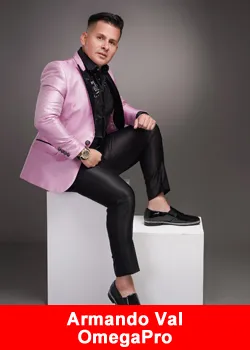 After two years at OmegaPro, Armando Val reached the rank of Black Diamond. But this path was not easy and it all started three years ago when he decided to take charge of his life.
The first year he was plagued with difficulties, but despite that, he did not give up and kept going. This is how he came to OmegaPro and his life changed forever.
"For the dreams and goals that I had in life, the salary I received was not enough. I had to do something different. But what? To start any business, I needed capital and that was the least I had.

I understood that the world had changed. Now everything is digital, technological".
He started searching the internet for digital businesses. He spent long hours in front of his computer and saw many options. But he didn't know which one to trust until he found a friend who started teaching him about digital marketing.
At first, he had doubts about him, but he saw something in him that caught his attention: his results and the certainty that in less than two years he would become a millionaire.
Without giving it much thought, in less than two weeks he acquired capital and was immersed in the world of digital investments.
With the tenacity and determination that characterizes him, Armando set out to make it work. He knew it wasn't going to be easy. He started with nothing, but with a great belief that he was going to make it. There were many obstacles along the way. He got scammed twice, but that didn't put him off. On the contrary, he took it as a learning experience and moved on.
"I have read the lives of many successful people and it is a path full of obstacles. But everyone was clear about their goal and so was I.

I kept researching and came to OmegaPro, a company I've been with for two years. Not only have I recovered what I lost, but I have also won and made many people win".
At this moment, Armando has forty thousand people on his team throughout Latin America and Europe and that is why he lives traveling all over the world. Because he knows that not everything is an investment, that the profit is also in building networks and teams. That is why he gives conferences to introduce the opportunity to more people and thus share knowledge and experience.
"I am an investor and a team builder at the same time. In digital business, profits are very fast and people have not realized that yet.

One has to be a visionary, see the trend that exists at the moment, and take advantage of it. I have always said that this business is not about sales or getting people. It's about inspiring them."
As a leader, he shows his partners, and those who want to join him, the great opportunity to achieve their dreams and goals and to work as a team as a big family that supports each other. After all, Armando's dreams have begun to come true. He lives in a luxurious apartment in the best area of ​​Lima and has three expensive cars.
"My life took an incredible turn. I get up and wonder. What is this? What happened? I feel blessed. Every day I thank God for giving me the mentality I have, the strength, and the desire to grow. I thank him for giving me the qualities that have allowed me to achieve my dreams and help others achieve theirs."
About OmegaPro
With over 1.8 Million members joining the OmegaPro family since its recent inception in 2019 – this revolution of bridging the gap between the traditional and the digital is just getting started!
Driven by the virtue of innovation and an ambition towards unparalleled idiosyncrasy – OmegaPro is 'Building wealth without border for people without borders'.
For more information please visit: www.omegapro.world