ByDzyne's David Lemos from Colombia Achieves 1-Star President
October 5, 2022
By Nicole Dunkley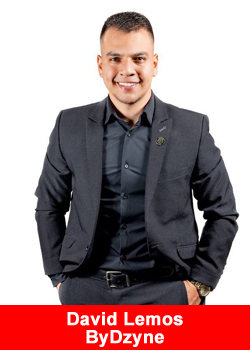 Adding to its list of talented rising stars, ByDzyne's David Lemos from Colombia has become the company's latest 1-Star President and up-and-coming leader from Latin America. 
* A President generates over $200,000 in sales revenue during a half-a-month span. 
David, who resides in Tuluá Valle, a major industrial and commercial center in Colombia, interestingly previously worked for a few years as a formula analyst for Colombina, one of the country's largest candy companies.
Hungry for a better life for himself and his family, David stumbled upon network marketing in 2020 and his life has changed ever since. While he's fiddled with a few different companies, it was clear to him that ByDzyne was set apart from the field.  
"From the very beginning, Bydzyne's vision was colored by its core values.

God first, family second, business third and that was what made me identify with the company because I come from a Christian family that loves God, and here at ByDzyne I knew I could build long-term.

Time has passed and I see that it's better than what I even dreamed for! I would like to thank all of the executive team for creating ByDzyne; it has changed my life and thousands of other families around the world by giving us the best products on the market.

I thank God for giving you the wisdom to create this great company!"
expressed the jubilant leader. 
Motivated by his faith, family, and team, ByDzyne's newest 1-Star President has always been about acknowledging those that have been a part of his journey. He smiles when he thinks about that list, and is quick to give them all the credit. 
"God has made it all possible; He gave us all the attributes to make it happen and His grace is upon ByDzyne and my mentors. I also love my team and I love seeing them win; I want to help them achieve their dreams.

And finally, I need to give the biggest thanks to my wife Veronica Valencia. She is my rock, for without her I would not be David the President. Everything I have and I am is because of her unconditional support.

She is a woman to admire, she is my whole life, she supports me 100% in the business, she is with me through thick and thin, and that's why she was the most important component in this achievement."
With that gratitude, the Colombian also acknowledges that ByDzyne's leaders are some of the best people in the world. He attributes his mentors—Alexander Ortiz, Marcell Rodriguez, and Gustavo Salinas—as foundational in his rise to local stardom and attributes their dedication and commitment to his growth which has made transformational impact. 
ByDzyne's executive team has also recognized that transformation and is elated for the growth they've seen in their young Latin American superstar.
"Congratulations to David Lemos on becoming ByDzyne's newest 1-Star President!

BD Nation celebrates your hard work and efforts today, David, for this wonderful achievement. Continue believing in yourself and your dreams, and know that anything is possible!"
conveyed Chad and Nattida Chong, ByDzyne's cofounders. 
When asked about those dreams, it's pretty straight-forward for the young entrepreneur. He's just ready to get going.  
"3-Star President in 90 days and Crown by December are lofty goals, but with the pace we´re on, it is possible. I declared it and I know before the end of 2022 I will be Crown. God promised it and it is going to happen!"
shared David. 
And you wouldn't bet against him. For the South American leader, who recalls a childhood that was a struggle at times, even going bankrupt on a few occasions, there is nothing like the freedom and opportunity of network marketing.
Through the industry and his chosen vehicle of ByDzyne, he's confident that he will realize his dreams of one day becoming a millionaire before his 30s. 
* ByDzyne makes ZERO income guarantees. It takes hard work and dedication to make a substantial income. All results may vary. Between 07/01/2021 to 06/30/2022: The number of active Brand Ambassadors (BAs) who have not received any commissions, bonuses or overrides is 19,901 or 77.12% of such BAs. The median amount of commissions, bonuses and overrides received by all active BAs is $0.00. 77.12% of all active BAs have received, in the aggregate, less than or equal to this amount.   22.88% of all active BAs have received, in the aggregate, more than this amount. The average amount of commissions, bonuses and overrides that have been received by all active BAs is $688.90. For the full IDS, please visit www.bydzyne.com/IDS.