Sébastien Lesel From Achieves Blue Diamond Rank At Validus
January 11, 2023
By Team Business For Home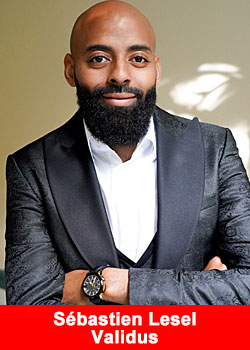 Sébastien Lesel has packed a tremendous amount of living into his 34 years. A natural motivator, tenacious in business and able to pass on his skills and know-how with ease, Sébastien is delighted to rise to the rank of Blue Diamond with Validus.
Based in Paris, Sébastien conveys the French spirit of elan, an engaging flair combining generosity and warmth of spirit, as he shares his MLM journey. A man of deep religious and personal faith, a devoted family man, and a keen football follower, Sébastien finds all aspects of work life harmonious at Validus.
Sébastien says:
"I love what I do and the potential it brings to change my own and other people's lives. I want to fill a football stadium and share with everyone there the power they have to change their lives through Validus."
Always outgoing and seeking interesting avenues to develop his potential, Sébastien's entrepreneurial spirit led to him having three profit-making companies in his twenties. His hard work and determination gave him a measure of success. Still, he was so incredibly busy that he didn't have time to enjoy life.
"Before MLM, I was working very hard. So I didn't have time to see my family, my friends or even to visit the Parc des Princes stadium in Paris to support my team, Paris Saint Germain."
Happily, thanks to a trusted connection, he was introduced to the unparalleled opportunities of network marketing six years ago. With all the wisdom gained from these six years, he enthusiastically joined Validus within its first year.
When asked to consider one of his favourite things about MLM, Sébastien says:
"It is the fact that you cannot make money if you don't help others to do the same. So helping others is second nature to him. His maxim is: to build your people, and they will build your business.

I built my team with Federica Siess. Federica is an incredible woman and an inspiring leader, fluent in four languages. Together we have set ourselves the goal of building an international network on all continents. We want to help a hundred people in our team reach five figure income a month with Validus in the next 12 months."
As a Validus Blue Diamond, Sébastien aims to be one of the top fifty people in network marketing globally. He is adamant about the radical role Validus is playing within the industry. He describes how the unique prospect offered by Validus is creating incredible growth and limitless potential.
"With Validus, I want to help thousands of people achieve financial freedom. Not only in France but worldwide because Validus allows and supports this."
When it comes to sharing the secrets of his success, Sébastien has clear and simple words of wisdom. First, he urges everyone to believe in their dreams. He talks of dream thieves who will try and change your mind. Such people may wish you to give up on your aspirations, saying they believe your dreams are unattainable.
Sébastien says the only thing to do is to flee from such people and resist their negativity. If you are to be like Sébastien, then believe in yourself, your dreams and your abilities. He advocates that if you have a dream that will allow you to help your family, your faith group and your community, then nothing and no one should keep you from fulfilling it.
When it comes to inspiring others, Sébastien is prepared to dig deep. He sees his role as being an investor in people. He pushes people to be greater than they ever thought possible. He helps people make improvements in their lives through his motivation and their aspiration.
"I inspire my teams by explaining that growth can cause discomfort, but such pain is temporary. No matter how dark the moment is, by keeping faith, doors will open. I demand a lot of myself and push the people who follow me to exceed their limits and better use their potential."
Watching Sébastien and Federica lead their Validus team to greater success, we know every team member can be sure of this: The results of growth, personal, business and spiritual, are always worth the effort.
About Validus
Validus is a Network Marketing company dedicated to marketing a membership model that gives access to valuable information in different subject areas and industries for the development of the individual, as well as the know-how to take advantage of trends in markets and new forms of technology.
Validus' primary function is to educate people who are underserved by financial institutions globally. We believe that financial literacy is the key difference maker and provides a strong foundation for individuals to take control of their personal economy and work towards a better future. For more information please visit www.teamvalidus.com
Recommended Distributors Validus