Streakk Is Growing At The Speed Of Light
March 23, 2023
By Team Business For Home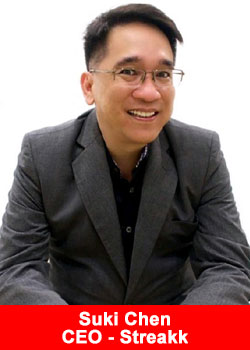 According to a Streakk Technologies press release:
Streakk is currently one of the fastest-growing companies in the direct selling industry in terms of revenue and community growth.
Streakk recorded a truly remarkable achievement as it crossed $100 million in revenue within 6 months of entering the market. This is most likely the only company in the industry that has been able to reach this benchmark in such a short period of time.
With the company's leadership and innovative approach, Streakk has been able to achieve unprecedented growth and attract a diverse group of people from around the world.
From securing several partnerships with leading companies like Minebase, MarketPeak, Go Unique, and Lan Network, which also helped in acquiring a new user base and achieving $100 million in revenue in such a short period, to paying out over $70 million in commissions to its promoters, Streakk has been on an incredible trajectory since its emergence.
This year, Streakk began with great news and impressive growth, and to continue that, they are holding the Streakk Fest.
Streakk Fest is a roadshow that Suki Chen, CEO of Streakk, has undertaken in order to bring the business to an increasing number of people and grow their already 1.2 million streakk community. This unique approach has been one of the key elements of Streakk's explosive growth and international expansion.
The Streakk Fest will take place in Asia, Europe, and Africa, covering 15 countries. Their first two massive events drew over 3,000 attendees.
The first event took place in Ankara, Turkey, just days before the devastating earthquake that destroyed large parts of the country. Streakk was able to raise $42,000 with the community to assist the victims.
During the Streakk Fest in Turkey, the CEO spoke about Streakk's cutting-edge node technology, which enables members to earn generous rewards by staking cryptocurrencies in their wallets. He went further by stating that Streakk is poised to expand its global footprint so as to bring unique opportunities to users around the world.
He ended his speech by saying:
"We will not stop until the entire world knows of our amazing technology and wonderful community of Streakkers."
Suki's second stop was in Bangladesh, where he met with top leaders and personally recognized Diamonds for their efforts. He acknowledged individuals who have made a notable impact in the network marketing industry and have quickly achieved the rank of Diamonds in Streakk by displaying an exceptional level of dedication and drive. Suki Chen wasted no time in encouraging them to break more ground and attain new heights.
"We are here because we love someone and want to make a difference in that person's life."
stated Suki Chen.
Looking forward, the next Streakk Fest will enable the company to attract more people and execute more sales this year — while also making positive impacts on more lives.
Through this event, more people from over 15 countries speaking different languages will join the Streakk community as they align themselves with the company's vision and mission.
Streakk is just getting started, with the best yet to come. With its unique business model, solid and expansive network, and dedicated team, Streakk is strategically positioned to ensure continued revenue and community growth.
About Streakk
Streakk is a leading crypto platform that aims to create the future of finance by maximizing the potential of crypto. The company is led by one of the most reputable figures in the Blockchain space, with over 30 years of experience.
Since its launch, Streakk has built the fastest network in the world with an increasing global community of over 1.2 million members.
The company is focused on providing a stable passive income for individuals to grow their portfolio with stable staking rewards from over 20 cryptocurrencies. Users can hold crypto in their wallets and earn up to 30% rewards. They can also add or withdraw funds anytime, anywhere.
For more information, please visit www.streakk.io.
Recommended Distributors Streakk