Leo Lee From South Korea Achieves Triple Diamond Rank At Streakk
April 16, 2023
By Team Business For Home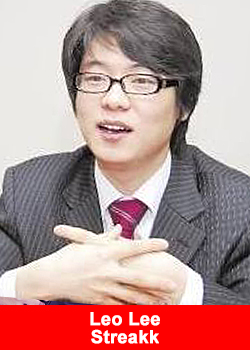 According to a Streakk technologies press release:
After making an outstanding impact since joining Streakk, Leo Lee, a seasoned veteran in the industry with more than 20 years in the network marketing industry, has achieved the rank of a triple diamond at Streakk. A company growing at lightning speed in this industry.
Just like one of the popular quotes "Never give up on your dreams", the basis on which he has thrived and gotten this far, Leo believes that it takes hard work and dedication to be financially free. From an early age, he learned how to transform difficult situations into strengths to become a person with determination and resilience.
Leo started with a logistics company that sold health foods and cosmetics. After gaining experience in sales, he sought new opportunities. He always dreamed of something bigger—an opportunity to inspire and positively impact so many lives.
"I chose network marketing because it's a field where ordinary people can succeed."
stated Leo.
Leo was introduced to network marketing and immediately jumped on the new opportunity. He saw the network marketing industry as a field where everyone starts off their career on an equal playing field, regardless of their background and upbringing. Many have also described it as the American dream that everyone can achieve with the right dedication and commitment.
In pursuit of continuing growth, Leo decided to ride the new wave of innovation and found the perfect vehicle. He was introduced to Streakk and instantly fell in love with the company because it connected with his vision and goals.
Leo recently hit the rank of a triple diamond ambassador with Streakk. Not only did Leo find a company that empowered its members to take control of their lives and achieve their goals, but he also got a wonderful family united by a common goal of improving thousands of lives.
"Streakk has the items that the current era demands, and the company's management ability is excellent." In other words, I chose it because it's a well-prepared company.
stated Leo.
Leo added that he was amazed and intrigued after hearing about the company's unique compensation plan, which made room for all marketers.
By talking to others about the outstanding possibilities of Streakk, marketers can receive additional bonuses. There are 3 ways marketers can earn even more income by promoting Streakk:
Level-Bonus
Rank-Royalty-Bonus
Global Lifetime Pool
The fast-growing company empowers individuals to achieve financial freedom through its unique business model. What sets Streakk apart from other companies in the industry is its strong vision for the future, an amazing community, and dedicated leadership. Leo also revealed the various attributes that contributed to his success:
 "Analyzing the market and putting in the maximum effort to create a positive impression on people around me contributed to my success."
When asked what advice he would give to people looking to join Streakk, he said,
 "Don't hesitate. Streakk will make a global impact. I hope you become a new member of Streakk and that the future is filled with the light of hope."
Leo's goal in the coming years is to impact thousands of lives by guiding them towards realizing their goals and aspirations.
About Streakk
Streakk is a leading crypto platform that is focused on creating the future of finance by maximizing the potential of crypto. The company has a very solid background, as it's been spearheaded by a very reputed and seasoned entrepreneur with over 30 years of experience.
Streak provides a stable passive income for its users to grow their portfolio with stable staking rewards from over 20 cryptocurrencies. Users can hold crypto in their wallets and earn up to 30% rewards. They can also add or withdraw funds anytime, anywhere. For more information, please visit www.streakk.io.
Recommended Distributors Streakk