3 Vietnam Based Top Leaders Achieve Blue Diamond rank At Validus
June 22, 2023
By Team Business For Home
Living the Network Marketing Dream: Inspiring Tales of Validus' Blue Diamond Rank Achievers from Vietnam.
Network marketing has emerged as a prestigious avenue for individuals to unleash their potential, achieve financial independence, and inspire others to follow suit. In Validus, three remarkable individuals from Vietnam have ascended to the prestigious Blue Diamond rank, exemplifying the transformative power of dedication, leadership, and a shared vision. Let us dive into the inspiring narratives of Pham Hai Duong, Kieu Cao Ngoc, and Elly Nguyen as they navigate their paths to success and empower others within the network marketing industry.
Pham Hai Duong: A Passionate Advocate for Network Marketing
Pham Hai Duong's introduction to network marketing occurred during his time as a university student, at the tender age of 19. The industry's environment of exceptional leadership training and business ownership immediately captivated his attention, igniting an enduring fascination. Enthralled by the intricacies of network marketing, he decided to pursue it as his chosen path wholeheartedly.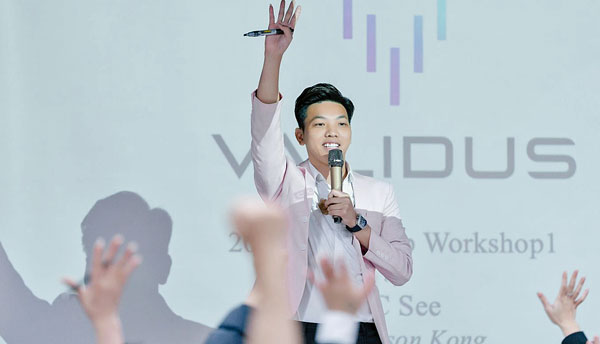 Duong recognises that consistency, vision, and goal-setting have been pivotal in his ascent to esteemed positions within the network marketing field. With ardent dedication, he dedicates himself full-time to his network marketing business, whilst simultaneously exploring other investment avenues such as real estate and the auto business model. Duong's forte lies in his passion for training and coaching, rendering him an invaluable asset to his team and an inspiring figure to others.
Kieu Cao Ngoc: Embracing Freedom and Automation in Online Business
Kieu Cao Ngoc's journey to network marketing took a distinctive trajectory. Previously a consummate professional in Karatedo, representing the city of Hanoi, a significant injury compelled him to seek fresh opportunities. Merely 19 years old, he fortuitously discovered the world of online entrepreneurship, realising its potential to offer the much-desired elements of "freedom" and "automation."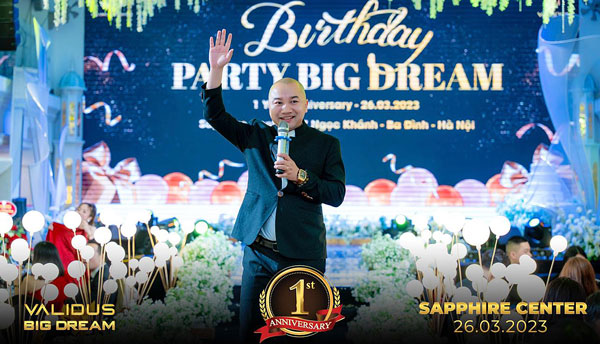 Deeply moved by the words of encouragement from Mr. Pham, Ngoc resolved to join the illustrious ranks of Validus. He  possesses a firm belief in the future of online education, the Metaverse, Big Data, and the sharing economy, all of which seamlessly align with Validus' visionary outlook. Ngoc's ambitious five-year plan involves evolving into a revered educator, mentor, and investor, imparting his invaluable insights and empowering others to attain financial freedom. His unyielding commitment to unlocking the secrets of his craft, seizing opportunities, and doggedly persevering are the hallmarks of his triumph.
Elly Nguyen: Inspiring Women to Soar and Succeed
Elly Nguyen's foray into network marketing commenced as an ordinary office employee. Intrigued by the notion of earning based on her individual capabilities, she embarked on a new and thrilling venture. Introduced to the eminent Validus through her esteemed colleagues, she was instantaneously captivated by the company's revered founders and their exceptional skill set.
Nguyen's indomitable motivation emanates from her fervent desire to enrich the lives of those who trust her, facilitating the emergence of a more prosperous and joyous existence. She envisions Validus ascending to the pinnacle of the industry, transforming the lives of all its members in a resplendent manner.
Nguyen's aspirations extend beyond the realm of network marketing; her grandest objective entails becoming a celebrated role model for women, instilling in them the confidence, success, and happiness they so richly deserve. Her wellspring of inspiration stems from her cherished family, esteemed colleagues, and the remarkable women who yearn to surmount the barriers obstructing their ascent.
Galvanising a Network Marketing Revolution
The narratives of Pham Hai Duong, Kieu Cao Ngoc, and Elly Nguyen converge to epitomise the unbounded possibilities that network marketing offers in terms of personal growth, financial prosperity, and empowerment. Their ascent to the distinguished Blue Diamond rank exemplifies Validus' unparalleled vision of fostering success. Their dedication, entrepreneurial prowess, and ability to inspire others serve as an indomitable force propelling Validus towards its rightful place as an industry leader.
In the forthcoming years, as these triumphant leaders continue to illuminate the path to success, their invaluable contributions will serve as a guiding light for aspiring entrepreneurs in Vietnam and beyond.

The transformative impact of network marketing, coupled with the exemplary journeys of these individuals, heralds a new era of empowerment and prosperity within the network marketing industry.
Within the distinguished ranks of Validus, Pham Hai Duong, Kieu Cao Ngoc, and Elly Nguyen stand tall as beacons of inspiration and success. Their profound commitment, stout belief, and relentless pursuit of excellence exemplify the transformative power of network marketing. As they continue to inspire and lead by example, they pave the way for a new generation of entrepreneurial achievers, igniting a network marketing revolution that promises to reshape lives and elevate the industry to unprecedented heights.
About Validus
Validus is a Network Marketing company dedicated to marketing a membership model that gives access to valuable information in different subject areas and industries for the development of the individual, as well as the know-how to take advantage of trends in markets and new forms of technology.
Validus' primary function is to educate people who are underserved by financial institutions globally.
We believe that financial literacy is the key difference maker and provides a strong foundation for individuals to take control of their personal economy and work towards a better future. For more information please visit www.teamvalidus.com
Recommended Distributors Validus