Amir Chohan from Pakistan Achieves Crown Diamond Rank at Streakk
June 2, 2023
By Nicole Dunkley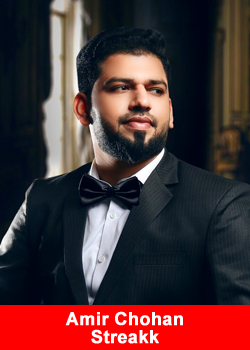 In the last few months, Streakk has contributed immensely to the success stories of many promising leaders, leaving many inspired and motivated to achieve the level of success they envision for themselves.
Once again, Streakk unveils its latest crown diamond ambassador from Pakistan, Amir Chohan. Amir Chohan, a seasoned network marketing professional, has recently achieved the prestigious rank of crown diamond in less than 6 months of joining Streakk. 
Amir joined the network marketing industry 7 years ago with the burning desire to achieve financial freedom. While he worked hard in the industry with so much dedication and focus, he felt deprived of true happiness and financial growth.
He knew he had to try something different if he was going to achieve the freedom and lifestyle he desired.  
The journey to change his life and financial future forever began the day he met with Suki Chen, founder and CEO of Streakk. Moved by Suki's dedication and passion and the amazing products that Streakk is developing along the way, Amir decided to join Streakk. 
"For the last 7 years I have been working hard in this field of network marketing, but the life that I had before Streakk is nothing compared to the life that I have today.

Streakk has changed my perspective on how things work, on seeing the bigger picture, and on working together."
shared Amir.
With the company's inspiring leadership, vision, and amazing compensation plan for its marketers, Amir knew he had found the right home that perfectly fit his aspirations. He immediately developed a strong passion for Streakk and its mission to unlock the potential of cryptocurrencies. With unwavering commitment and hard work, he was able to generate great results and success in no time. 
"Hard work and passion are the only two things that have helped me unlock the crown diamond rank in Streakk in less than 6 months, so in my view this is like a world record, so to speak, but these last 8 months with Streakk have been nothing short of a life-changing experience!"
said Amir.
He also attributes such fast-paced success to his amazing team. A community of people who do not seek personal advancement but growth as a family. He believes that no success would be possible without them.
"I'm thankful to my upline, Mr. Abbasi, who has shown me so much support and has also helped me grow in the process. I
also appreciate the relentless effort of my team in India, Nigeria, South Korea, and the rest of the world. It all happened because we were working together in unity and rising together as a team."
said Amir.
Amir believes that the company's strong leadership and innovative business model provide exceptional financial opportunities to anyone looking to join the Streakk community and become a part of Streakk's revolution. As such, Amir's message to those looking to join Streakk was simple.
"There's nothing more heartbreaking than a squandered opportunity. Jump in; this is one of the most amazing opportunities I've ever seen in my life.

Your story will be different in the next 6 months with Streakk."
About Streakk
Streakk is a leading crypto platform that is focused on creating the future of finance by maximizing the potential of crypto. Due to the company's founder's well-known and extensive background as an entrepreneur with over 30 years of experience, it has a very strong foundation.
Streak provides a stable passive income for its users to grow their portfolio with stable staking rewards from over 20 cryptocurrencies. Users can hold crypto in their wallets and earn up to 30% in rewards. They can also add or withdraw funds anytime, anywhere.
For more information, please visit www.streakk.io.
Recommended Distributors Streakk