ByDzyne's Isabella Mendez from USA Achieves 1-Star President
June 28, 2023
By Nicole Dunkley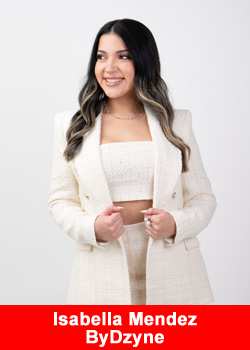 Becoming one of the industry's primary hubs for unrivaled talent and leadership development, ByDzyne has one of its youngest and most promising stars on the rise with the arrival of new 1-Star President Isabella Mendez from the United States of America.
* A President generates over $200,000 in sales revenue during a half-a-month span. 
Isabella, a 20-year-old entrepreneur who resides in Tampa, Florida, but with Venezuelan and Colombian roots, remembers being tremendously driven from an early age.
Working at Chick-Fil-A at just 15 years old and not long after being promoted to shift supervisor, Isabella wanted to support her family—her mother and two younger sisters—and inspire those around her for positive change. She even simultaneously volunteered at local hospitals, interned at multiple nursing homes, and worked in different fields to provide for her family. 
When she turned 18, however, Isabella was introduced to network marketing and her whole world changed. Still coveting financial provision and the opportunity to make a lasting impact, Isabella saw the unlimited potential of the direct sales industry. She has now found a home at ByDzyne, a company she believes has a platform to make global impact and shines above the rest. 
"What makes ByDzyne different from every other company is its leadership and executive team. John Maxwell teaches that 'everything rises and falls on leadership.' And with the executive team here at ByDzyne.

I knew from the very beginning that not only had I found the perfect vehicle for myself and the people that put their trust in me day in and day out, but I also found the perfect drivers to lead the way, to open the path for hundreds of thousands of aspiring individuals like myself to come.

They are all true, innovative, and aspiring leaders with hearts of gold and brains like no others!"
proclaimed a grateful Isabella. 
ByDzyne's executive team is elated for their newest 1-Star President, and firmly believes her life and story can motivate this generation to unparalleled heights.   
"Congratulations to Isabella Mendez on becoming our newest 1-Star President!

Wow, you are so young, Isabella, but so talented. We recognize you today as a living testimony that this industry and specifically this company can be for anyone with a dream.

You are living proof that with self-belief, your 'why,' and a powerful work ethic, anything is possible and can be achieved.

We look forward to seeing you continue to blossom here, and be a source of encouragement and motivation for all of our young networkers around the world,"
shared a proud Chanida Puranaputra, ByDzyne's chairwoman.  
Although the Floridian is quick to credit Chanida and the rest of the executive team along with her unwavering support system on her ascent to stardom—her faith in the Lord, family members, instrumental mentors Samer Yorde and Paula Landino, and her amazing team—Isabella also recognizes her own grit and resiliency have been foundational to her success. 
"I've learned that the harder I work, the 'luckier' I get. Because you have to work as if everything depends on you but have faith as if everything depends on God. So,

I also owe this rank advancement to myself. Because I never let an obstacle, no matter how small or big, get in the way.

Because I trusted the process but worked incredibly hard to get to where I am today,"
conveyed a passionate Isabella. 
And she's nowhere near finished. The young leader is eager to devote her time, energy, effort, skills, education, and ambitions to building a legacy for now and for years to come. 
"My next goals with ByDzyne are to create many new Directors, Diamonds, and Presidents in my team.

And in turn, help 1,000 individuals and their families to possibly have an additional source of income, and to help improve their lifestyle.

There is nothing more rewarding than to see the people who have put their trust in you, winning, growing, and becoming better individuals overall. We are just getting started!"
exclaimed a motivated Isabella. 
* ByDzyne makes ZERO income guarantees. It takes hard work and dedication to make a substantial income. All results may vary. Between 07/01/2021 to 06/30/2022: The number of active Brand Ambassadors (BAs) who have not received any commissions, bonuses or overrides is 19,901 or 77.12% of such BAs. The median amount of commissions, bonuses and overrides received by all active BAs is $0.00. 77.12% of all active BAs have received, in the aggregate, less than or equal to this amount.   22.88% of all active BAs have received, in the aggregate, more than this amount. The average amount of commissions, bonuses and overrides that have been received.