ByDzyne's Jonna Sánchez from Venezuela Achieves 1-Star President
July 12, 2023
By Nicole Dunkley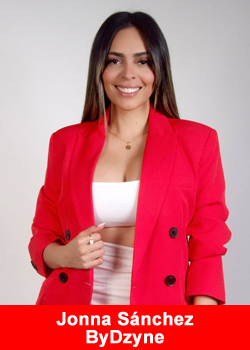 Continuing to unveil some of the industry's most prominent new leaders, ByDzyne has yet another gem on hand with the emergence of Jonna Sánchez, the company's newest 1-Star President from Venezuela. 
* A President generates over $200,000 in sales revenue during a half-a-month span. 
Jonna, a 29-year-old Venezuelan entrepreneur who currently resides in the southern European country of Portugal, primarily served in traditional business models as a former psychologist and designer before finding the multi-level marketing industry. Two years in now and settled at ByDzyne, the Venezuelan leader believes her life looks completely different than it did in 2020. 
"The network marketing industry completely transformed my life. And so did ByDzyne. It is a company in constant evolution, working directly with trends that move the economy of today's world,"
shared Jonna. 
ByDzyne's executive team is ecstatic for their newest leader, and agrees that adapting to the various environments and economic markets the world scampers through is what sets the company apart. 
"Congratulations to our newest 1-Star President from Venezuela, Jonna Sánchez!

We recognize your efforts, tenacity, and perseverance today, Jonna, and believe with that drive there are even more victories up ahead for you.

You are right that this company is continually evolving to the latest and greatest trends, and we will never stop believing in innovation and opportunity,"
declared Chad and Nattida Chong, ByDzyne's cofounders.
The 29-year-old leader attributes her unstoppable work ethic, education, and faith in God as instrumental factors in her recent rank advancement, along with her invaluable mentors and team that have been there with her from the very beginning. 
Jonna, who is also deeply motivated to impact lives and simultaneously change her family's generational patterns of scarce income, has set her next professional goal to achieve the distinguished Crown rank in the coming year. As to what it will take to get there, the Venezuelan leader puts it rather simply. 
"I just don't know what it means to give up,"
expressed a smiling Jonna. 
* ByDzyne makes ZERO income guarantees. It takes hard work and dedication to make a substantial income. All results may vary. Between 07/01/2021 to 06/30/2022: The number of active Brand Ambassadors (BAs) who have not received any commissions, bonuses or overrides is 19,901 or 77.12% of such BAs. The median amount of commissions, bonuses and overrides received by all active BAs is $0.00. 77.12% of all active BAs have received, in the aggregate, less than or equal to this amount.   22.88% of all active BAs have received, in the aggregate, more than this amount. The average amount of commissions, bonuses and overrides that have been received.