Timote Makaui From Australia Achieves Blue Diamond Rank At Validus
July 26, 2023
By Team Business For Home
In the vibrant world of network marketing, few milestones rival the achievement of reaching the prestigious Blue Diamond rank. This is the remarkable journey of Timote Makaui, a visionary leader hailing from Australia whose relentless dedication and pursuit of excellence have propelled him to this extraordinary accomplishment within Validus.
"Lead from the front! Empowering my team to become great leaders."
Before embarking on his network marketing odyssey, Timote Makaui's career path followed the trajectory of an employee. However, fate intervened when he received a life-changing invitation to attend a network marketing seminar nine years ago.
The words "passive income" resonated deeply with Timote, igniting a spark of curiosity and prompting him to explore this alternative work option. Guided by the wisdom of influential mentors such as Dr. Myles Munroe, Les Brown, and Jim Rohn, Timote's journey of personal growth and self-discovery commenced.
Throughout the years, Timote diligently sought out opportunities and expanded his knowledge, gradually unravelling his true purpose. Passionate about networking and assisting others in their pursuit of success, Timote discovered his calling.
\In October 2021, he made a defining decision, bidding farewell to his role as a forklift driver and embracing the life of a full-time entrepreneur. This pivotal moment set him on a path of empowerment, culminating in his recent attainment of the prestigious Blue Diamond rank at Validus.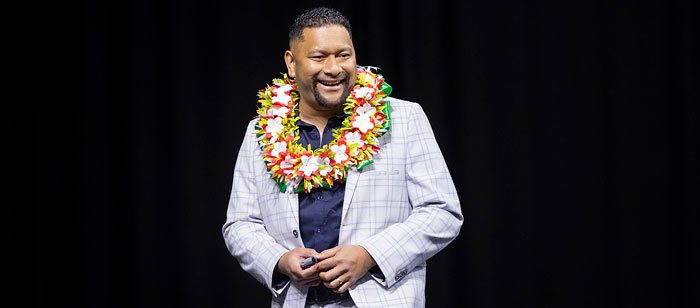 Timote's journey to Validus began with a serendipitous phone call from a close friend, Shafi Hassan, residing in Melbourne. Intrigued by the conversation, he agreed to meet with Fadi Baba, a representative of Validus, at a cosy Sydney coffee shop on 13th January 2022. As the presentation unfolded, a resounding sense of certainty washed over Timote. The perfect alignment of timing, an impressive compensation plan, and exceptional leadership convinced him that Validus was his gateway to success.
Motivated by a shared vision of transforming lives, Timote's motivation for Validus lies in the company's promise of a brighter future. Embracing the next 12 months with fervour, he envisions expanding his network exponentially.

From his current position overseeing 10,000 members, Timote aspires to multiply this figure by five, amplifying the positive impact his team has on lives worldwide.
Looking further ahead, Timote's ambitious five-year plan is firmly rooted in his commitment to changing the lives of one million individuals and creating 50 new millionaires along the way. It is a testament to his tenacity, resilience, and passion for making a difference on a grand scale.
For Timote, success signifies freedom in its purest form. It means living life on his own terms, not just in terms of financial abundance but also in having the time and flexibility to cherish moments with his loved ones.

Reflecting on his journey, Timote attributes his accomplishments to an unyielding work ethic, staunch consistency, and an unshakeable focus on his goals.
While Timote currently dedicates himself fully as a leader within Validus, his aspirations transcend the boundaries of network marketing. A servant leader at heart, he dreams of becoming an international motivational speaker, guiding and inspiring others to unlock their fullest potential in all aspects of life. His "why" resides in his five beautiful children, who serve as a constant source of inspiration and drive.
Leading his team by example, Timote inspires and empowers his members to surpass their own expectations. He understands the importance of clear communication, self-awareness, effective decision-making, and the ability to navigate conflicts with finesse.
However, above all, it is his commitment to taking decisive action that sets him apart, igniting a flame of determination within those fortunate enough to work alongside him.
As Timote Makaui emerges as a shining star in the network marketing arena, his achievements stand as a testament to his belief in the power of personal transformation and the ability to impact lives positively.
With his indomitable spirit, unwavering dedication, and passion for uplifting others, Timote Makaui serves as a beacon of inspiration, reminding us all that the potential for greatness lies within each of us, waiting to be unleashed.
About Validus
Validus is a Network Marketing company dedicated to marketing a membership model that gives access to valuable information in different subject areas and industries for the development of the individual, as well as the know-how to take advantage of trends in markets and new forms of technology.
Validus' primary function is to educate people who are underserved by financial institutions globally.
We believe that financial literacy is the key difference maker and provides a strong foundation for individuals to take control of their personal economy and work towards a better future. For more information please visit www.teamvalidus.com
Recommended Distributors Validus