25-Year-Old Yash Verma from India Reaches Triple Diamond in Streakk
August 23, 2023
By Nicole Dunkley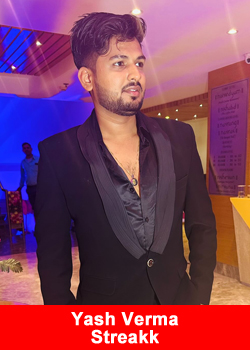 Streakk continues to make its mark in the network marketing world by producing some of the most inspirational and promising leaders in the industry. And now, the company is unveiling one of its most promising leaders, Yash, who recently achieved Triple Diamond rank at Streakk.
Yash has always been a determined person, focused on meeting his goals and looking for different alternatives that would allow him to grow financially.
Since his school days, he has always dreamed of a better future for himself and his family. He knew he had to make efforts to achieve his goal, and as such, he wanted to choose a field where he could attain financial stability and freedom.
 Yash was introduced to the network marketing industry almost four years ago by a friend who was already in the field.
"I started through a friend of mine who was doing network marketing when I was in school. That was the point of my beginning, and from there, I didn't look back. I chose network marketing because it's an avenue for everyone to become successful through hard work and dedication,"
 shared Yash.
After searching for a company that was focused on cryptocurrency for a long time, his search ended when a friend, Aamir, introduced him to Streakk. Streakk is a company that aims to create the future of finance by maximizing the potential of crypto. The company also delivers a clear vision for the future and an amazing community.
After joining Streakk, Yash's dedication and leadership skills quickly propelled him to the Triple Diamond rank. He has a team size of thousands, comprising over 40 countries globally, such as Germany, the USA, Iraq, the Ivory Coast, South Korea, Indonesia, the Philippines, and many more.
This significant achievement shows his unwavering commitment to building a successful business and helping others achieve their dream lifestyle.
He has always believed that for one to achieve success and be financially free, he has to put in the work and be committed to his goal.
"Hard work and my calm nature are the basis on which I have thrived and gotten this far. I always have the firm attitude of never giving up. There were moments when it was challenging, but giving up was never an option,"
 said Yash.
Yash didn't fail to accredit such fast-paced success to his mentors and team members, who have very good leadership skills.
"My team and I are the game changers, and we have the potential to lead this industry and pave the way for other promising leaders,"
said Yash.
When asked if he had any message for people looking to join Streakk, his message was short and simple:
"There is no better time to enter crypto than now, and if you want to start something that will give you financial stability and freedom, then just dive into Streakk; you will never regret it."
About Streakk
Streakk is a truly decentralized platform that gives users 100% control over their keys and crypto. As such, users earn without giving up custody of their funds. 
Due to the company's founder's well-known and extensive background as an entrepreneur with over 30 years of experience, it has a very strong foundation.
Streak provides a stable passive income for its users to grow their portfolio with stable staking rewards from over 20 cryptocurrencies. Users can hold crypto in their wallets and earn up to 30% in rewards. They can also add or withdraw funds anytime, anywhere.
For more information, please visit www.streakk.io.
Recommended Distributors Streakk