Ted Nuyten Speaks At The Streakk Anniversary In Baku, Azerbaijan
September 11, 2023
By Team Business For Home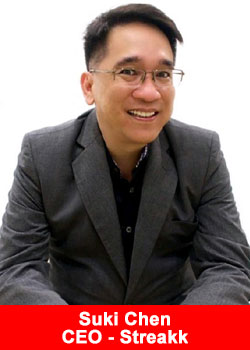 According to a Streakk press release.
Streakk's one-year anniversary was indeed an unforgettable celebration of success and achievement. The mega event was nothing short of extraordinary, as it came with a unique blend of exciting activities and entertainment, including fun parties, major launches, and big conferences.
Due to Streakk's continued commitment to empower its members, the company spiced up the event by hosting industry experts and international speakers like Ted Nuyten, CEO of Business for Home (BFH), to provide Streakkers with deep insight on the network marketing industry and the latest marketing strategies to thrive in the direct selling industry.
The Business For Home website is a major entity for direct selling businesses, and Ted Nuyten is a hardcore network marketing activist with over 30 years of experience. He is a renowned leader in the network marketing business, and he has spoken all over the world, elevating the profession.
Ted is the independent, trusted advisor of many CEOs, top earners, and top leaders in the network marketing industry. BFH receives over 15 million visitors from all over the world, with the majority being Network Marketing professionals, with about 85% visiting the news site looking for a new or additional opportunity.
During Streakk's conference in Baku, Ted shared important knowledge about the direct selling business because of his platform, where his team publishes facts, figures, and network marketing news, such as the earnings from top distributors and the revenue from 850 companies.
He also spoke about the importance of transforming the network marketing space, especially now that a number of companies are going public. He gave a very open idea of the huge possibilities for everyone in the industry by sharing great facts about the booming industry with an estimated global market size of $180 billion, comprising 31% of the world's sales force from direct selling.
"The average network marketing top earner in the world makes $20,000 per month; the youngest top earner is 18, the oldest top earner is 95."
shared Ted.
All these facts were very helpful to the community of Streakkers that are starting in the beautiful world of MLM and also to the most experienced ones that have been doing it for years now.
Since the inception of Streakk in the BFH family, it has had huge milestones, such as becoming the fastest-growing company in the direct selling industry in terms of revenue and community growth.
We are following Streakk closely because of its unique features, such as great leadership and team, awesome products and vision, as well as its tremendous growth to $300 million within 1 year."
said Ted.
Within the year of its launch, Streakk has raised the bar in the direct selling industry. The company has secured a very strong community in Europe, Asia, and African countries, attracting more than 1.2 million community members. Currently, Streakk is operating in more than 80 countries and is also looking to expand in other countries.
The company has been able to help leaders achieve high-level Diamond, Double Diamond, and even Triple Diamond ranks. It has achieved the triple-A plus rank and became one of the only 35 companies out of 850 to have that incredible rating.
Streakk keeps growing and grabbing momentum; it is currently ranked 9th out of all the direct selling companies in BFH. As the company continues to soar, it is primed to remain a dominant force, breaking new ground and improving the lives of millions of people.
About Streakk
Streakk is a leading crypto platform that is focused on creating the future of finance by maximizing the potential of crypto. Due to the company's founder's well-known and extensive background as an entrepreneur with over 30 years of experience, it has a very strong foundation.
Streak provides a stable passive income for its users to grow their portfolio with stable staking rewards from over 20 cryptocurrencies. Users can hold crypto in their wallets and earn up to 30% in rewards. They can also add or withdraw funds anytime, anywhere.
For more information, please visit www.streakk.io.
Recommended Distributors Earn World