APLGO Ranked As Triple AAA+ Opportunity For 2023 And 2024
October 13, 2023
By Team Business For Home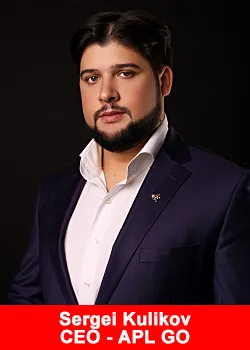 APLGO: Analyzing the opportunity
APLGO is an expanding company that has an impressive revenue of $234 million in 2022 indicates their strong performance. It is noteworthy that 63% of this revenue had the potential to be distributed as commission, highlighting the company's commitment to rewarding its business partners.
APLGO is ranked as a AAA+: The Top rank. This makes APLGO a recommendation from Business For Home for 2023 and 2024.
The ranking is based on a number of facts and figures such as:
We have classified the 900 companies in our database into 4 ranks or grades, and approximately:
  5% has a AAA+ ranking, the highest recommendation.
30% has a AA+ ranking.
35% has a A+ ranking.
30% has a B ranking.
Above data is available in the Business For Home app, both for Android as iOS. We recommend to download the (Free) app below.
APLGO in the news
Investment in individuals is a key tenant of APLGO's philosophy, as illustrated by the personal journeys of success within the company. Norita Sorenson's story reveals that in this network marketing venture, it's never too late for success. Similarly, noteworthy contributions of Elias Reyes, Ramiro Pastor, and Elliette Benitez are acknowledged, demonstrating the company's dedication to celebrating its members accomplishing their goals.
Simultaneously, APLGO emphasizes growth and opportunity, as evidenced by their recent product launch. They have also been actively engaging with the community, hosting a major event in Las Vegas for their USA affiliates, fostering connections and creating new prospects for future development.
APLGO in Facts and Figures
APLGO, a network marketing company headed by CEO Sergei Kulikov, has had a stable performance in 2022. The company, which is situated in Cyprus, produced revenue of est. $234 million. An estimated $147 million of this revenue could have been paid out as commission, constituting 63% of the firm's compensation plan.
According to the Business for Home website, APLGO holds an impressive AAA+ ranking, highlighting it as a top performer among 900+ global network marketing firms. View more information on APLGO's company page or the company's reviews.
2022 revenue: $234 million
Revenue increase from 2021 to 2022: 11%
Potential commission payout: $147 million
Percentage of the compensation plan paid out: 63%
Business for Home Ranking: AAA+ (top rank)
Current Business for Home Momentum Rank: 2
Number of Recommended Distributors: 36
Business for Home pageviews: 167,856
CEO: Sergei Kulikov
Country of operation: Cyprus (CY)
Data provide by the proprietary Business for Home Intelligence Engine
(Article continues below)
Recommended Distributors APLGO
Building a Network Marketing Business with APLGO in 2023
Understand What Network Marketing Is
Network marketing is a business model where you earn income through direct selling and from the sales of individuals that you recruit into your team, also referred to as your 'downline'. It's a form of sales and distribution that eliminates the need for large advertising budgets and physical retail locations. While it offers significant potential for income and personal growth, it also requires hard work, commitment, and a willingness to learn.
Choose the Right Network Marketing Company
When it comes to choosing a Network Marketing company, it's essential to do comprehensive research to ensure the company is credible, sustainable, and has a product or service you are genuinely passionate about promoting. In 2023, setting your sights on a top-ranking network marketing company like APLGO would be a great decision. Find out more about the company at APLGO's page on Business For Home.
Educate Yourself on the Company's Products and Business Model
Before starting your network marketing journey with APLGO, familiarize yourself with its products and business model. APLGO offers a unique and potent line of DNA-based products combined with an attractive compensation plan, making it a highly desirable network marketing company.
Check for Reviews and Testimonials
While the company may appear perfect on the surface, it's always wise to seek out third-party opinions and experiences. The reviews for APLGO on Business For Home are an invaluable resource to gain insights on the company from those who have experienced it firsthand.
Understand the company's rank
Ranks in network marketing companies are critical indicators of the success and sustainability of the business. APLGO has a high rank in the network marketing industry. You can learn more about company ranks at Business For Home's Triple AAA+ Company Ranks Page.
Start Building Your Business
Once you have thoroughly researched APLGO and feel it is the right match for you, the next step is to sign up, start using the products, and begin sharing them with others. Remember, success in network marketing comes from helping others achieve their goals. As you build your team, stay engaged and provide constant leadership and support.
You might want to team up with a APLGO recommended distributor. You find them at the bottom of this article.
Here's a glimpse of what people are writing about APLGO
APLGO is a company offering health-related products and a business opportunity, which has drawn a mix of positive feedback from its users and distributors. One of the common praises towards the company revolves around the effectiveness and convenience of its products, particularly its botanical lozenges.
"APLGO's innovative botanical lozenges, with their unique candy form, have made a significant impact on my overall health and well-being. These 100% natural, DNA based products are not only convenient to use but also enjoyable to consume, making them an integral part of my daily routine." 
Mokgadi Florence Mkansi stated:
"What I like most is that no side effects, their ingredients are from natural vegetables and fruits."
Reviewers are not only consumers of these products but also partners in the company's network marketing model, praising the company for its supportive management and rewarding compensation structure:
"As a distributor, I am looking forward to sharing this business opportunity with people who want to improve their health and wealth."
"Their exceptional products, coupled with a lucrative 70% payout rate, create a rewarding opportunity for those looking to build a successful business in the health and wellness sector. Furthermore, APLGO's management team excels in recognizing and supporting leaders."
Despite the shared positivity, it's worth noting that the majority of these reviews come from company distributors who stand to gain from increasing sales, hence might present potential bias. Overall, these reviews suggest APLGO might be worth considering for those interested in natural health products and entrepreneurial opportunities.
Given this feedback, it seems like APLGO successfully combines business with health and well-being, providing products that not only benefit the consumer but also provide them with a chance to develop a business of their own. A careful potential partner or consumer should conduct further research to make an informed decision.
APLGO Conclusion
APLGO is a highly regarded company that has achieved the top rating of AAA+ from Business for Home. The company's impressive revenue of $234 million in 2022 reflects their strong performance. Notably, 63% of this revenue was available for distribution as commissions, demonstrating the company's commitment to rewarding its business partners.
APLGO is ranked as AAA+, the Top rank, making it a recommended choice by Business for Home for 2023 and 2024. Overall, based on the comprehensive information presented by Business for Home, APL GO appears to be a company with great potential for earning significant income.
Recommended Distributors APLGO