Beyond Slim Ranked As Triple AAA+ Opportunity For 2023 And 2024
October 25, 2023
By Team Business For Home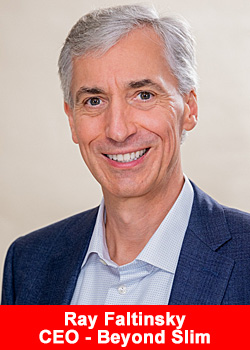 Beyond Slim is a start-up that has received an impressive AAA+ rating from Business for Home based on their exponential growth.
The company says:
"At Beyond Slim®, nothing is more important than our mission to help millions of people become Fitter, Healthier, and Happier. The science behind ZipSlim® speaks for itself, and the care that has been put into our Metabolic Reboot will help you build lasting, healthy habits.

When it came time to decide how best to take this mission to the world, we decided to put people first, innovating an entirely new model we call Social Referral Marketing™."
This inspiring venture presents a chance for individuals to explore a promising path towards success with top corporate management on board.
The top ranking (AAA+) is based on a number of facts and figures such as:
We have classified the network marketing companies in our database into 4 ranks or grades, about:
  5% has a AAA+ ranking, the highest recommendation.
30% has a AA+ ranking.
35% has a A+ ranking.
30% has a B ranking.
Above data is available in the Business For Home app, both for Android as iOS. We recommend to download the (Free) app below.
Beyond Slim in the news
Network marketing company Beyond Slim is transforming lives, with cases such as that of Amy Jo who emerged as an empowered leader, and Chelsea Eichman who rediscovered herself and now empowers other mothers through the program. The company has also gained significant traction, celebrating 12 consecutive months of double-digit growth.
Beyond Slim continues to innovate, launching a new Cherry-Limeade ZipSlim beverage to promote wellness. Another notable success story is that of Jackie Fisher, whose perseverance has led her to find both community and self through Beyond Slim.
Beyond Slim in Facts and Figures
In terms of recognition, Beyond Slim holds a "AAA+" rating according to the Business for Home (BFH) scale, emphasizing its exceptional opportunity for distributors and entrepreneurs. The company, based in the United States, currently ranks 60th amidst a database of over 900 worldwide network marketing companies according to the BFH Momentum Rank.
2022 start-up revenue: $1 million, Y-T-D revenue $12+ million.
The compensation plan pays out 60% .
Beyond Slim's Business for Home rating is AAA+, the highest grade.
Its current Business for Home Momentum Rank is 60 out of 900+ global network marketing companies.
Number of recommended distributors: 9
Beyond Slim's Business for Home page has received 12,562 views.
CEO of Beyond Slim: Ray Falinsky;
Company location: United States, Arizona, Scottsdale.
Data provide by the proprietary Business for Home Intelligence Engine
(Article continues below)
Recommended Distributors Beyond Slim
Here's a glimpse of what people are writing about Beyond Slim
Beyond Slim is a company that offers both a product and a business opportunity. From the reviews, it seems that both aspects have been highly favored by users and affiliates.
"After trying the product I absolutely fell in love with it, not only was the taste incredible but I felt better than I had in a long time."
As we can see from Heffner's review, Beyond Slim's health and wellness product is appreciated for its effectiveness and taste.
Jody Bowles, a 71-year-old customer, shared a similar sentiment, stating,
"At age 71, having 2 surgeries in 2 months can really knock you down… and it did until I started drinking Zip Slim every morning and afternoon! I'm back on track with my exercise and weight loss program and it has been truly painless!!"
Moving on to the business side of Beyond Slim, Naomi Ortega said,
"The pay exceeds all other companies. I love that you can be paid within 72 hours of an order. I also love that I can earn my product for free and STILL get paid for those sales. This company is like no other."
Thus, it appears that Beyond Slim not only entices affiliates with a quality product, but also with a prompt and potentially lucrative payment structure.
Another key point echoed throughout many of the reviews is the positive impact of the company culture. Mimi Sheffer enthused,
"I love this company, the culture and the opportunity. People can WIN here, which is a huge difference! That early, emotional win allows people to get excited, stay excited and get emotionally invested."
Jodi also shared her experience saying,
"The support from fellow coaches is the best I've experienced!!"
Beyond Slim appears to be a company that not only offers a quality product with health benefits but also provides a viable business opportunity. Reviewers have highlighted the company's supportive culture, a quick and efficient payment system, and a product that is both enjoyable and effective.
Beyond Slim Conclusion
Beyond Slim is an impressive business opportunity that has achieved an AAA+ rating from Business for Home based on the exponential growth. This company offers individuals a promising path towards success.
Getting into network marketing with Beyond Slim can be a profitable endeavor as long as you're patient, diligent, and well-informed. Always keep learning, expanding your network, and improving to achieve the financial freedom you're looking for.
You might want to team up with a Beyond Slim recommended distributor. You find them at the bottom of this article.
With the exhaustive information provided by Business for Home, it is evident that Beyond Slim has the potential to be a lucrative venture. Individuals looking for a reliable and profitable business opportunity should consider exploring Beyond Slim as a viable option for business success.
Recommended Distributors Beyond Slim