ByDzyne's Yafel Quito Rojas from Perú Achieves 1-Star President
October 13, 2023
By Team Business For Home International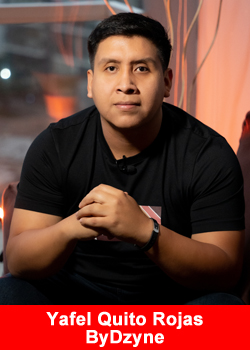 As 2023 begins to close out, ByDzyne continues to usher in some of the industry's upcoming stars and this month is highlighting its newest 1-Star President from Perú, Yafel Quito Rojas. 
* A President generates over $200,000 in sales revenue during a half-a-month span. 
Yafel, a 26-year-old rising entrepreneur from the coastal capital city of Lima, Perú, boasts a highly-respected military background with distinct experience in the national navy in his homeland.
In 2018, however, the Peruvian leader was in search of additional income and new options and fortunately found the opportunistic world of network marketing.
Now, just five years later, Yafel has found a home in the industry and believes this journey has been all-encompassing with the amount of amazing people, growth, and joy he's experienced.  
"A year ago, I started with what I consider a great vehicle in ByDzyne.

It is a company where I found multiple ways in which me and my partners can make a living because it has the best compensation plan that pays you everything you produce.

In addition, when your intention is right, God puts the right people in your life. For me, that is ByDzyne's executive team!

I want to continue sharing more conventions with them, more trips, more experiences, more events, and more success stories,"
shared an enthusiastic Yafel. 
ByDzyne's executive team is a firm believer that with the right mentality, mentors, and execution, like what they've observed with their newest leader from South America, anything is possible in multi-level marketing. 
"Congratulations to Yafel Quito Rojas on becoming ByDzyne's newest 1-Star President! We wanted to recognize your hard work, positive attitude, and commitment to your goals and dreams.
You are another example that with the right mindset and strategies, the sky is truly the limit. Please enjoy the success of today, but with intentional dedication to your craft, team, and ambitions, continue to prepare for bigger successes in your future,"
expressed Chad and Nattida Chong, ByDzyne's cofounders. 
Intrinsically motivated to be the best version of himself, and to be a part of a business that serves others by providing opportunities for quality of life and economic prosperity, the young leader believes his dreams have become a reality. He couldn't be more thankful for the process, and for the people around him that have been foundational to his growth. 
"This achievement is not an individual one. It is a team achievement, a family achievement, of many people fighting for their dreams built with hours and hours of work in the trenches.

So, thanks to every one of the people who have given me their knowledge and experience to understand this profession since my beginning.

I am even more grateful to each person who has trusted me, has seen the vision, has put on the shirt, and has fought with me to build a better future,"
conveyed a heartfelt Yafel. 
Building that better future begins now. Although he has described the last few years as a blessing, he is aware that it has also been filled with ups and downs. Regardless, Yafel knows he's on the right path of promises and is giving his everything for the hopes up ahead. 
"This result is by no means the final goal but rather it is just one more step in my career. There are still thousands more stories to build, and I affirm and declare that for the next convention, I will become Crown,"
exclaimed a deeply motivated Yafel.
ByDzyne makes ZERO income guarantees. It takes hard work and dedication to make a substantial income. All results may vary. Between 07/01/2021 to 06/30/2022: The number of active Brand Ambassadors (BAs) who have not received any commissions, bonuses or overrides is 19,901 or 77.12% of such BAs. The median amount of commissions, bonuses and overrides received by all active BAs is $0.00. 77.12% of all active BAs have received, in the aggregate, less than or equal to this amount.   22.88% of all active BAs have received, in the aggregate, more than this amount. The average amount of commissions, bonuses and overrides that have been received.