The Validus Way: Pioneering Excellence Through V-Mastery
October 11, 2023
By Team Business For Home International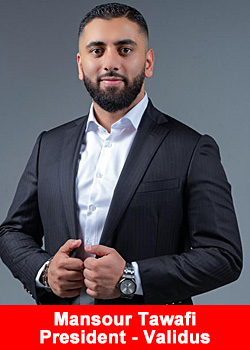 In the ever-evolving landscape of life's challenges, achieving success is often defined by the depth of one's knowledge and the mastery of essential skills.
Life offers abundant opportunities, yet the journey towards success can be laden with hurdles. It's here that the powerful partnership of Validus and V-Mastery steps in, pioneering a unique approach that places education and mentorship at the heart of personal success and financial independence.
Validus: A Beacon of Empowerment
Validus has rapidly expanded its global presence to over 100 countries, with a strong base of more than 600,000 members in just two years. Validus offers an exclusive membership program focused on equipping individuals with essential knowledge, tools, and connections for personal and professional growth.
Its vision revolves around continuous learning and adaptation in the dynamic business landscape, fostering a thriving community that connects individuals with thought leaders, industry experts, and peers, driving continuous self-improvement and meaningful growth.
"Education is the passport to the future, for tomorrow belongs to those who prepare for it today." 
– Malcolm X.
All-encompassing Learning Pathways with V-Mastery
To fulfil its mission, Validus has formed a strategic alliance with V-Mastery, a comprehensive online learning platform dedicated to revolutionizing financial education and supporting individuals in achieving financial success.
The V-Mastery platform offers access to a diverse range of online courses, encompassing essential financial topics like wealth management, financial literacy, cryptocurrency, NFTs, Web 3.0, trading, investment banking, wealth and finance management, and more.
These courses aren't one-size-fits-all; instead, they are thoughtfully curated by experts with extensive experience in their respective industries. These experts have not only mastered their crafts but have also achieved remarkable accomplishments. Their real-world experiences and insights seamlessly integrate into V-Mastery's training programmes, enriching the educational journey.
Expert Mentorship: The Heart of Success
The cornerstone of V-Mastery's success lies in its dedicated team of expert mentors and educators. These individuals are not just educators; they are industry luminaries with a proven track record of success.
Their mentorship isn't a one-size-fits-all approach; it's a personalized journey tailored to each individual's unique goals and aspirations. V-Mastery's mentors provide the guidance, support, and proven strategies necessary for achieving sustainable success.
Interactive Guided Learning: Wisdom in Practice
A standout feature of the V-Mastery approach is interactive learning through live sessions. This is where the wisdom of seasoned professionals is directly imparted to learners. These live sessions provide a platform for individuals to interact with mentors, ask questions, and gain practical insights.
Mentorship bridges the gap between theory and practice, allowing learners to apply their knowledge in real-life situations. It's a chance to learn from those who have navigated life's challenges and triumphed, offering invaluable guidance to those on their journey.
Real-World Application: Knowledge in Action
Education is only meaningful when it can be applied in real life. V-Mastery understands this, and its courses emphasize practical application. Learners don't just acquire knowledge; they are guided on how to use it effectively.
From financial planning to strategic decision-making, the focus is on practical skills that yield tangible results. V-Mastery's commitment to real-world application extends to its innovative platform, which includes real-time simulations. Learners can test their skills and strategies in a risk-free environment whilst gaining confidence.
Building a Supportive Community: Grow as One
Achieving success and financial independence can sometimes be a solitary journey, but Validus has changed that narrative and is continuing to do so. Validus understands the power of community, and the platform fosters connections among like-minded individuals.
Learners become part of a global network of ambitious individuals, sharing ideas, challenges, and successes. This sense of community is not only motivating but also provides a valuable support system. Members can collaborate, seek advice, and celebrate their achievements together. It's a testament to Validus' commitment to holistic growth.
Empowering the Future: The Validus Way
The Validus Way is not just a path to financial freedom; it's a journey of growth and development. It's a recognition that success and financial independence in life are not just ambitions; they are skills, arts, and sciences. With Validus, individuals have the opportunity to master these aspects and achieve unprecedented success.
In the realm of personal development and life success, where stories of triumph are written by those who continually seek knowledge and guidance, Validus emerges as a trailblazer. Its approach has transformed the lives of countless individuals worldwide.
For anyone aspiring to thrive in life, the Validus Way is more than just a strategy; it's a transformational journey.
Learn, Apply, Achieve!
About Validus
Validus is a Network Marketing company dedicated to marketing a membership model that gives access to valuable information in different subject areas and industries for the development of the individual, as well as the know-how to take advantage of trends in markets and new forms of technology.
Validus' primary function is to educate people who are underserved by financial institutions globally.
We believe that financial literacy is the key difference maker and provides a strong foundation for individuals to take control of their personal economy and work towards a better future. For more information please visit www.teamvalidus.com
Recommended Distributors Validus