Validus Adds NFT22 To Its Line-up
October 27, 2023
By Team Business For Home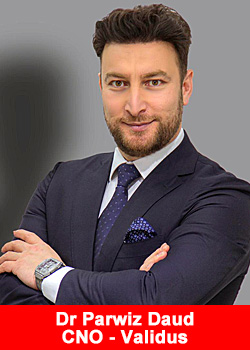 NFT22: The Latest Addition to the Validus Ecosystem and a Leap in Digital Evolution
In the rapidly evolving digital landscape, innovation has been the cornerstone of transformation. For the past two years, Validus, a global community with a vast reach, has consistently been at the forefront of empowering people.
With a membership base spanning over 600,000 people in more than 100 countries, Validus has solidified its reputation as a beacon of transformation.
Now, with the introduction of the NFT22 Ecosystem, the platform is heralding a new era of digital evolution.
The Genesis of an Indomitable Partnership: NFT22
Every significant milestone begins with an idea, a vision that takes shape and brings forth something groundbreaking. These NFT22 collections are no exception. To mark its entry into the world of NFTs, Validus has partnered with the NFT22 platform to create its exclusive collections of NFTs. This partnership has been designed to merge the world of digital collectibles with cutting-edge opportunities in the NFT arena.
In the world of NFTs, each token is a unique piece of history waiting to be owned.
The vision was clear: to create a space where individuals could not only own exclusive NFTs but also have the opportunity to be a part of the NFT revolution. This vision translated into the creation of the NFT22 platform, a platform that seamlessly integrates the world of NFT collectibles.
At the heart of the NFT22 Ecosystem lies the launch of new NFT collections. These NFTs are not just digital collectibles; they are gateways to a world of exclusive experiences such as staking, access to launchpad, a chance to win exclusive prizes, and more. These NFT22 collections come in several series, including the Legacy Collection, Founders' Collections, and the Bull Collection, each offering its own value and added benefits. This article aims to shed light on the features, use cases and benefits of these collections.
NFT22 Collections provide a thriving community for aspiring entrepreneurs, supported by unique Utility NFTs that appreciate in value as rarity increases. Staked NFTs come with a burning mechanism, offering the chance to win valuable prizes. Exclusive launchpad access, mutation options, and staking with periodic rebalancing make these collections a valuable addition to your digital assets.
Legacy Collection
The Legacy collection NFTs stand as the pinnacle of exclusivity and rarity within the NFT22 Collection. Owning one of these 99 digital treasures is a testament to your distinction in the world of digital collectibles.
Validus has partnered with the innovative NFT22 platform to introduce a unique profit-sharing mechanism for holders of legacy collection NFTs. As a special bonus, the legacy NFT holders will also receive their exclusive Legacy MetaCharacters in the Validus Metaverse, enhancing their digital presence and interaction within the virtual world.
Founders Collection
The Founders Collection Series of NFTs are split into two series with a maximum supply of nearly 15,000 NFTs. These series promise a multifaceted experience, including potential staking profits, rare MetaCharacters, PAD22 allocations (Validus' own launchpad platform), and varying rarity levels. Each series is further divided into tiers based on membership, ensuring a fair and diverse distribution.
Series 1 is available across a spectrum of six distinct tiers, ensuring a diverse range of options for collectors. Similarly, Series 2 adopts a parallel-tiered structure, broadening the horizons for NFT enthusiasts. Holders of both series will have the opportunity to share in staking profits from all future collections allocated among them, opening up an additional pathway for potential gains.
In addition to staking profits, Founders and Bull Collection NFT holders can explore a unique feature called Mutation. This allows holders to enhance the rarity of their NFTs, double their staking allocation, and enter a prize draw with the chance to win up to 1 BTC.
Bull Collection
The Bull Collection heralds the debut of its 1st series, flaunting an impressive supply of 22,000 NFTs. Offering diverse accessibility across six distinct tiers, this collection is committed to accommodating a wide spectrum of participants. Spanning from the lower tier to the upper echelons, it caters to the preferences of every collector.
Equipped with premium MetaCharacters and a plethora of allocation options, the Bull Collection delivers a top-tier experience within the expansive Validus Metaverse. The introduction of these distinct characters elevates online interactions and engagement, establishing it as an enticing choice for NFT enthusiasts.
Scalability for Global Impact
As Validus continues to expand its global presence, its NFT collections are designed to scale seamlessly. The platform's ability to cater to a diverse and growing community ensures that more individuals worldwide can benefit from the unique blend of NFT collectibles that NFT22s have to offer.
Authenticity and Scarcity for Added Value
Ensuring authenticity is a crucial aspect of these NFTs. In a digital world where counterfeits and knock-offs are prevalent, Validus is committed to maintaining the integrity of its NFT offerings. Through rigorous verification and secure blockchain technology, NFT22s stand as trusted, genuine digital collectibles.
Scarcity is a driving force behind the value of NFTs, and Validus leverages this concept effectively. Each series of NFT22s is released in limited quantities, making them prized possessions for collectors. The scarcity factor adds an element of exclusivity and prestige to these digital assets, further enhancing their appeal.
In the digital age, Validus has seized the opportunity to redefine the way individuals collect NFTs. They are a testament to innovation, offering a gateway to an exclusive world where rarity meets the allure of NFT collectibles. With an unwavering commitment to authenticity and a scalable vision for global impact, Validus is pioneering the next step in digital evolution.
As Validus continues to shape the future of digital collectibles, the world eagerly awaits the remarkable journey that lies ahead. With its global community and a commitment to excellence, Validus remains a beacon of transformation in the digital age.
The NFT22 Ecosystem is not just a collection of digital assets; it's a revolution in the making.
About Validus
Validus is a Network Marketing company dedicated to marketing a membership model that gives access to valuable information in different subject areas and industries for the development of the individual, as well as the know-how to take advantage of trends in markets and new forms of technology.
Validus' primary function is to educate people who are underserved by financial institutions globally.
We believe that financial literacy is the key difference maker and provides a strong foundation for individuals to take control of their personal economy and work towards a better future. For more information please visit www.teamvalidus.com
Recommended Distributors Validus