WorldVentures Review (US)
Review score:
Latest Company News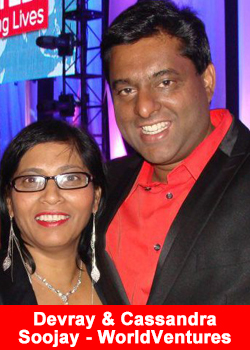 Devray and Cassandra Soojay Achieve $1 Million Ring Earner At WorldVentures
November 18, 2017
Devray and Cassandra Soojay from South Africa joined WorldVentures in 2009 in Johnny Wimbrey's team. WorldVentures is a Triple A classified opportunity by Business For Home. Triple A is the top classification. Johnny Wimbrey stated: 1 of ...
Read more
WorldVentures Holdings Appoints Gareth Hooper As CIO
November 6, 2017
WorldVentures™ Holdings LLC, parent company of the travel industry's direct-sales leader WorldVentures, is pleased to announce the appointment of Chief Information Officer Gareth Hooper. Hooper will lead technical operations, multi-level marketing (MLM) solutions, and the enterprise ...
Read more