MLM in Nederland groeit sterk
August 12, 2010
By Team Business For Home
[private_platinum]
Multi Level Marketing (MLM) of Netwerk marketing is een business model waarbij produkten of services met behulp van een netwerk van distributeurs rechtstreeks naar de consument wordt gebracht. MLM is aan een sterke opmars bezig zowel in Nederland als wereldwijd. Netwerkmarketing is een vorm van directe verkoop.
Toch zijn er duidelijke verschillen aan te wijzen tussen directe verkoop en netwerkmarketing. Bij directe verkoop ligt de nadruk op de verkoop van producten. Niet iedereen kan zomaar verkoper worden. Daar gaat vaak een selectie en opleiding aan vooraf. Bij netwerkmarketing ligt de nadruk op het bouwen van een netwerk op basis van het gebruik van producten. In principe kan iedereen die dat wil hiervoor inschrijven omdat er geen echte selectie plaats vindt. MLM zorgt voor ongeveer de helft van de omzet van directe verkoop.
Wereldwijd zijn de bedrijven voor directe verkoop verenigd in de WFDSA (World Federation of Direct Selling Associations. In Europa kennen we de FEDSA (Federation of European Direct Selling Associations) en voor Nederland de Vereniging Directe Verkoop. Deze organisaties houden zich voornamelijk bezig met regelgeving, met educatie en communicatie, met consumenten bescherming en met de ethiek van deze bedrijfstak.
In de jaren 80 heeft Amway het model geintroduceerd in Nederland, waarna grote bedrijven als NSA – Juice Plus+, Herbalife, Nu-Skin, Vemma en Oriflame volgden alsmede een aantal kleinere netwerk marketing bedrijven. In Nederland zijn circa 50.000 mensen actief in de branche. Het doel van netwerkmarketing is om producten bij eindgebruikers te krijgen en de basisregel bij MLM is simpel: Geen Omzet = Geen Beloning.
In het 2e kwaartaal van 2010 groeide de omzet van een aantal toonaangevend MLM bedrijven tot 20%.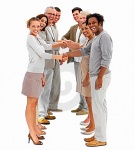 Een alfabetisch overzicht van MLM bedrijven die momenteel op de Nederlandse markt succesvol actief zijn:
| Rank | Naam | Productgroep | Omzet wereldwijd in $ miljoenen |
| --- | --- | --- | --- |
| 1 | ACN | Telefonie | 500 |
| 2 | Agel | Vitamine | 80 |
| 3 | Amway | Huishoudelijke produkten | 8400 |
| 4 | Avon | Cosmetica | 10400 |
| 5 | Euphony | Telefonie | 10 |
| 6 | FLP | Vitamine | 3000 |
| 7 | FM | Parfum | 10 |
| 8 | Herbalife | Gewichtbeheersing | 2300 |
| 9 | Mary Kay | Cosmetica | 2500 |
| 10 | Noni | Vitamine | 450 |
| 11 | NSA Juice Plus | Vitamine | 80 |
| 12 | Nu Skin | Cosmetica | 1300 |
| 13 | Organo Gold | Koffie | 16 |
| 14 | Oriflame | Cosmetica | 1300 |
| 15 | Vemma | Vitamine | 100 |
| 16 | WIN | Vitamine | 10 |
| 17 | Xango | Vitamine | 275 |
[/private_platinum]