21 Languages Available For The Business For Home Virtual Conference!
May 28, 2021
By Team Business For Home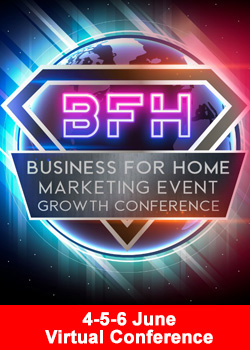 Due to very high demand, with attendees from 100+ countries, we are proud to announce that the Virtual Business for Home Growth Conference with 30+ speakers, Top Earners and Top Trainers will be translated in real-time in 21 languages:
Arabic
Bengali
Chinese (Simplified)
Chinese (Traditional)
Dutch
English
French
German
Hindi
Indonesian (Bahasa)
Italian
Japanese
Korean
Polish
Portuguese
Romanian
Russian
Spanish
Swedish
Tamil
Vietnamese
We are using an innovative real-time translation tool that has an outstanding performance even in picking up different accents!
You will be able to select the subtitles in your preferred language and follow the teachings of The Best!

This incredible opportunity to learn from the top in the industry has now become available to a greater audience, so make sure to share this event with everyone you know.
Nowhere will you be able to access three days of dynamic, life-changing content for the incredible price we are offering! You can even benefit from a discounted price if you buy 10 or more tickets, so make sure to secure a spot for your team.
Buy your tickets here:
https://ticketfactory.io/event/business-for-home
To access the event via our platform, use your ticket number to login here:
https://live.ticketfactory.io/login
Request a new password (if you lost it) here:
https://ticketfactory.io/forgot-password
Should you have any further questions, you can always contact us at
The (English spoken) Virtual conference will be with subtitles in 21 languages:
Network Marketing Professionals from around the world will come together in an immersive generic training experience.
Using the latest and most advanced technology and audio/video equipment available, we will bring you 3 days of the best of the best training anywhere available for an unparalleled price, broadcasted from an impressive TV studio in the Netherlands.
A ticket is just $35 for all 3 days!
Young network marketing leaders, fast rising stars, as their mentors will share their methods and "secrets" to recruit, team up and build a large organisation.
30+ Top speakers from Asia, Europe, Africa, Latin America, Middle East and USA.
NO HYPE, BUT PURE KNOWLEDGE    
It is delivered to you in a completely generic format. No companies or products are ever mentioned, so you will feel safe to share this ultimate training event with your Team!
Emerge from this new era as a true leader.
Unveil the secrets of influential network marketeers from all over the work at our event.
There is no better place to invest in yourself than the upcoming Business for Home Virtual Growth Conference
A three-day life changing experience that features renowned legends and rising stars.
Learn how to excel in your business and be empowered by successful leaders.
How to develop a million-dollar mindset.
How to develop the skills necessary for success in Network Marketing
How to develop strategies to help you grow faster,
How to increase retention.
How to create more duplication.
How to keep your team engaged.
How to develop yourself as a world-class leader in Network Marketing.
How to identify people with leadership potential.
How to help your leaders.
How to create an exciting and executable game plan.
Speakers, Mentors, Trainers and Hosts: