Virtual Business For Home Conference – How To Login
May 26, 2021
By Team Business For Home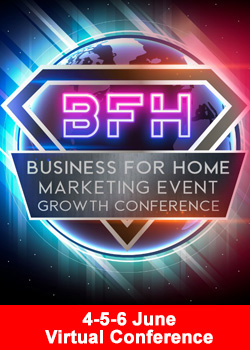 The upcoming Virtual Business from Home Growth Conference 4-6 June is just a few days away and we can not contain our excitement!
Our story began with an inner desire to shape the minds of marketeers in unparalleled opportunity with the best of the best: no company promotions, no advertising, just the secrets of success unveiled to your benefit.
Make sure you free the time to attend this unmissable chance to hear first-hand the insightful tips of those who made it to the top and will now guide you on how to reach new levels of success.
The unique lineup of 30 + speakers will make your time worthwhile so make sure you are prepared when this fully packed three-day experience will start! 
When does the Event start:
The Event will start on 4 June 2021 at 4 pm Central European Time till 8.30 pm.
You can check here what that time is in your location:
https://www.timeanddate.com/time/zones/cet
To access the event via our platform, and to check your credentials, log in NOW on our streaming site using your Ticket ID.
You will see a promotional video, then you are all set for 4 – 6 June:
https://live.ticketfactory.io/login
Where can I find my Ticket ID?
Log in at https://ticketfactory.io/login and go to the My Events section that you can find under your Profile (Upper right corner).
I cannot log in to my Ticket Factory Account. 
 Request a new password here: https://ticketfactory.io/forgot-password
—
Can you imagine being featured amongst the masters and rising stars of the industry during the conference? Well, YOU CAN! Just imagine what this type of visibility could do for your business!
We offer a very exclusive and limited opportunity to purchase a video testimonial package along with tickets and being featured in the well renowned business for home website! The Video will be played at the event and streamed to our attendees around the globe!  The options are available for purchase in our website.
Don't miss out, take action to achieve the life you dream of!
Should you have any further questions, you can always contact us at [email protected]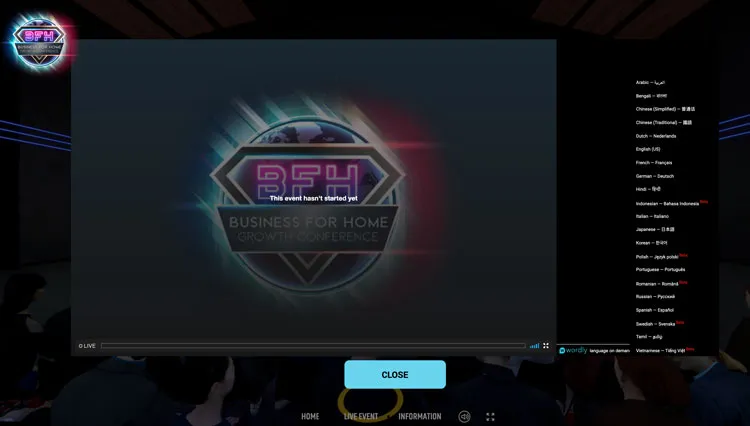 The (English spoken) Virtual conference will be translated in several languages, you find the buttons on the right bottom corner for:
Arabic
Bengali
Chinese (Simplified)
Chinese (Traditional)
Dutch
English
French
German
Hindi
Indonesian (Bahasa)
Italian
Japanese
Korean
Polish
Portuguese
Romanian
Russian
Spanish
Swedish
Tamil
Vietnamese
Network Marketing Professionals from around the world will come together in an immersive generic training experience.
Using the latest and most advanced technology and audio/video equipment available, we will bring you 3 days of the best of the best training anywhere available for an unparalleled price, broadcasted from an impressive TV studio in the Netherlands.
A ticket is just $35 for all 3 days!
Young network marketing leaders, fast rising stars, as their mentors will share their methods and "secrets" to recruit, team up and build a large organisation.
30+ Top speakers from Asia, Europe, Africa, Latin America, Middle East and USA.
NO HYPE, BUT PURE KNOWLEDGE    
It is delivered to you in a completely generic format. No companies or products are ever mentioned, so you will feel safe to share this ultimate training event with your Team!
Emerge from this new era as a true leader.
Unveil the secrets of influential network marketeers from all over the work at our event.
There is no better place to invest in yourself than the upcoming Business for Home Virtual Growth Conference
A three-day life changing experience that features renowned legends and rising stars.
Learn how to excel in your business and be empowered by successful leaders.
How to develop a million-dollar mindset.
How to develop the skills necessary for success in Network Marketing
How to develop strategies to help you grow faster,
How to increase retention.
How to create more duplication.
How to keep your team engaged.
How to develop yourself as a world-class leader in Network Marketing.
How to identify people with leadership potential.
How to help your leaders.
How to create an exciting and executable game plan.
Speakers, Mentors, Trainers and Hosts: