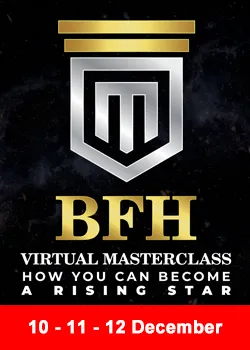 Virtual BFH Masterclass "How To Become A Rising Star"
July 7, 2021
Ticket sales start September 16
NEXT LEVEL MASTERCLASS
10 – 11 – 12 December  2021
4:00 pm – 9:00 pm (Amsterdam time)
Network Marketing Professionals from around the world will come together in an immersive generic training experience, a Masterclass:
"How You Can Become A Rising Star"
Using the latest and most advanced technology and audio/video equipment available, we will bring you 3 days of the best of the best training anywhere available for an unparalleled price, broadcasted from an impressive TV studio in the Netherlands.
Real-Time Translation in 21 languages
No Hype, No Upsells, Pure Knowlegde
It is delivered to you in a completely generic format. No companies or products are ever mentioned, so you will feel safe to share this ultimate masterclass with your Team!
Ticket sales starts 16 September 2021
What you will learn:
How to use social media to build up your business.

How to recruit people into your team.

How to follow up prospects

How to build a rock solid team.

How to coach your team.

How to find the perfect mentor or coach.

How to add value and position yourself as a great leader.

How to deal with the inevitable rejection.

How to develop an unbreakable mind set.

How to build up part-time.
A ticket is just Euro 35 for all 3 days!
Recap June 2021 Masterclass / Conference:
Network marketing Top leaders, Fast Rising Stars, as their mentors and coaches will share their methods and "secrets" to recruit, team up and build a large organisation.
35+ International Top Speakers, Coaches, Mentors and Rising Stars!