The 500 Largest Direct Sales Companies In The World 2023
March 10, 2023
By Team Business For Home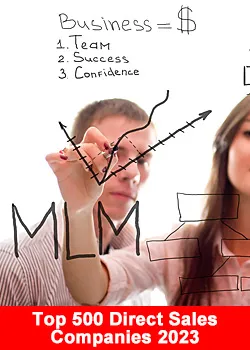 This list is in $USA and in real time, meaning if we validate / add / adjust the revenue for a company this list will be updated and the ranking will change instantly.
Below figures are "What we know now", and based on 2022 revenue, this list will be updated regular.
We receive this revenue numbers from CEO's and CFO's or through other reliable sources such as Top Leaders or (former) employees and Direct Selling News.
For a number of private companies we have estimated the revenue based on public information, (former) top distributors (former) executives, or other sources, and we estimate on the low side.
If you want to share information or adjust below revenue, please log a support ticket. Since 12 years we handle information confidential and NEVER reveal our sources.
Disclaimer
While we have used our reasonable efforts to ensure the accuracy of the data used in this website, data should be read as indicative of magnitude rather than exact figures. Business For Home BV has made every attempt to ensure the accuracy and reliability of the information provided on this website. However, the information is provided "as is" without warranty of any kind. Business For Home BV does not accept any responsibility or liability for the accuracy, content, completeness, legality, or reliability of the information contained on this website.
No warranties, promises and/or representations of any kind, expressed or implied, are given as to the nature, standard, accuracy or otherwise of the information provided in this website nor to the suitability or otherwise of the information to your particular circumstances.
If you want to add a company please check this page.