4life Review 2011
May 19, 2011
By Team Business For Home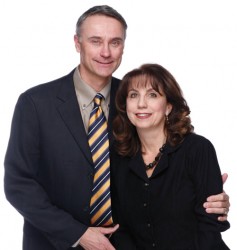 4Life is founded in 1998. David and Bianca Lisonbee are the founders of 4Life Research, a direct sales company based in Salt Lake City, Utah, USA. 4Life is the leader in the development, production, and distribution of Transferceutical products that educate the immune system to recognize, respond to, and remember potential threats. 4Life is dedicated to building people through science, success, and service.
4Life has been able to expand into 19+ other countries. The company has been featured in several publications and TV shows. 4Life flagship product, 4Life Transfer Factor, is included in the PDR (Physicians Desk Reference) since 2002. 4Life Transferceutical Products are unique, patented and cutting-edge—improve immune system function by up to 437%. A preliminary scientific test suggests that 4Life Transfer Factor Tri-Factor Formula strengthens your immune system guard by increasing the number of protective IgA antibodies. Annual revenue est. 2010 $150 million, 120,000 distributors.
Products
Weight Management, Nutrition, Personal Care, Vitamins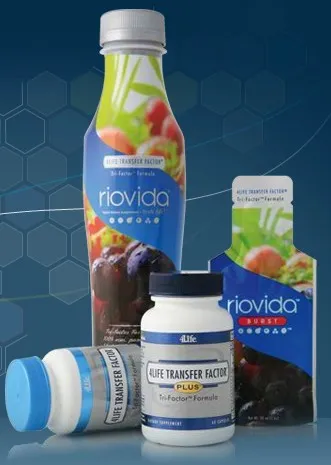 Transfer Factors aren't vitamins, minerals, herbs, or fruit. They're messenger molecules that teach immune cells what they ought to be doing. Transfer Factor molecules are completely unique. They contain information that can be transferred from one immune system to another. That means that your body can borrow the immune education it needs to recognize, respond to, and remember unwanted threats. 4Life Transferceutical products truly provide the ultimate in immune system support.
When it comes to immune system research, 4Life took the lead in 1998 and never let go. The company has created a new category of immune system research called Transferceutical Science. The science is backed up with multiple patents – and studies that show a record-breaking 437% boost in immune cell activity.
4Life leads the way in Transferceutical Science. The company constantly breaking new ground and looking for new ways that they can provide immune system support for you. The latest innovations, the Tri-Factor formulas, both boost and balance the immune system, aiming for optimal regulation.
Compensation Plan
An unilevel compensation plan. Up to 64% payout, among the highest payouts in the industry Infinity payouts in your business.
25 percent payout on personal volume.
Rapid Rewards- The more volume you generate through new enrollments, the more "rapid" your "rewards" can be.
Infinity Commissions – Begins with fourth generation.
Combines financial gain of multiple levels within a single generation.
Earn rewards all the way to the bottom of your organization, or until interrupted by an equal or higher rank.
Retail Reinforcement – Boost your business with retail sales of 4Life's products.
Extend your retail reach with your personal my4life.com website.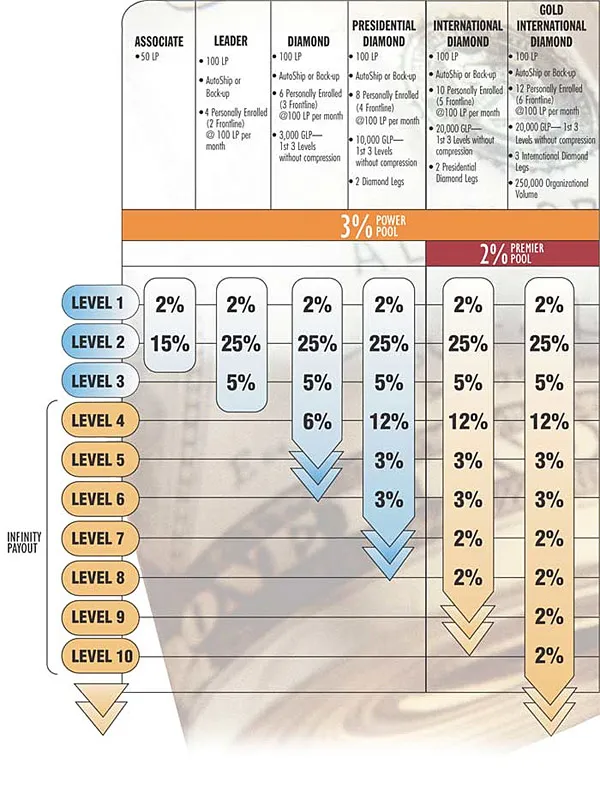 Corporate leadership
Executive team from left to right: David Lisonbee – Founder and CEO, Steve Tew – President, Mark Petersen – Vice President Field Development, Jeff Kalinin – Senior Vice President International, Steve Apple – Vice President International, Trent Tenney Senior Vice President Marketing.

Calvin McCausland – Chief Scientific Officer, Emma Oganova – President Eurasia, Mark Ostler – Chief Finance Officer, Dany Lee – Chief Operations Officer, Nolan Buttars – Vice President Finance, Dean Carter – Vice President Accounting.

Hema Heimuli – Vice President Design, Darrel Ieremia – Vice President International, Calvin Jolley – Vice President Strategic Development, Jaime Pierce – Vice President Services, Kathryn Price – Vice President Legal Affairs, Jeremy Taeoalii – Vice President IT.

Alexa Ratings, 3 months growth 60%. Worldwide rank 33,532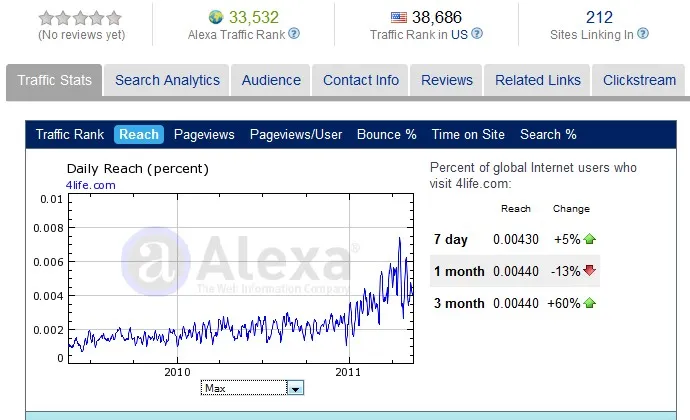 Top Producers
From left to right: Ray & Barbara Meurer, Dr. Herminio Nevárez & Yadira Olivo, Bonnie Taylor, Juan Rosado & Damaris Zapata, Jeff & Michelle Altgilbers, Dave & Gabriela Daughtrey, Sadik Din & Hasnimah.

Top Earners, the est. earnings are as follows:
[private_platinum]
DISCLAIMER:
The information contained in this website is for general information purposes only. While we endeavour to keep the information up to date and correct, we make no representations or warranties of any kind, express or implied, about the completeness, accuracy, reliability, suitability or availability with respect to the website or the information, products, services, or related graphics contained on the website for any purpose. In no event will we be liable for any loss or damage including without limitation, indirect or consequential loss or damage, or any loss or damage whatsoever arising from loss of data or profits arising out of, or in connection with, the use of this website. Through this website you are able to link to other websites which are not under the control of Business For Home. We have no control over the nature, content and availability of those sites. The inclusion of any links does not necessarily imply a recommendation or endorse the views expressed within them. Every effort is made to keep the website up and running smoothly. However, Business For Home takes no responsibility for, and will not be liable for, the website being temporarily unavailable due to technical issues beyond our control.
[/private_platinum]