ForeverGreen Review 2011
June 6, 2011
By Team Business For Home
Forevergreen is founded in August 2003 by Ron Williams, born and raised in Southern California, USA, a man with over twenty years experience in the direct selling business. As a singer, composer and producer of music, Williams is also an award-winning filmmaker.
By promoting healthy eating without synthetics, the company offers a wide selection of foods and beverages that are nutritious and grooming products that contain no chemicals. ForeverGreen is a company that stakes its future on timeless principles of health and humanity, and then trusting in the results.
The company is a member of the Direct Sellers Association. ForeverGReen is a public company manufacturing its own products, ForeverGreen is shipping products to : United States, Australia, Canada, Japan, Mexico, New Zealand, Singapore, the United Kingdom, Spain, the Netherlands, Germany, Columbia, Chile, Argentina, Ecuador, Bolivia, Peru, Dominican Republic and other South American countries. The main distribution center is located in Orem, Utah, USA near the main corporate office.
Revenue 2010 $10,6 million, estimated 20,000 distributors.
Company Statement Annual Report 2010:
Starting in the fourth quarter of 2010 we experienced a sales growth trend that is continuing into the first quarter of 2011. We have experienced a significant increase in sales in March 2011 as compared to February 2011 primarily as the result of the introduction of our new brand line "VERSATIVA" which is designed to improve our business opportunity for our independent distributors. We anticipate that the increase in sales will continue in the short term
Products
Whole foods, nutritional supplements, personal care products, weight management and essential oils.
Product lines:
FrequenSea The flag ship product is FrequenSea, a whole-food beverage consisting of a proprietary blend of marine phytoplankton, ionic sea minerals, frankincense, rose, ginger and aloe vera in a base of blueberry, cranberry and lime juice concentrate.
LegaSea products. The LegaSea brand line also features a number of products that contain the exclusive and beneficial marine phytoplankton featured in FrequenSea. Azul is a high-antioxidant, delicious powdered blend of 24 raw whole food and super fruit ingredients and probiotics that are naturally dried and blended to preserve their natural integrity.
TRUessence Essential Oils. ForeverGreen offer a variety of pure, therapeutic-grade wild crafted essential oil singles and blends, sourced from all around the world. The company believes there are many preventative and pleasurable ways to use essential oils topically, aromatically, as well as therapeutically in personal care products.
HYDRessence Plant Life Concentrates. Utilizing the patent-pending and, exclusive to ForeverGreen, Aqueous Molecular Partitioning (AMP) process, HYDRessence Plant Life Concentrates contain the nutrients of the entire plant in three effective, delicious, and highly concentrated liquid products that can be added to water or juice for an enhanced nutritious and pH-balancing experience.
TRUessence Apothecary & Personal Care products. The personal care products include a variety of products to suit personal care needs, from tooth powder to shaving cream, to chemical-free house cleaners, to luxurious bath salts.
O3World Weight Management products. In August of 2008 the O3World product line was introduced to support weight management through the products, FIXX, FORM/ FIBE and FILL.
Compensation Plan
Uni-Level compensation plan with compression.
Start kits, ranging from $99.95 to $549.95 for a new member. ForeverGreen introduced a new compensation plan: "The People's Plan" which started on July 27, 2010. Unlike most marathon plans in this industry, the People's Plan is quick, simple and "in your face" and rewards beginners, intermediates and leaders alike. The key behavior of duplication is to achieve and teach the rank of Team Leader.
Corporate leadership
From left to right: Ron Williams – President, Founder and Chief Executive Officer, Brenda Huang – Chief Marketing Officer, Paul Frampton – Chief Financial Officer, Timothy Simpson – Chief Information Officer, Alvarado – Vice President of Latin American Business Development, Brett Potter Barret – Vice President.
ForeverGreen Alexa Ratings, 3 months growth 100%. Worldwide rank 331,813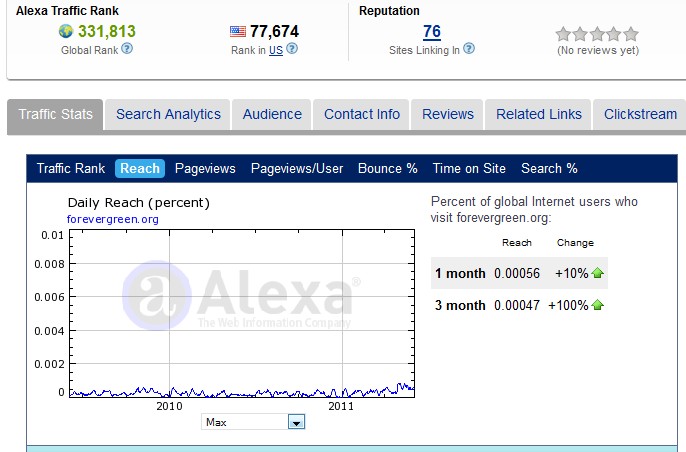 ForeverGreen Top Producers
From left to right: Harvey Wehde & Kathy Jones, Marilyn Stewart, David Q. Yost, William & Melanie Boles
From left to right: Kris Wharton, Aaron McCaughan, Sarah Stewart, Sherrie Olp, Iris Roper
ForeverGreen Top Earners, the est. earnings are as follows:
[private_platinum]
DISCLAIMER:
The information contained in this website is for general information purposes only. While we endeavour to keep the information up to date and correct, we make no representations or warranties of any kind, express or implied, about the completeness, accuracy, reliability, suitability or availability with respect to the website or the information, products, services, or related graphics contained on the website for any purpose. In no event will we be liable for any loss or damage including without limitation, indirect or consequential loss or damage, or any loss or damage whatsoever arising from loss of data or profits arising out of, or in connection with, the use of this website.
Through this website you are able to link to other websites which are not under the control of Business For Home. We have no control over the nature, content and availability of those sites. The inclusion of any links does not necessarily imply a recommendation or endorse the views expressed within them. Every effort is made to keep the website up and running smoothly. However, Business For Home takes no responsibility for, and will not be liable for, the website being temporarily unavailable due to technical issues beyond our control.
[/private_platinum]