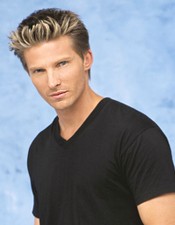 Steve Burton Joins Visalus
October 14, 2011
Steve Burton, Star actor from the USA General Hospital TV series (USA), and his wife Sheree Burton are joining Visalus. Steve was a former Black Diamond in Monavie.
About Steve Burton:
He was raised in Cleveland and Chicago; moved to Beverly Hills at age 16.
Made his TV series debut in 1987 as Chris Fuller in the sci-fi sitcom Out of This World.
Landed the role of Jason Quatermaine on General Hospital in 1991.
Movie debut was alongside Robert Redford in 2001's The Last Castle.
Has won a Daytime Emmy for Outstanding Supporting Actor (1998)
Won the Digest Awards for Outstanding Younger Lead Actor (1997-98), Hottest Male Star (1999) and Outstanding Supporting Actor (2003).
Rick Gutman and Derk Cheetwood are teaming up with Steve in below Video
Want to read the 0 reviews on ViSalus? Click here for ViSalus Review!