Richard B. Brooke – 21 Ten Interview
November 29, 2011
By Team Business For Home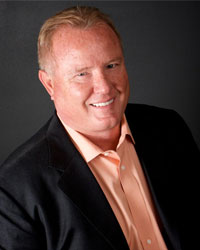 Richard B. Brooke is one of the servant leaders in the Direct Selling Industry in the USA and a 35-year veteran of the Network Marketing profession. Richard boasts a successful career as both a full-time Network Marketing sales leader and corporate executive since 1977. In March 1992 SUCCESS Magazine did the first ever positive feature article on the network marketing industry in a major publication. That issue featured Richard on the cover. He was also nominated as Inc. Magazine's Entrepreneur of the Year.
He is a former member of the Direct Selling Association (DSA) Board of Directors and serves as a senior member of the Ethics Committee, as well. He started as a distributor and became founder, owner and Chief Visionary Officer of USA based Direct Selling Company Lifeshotz founded in 2010 and owns Oxyfresh founded in 1984.
Richard is known for his United We Stand, Divided We Fall: – The Future of Network Marketing – Philosophy.
Richard B. Brooke grew up on a cattle ranch in central California. After high school, Richard pumped gas at Pearson's Arco at the corner of G and Olive streets. He lived at the gas station in his camper. After failing to lock the front door of the gas station two nights in a row, he was fired and went to work for Foster Farms, the largest poultry processing plant in the world. It was a union job that paid $3.05 an hour, complete with benefits, seniority, vacation, and best of all—retirement. Richard cut chickens into parts as they flew past him on the production line.
Having established gainful employment at the age of 22, Richard fully expected to spend the next forty years of his life working at the chicken plant, building seniority (POWER), vacation time (FUN), and clicking off the years to retirement (FREEDOM). Then a friend introduced Richard to a business model (AmPro Marketing) that promised fun, freedom and (as he would later describe it) a life beyond money. Stepping in to a new way of thinking and working required a huge change in perspective. Richard had to believe that he was both capable and deserving of success, and then relentlessly pursue a new direction in his life. With the help of friends, mentors and coaches, he did just that.
Richard made his first million before the age of 30, advancing to the top sales-leader position in AmPro Marketing a $60 million Network Marketing organization made up of more than 200,000 sales people. At age 28, he became the Executive Vice President of that company.
Richard, in which companies have you been involved as a distributor?
American Professional Marketing based in Oklahoma City, OK. We sold Mixigo fuel conditioners made by Bell Labs 1977-1986 and Oxyfresh 1986 to current.
How did you got the idea to start your own business?
I did not start Oxyfresh. I was hired by Oxyfresh as a consultant in 1986, later become the CEO and later become the majority owner. There are 220 owners – mostly sales leaders and employees.
Who have been your mentors or inspirators?
Kurt Robb, Napoleon Hill, Dale Carnegie, Charlie Orr, Harry Hersey, Rich Devos, Art Williams.
Richard, what are your core values from a helicopter view for the Direct Selling Industry?
We need to lock arms in mutual respect, choose our partners and build an industry, a business paradigm and a way of life that can never be voted out of existence. We can only do that with ethical, legal and moral success.
| | | |
| --- | --- | --- |
| | | |
| Richard B. Brooke as Motor Lover | Golfing with John C. Maxwell | Snow mobiling in Idaho |
Richard, can you explain this values?
The history of our industry has been wild, fun, profitable and heartbreaking. We have grown 19 out of the last 20 years. And we could have done so much more.We could have avoided so much bad press; so many regulatory actions and
so many dreams destroyed. We could have shifted the paradigm by now… the "tipping point" if you will.We need to tap our core values of contribution, respect, love, friendship, honor and integrity… and avoid our attachments to greed, recognition,
dominance and control.
How do you see Network Marketing?
Network Marketing, or Multi-Level Marketing, is NOT what some people like to call "just a compensation plan." We are an unique community within the Direct Selling Industry. We are a community and culture of building empires of multiple levels of sales representatives, on which we expect to be paid forever. We are not looking for another sales job. We have had those.
The shared vision of Network Marketers could be this: To bring a new paradigm of abundance and wealth building into existence so that most people…
Understand how and why Network Marketing could work for them.
Admire and respect those who succeed,just as they admire those who succeed in equities, real estate and small business.
Trust the business model based on our ethics, our candor, our commitment to build trust and respect.
And have one primary Network Marketing business, in which they are building residual income.
Will your vision ever been accomplished?
It will never happen as long as company owners and their executives see the source of their sales— the independent sales leaders— as employees or dispensable assets. And until sales leaders begin to see company owners as their most valuable asset…one to be protected vs. the more common pump and dump attitude that most have now. This new paradigm will never exist without a shared vision and shared values. If we truly embody the core values of contribution, partnership, success and integrity we can get there.
However, this synergy will never happen as long as we tolerate greed, unlawful strategies, irresponsible product development and unethical business promotion. It will never happen as long as company founders continue to design compensation strategies that violate the law; violate the DSA Code of Ethics; and as long as those same company founders continue to hide their lawlessness in the complexities of their plans, hoping to run under the radar or at least get big enough fast enough to be able to afford the fines and move on.
Richard Bliss Brooke interviewed by Eric Worre
What advice would you give Direct Selling Professionals?
Do your homework. Find a company that honors your own vision and values, one that is responsible and committed to longevity.
Marry your company, for the long haul.
Follow your company's policies and procedures. Do not put your company at risk with unethical marketing or business practices. Check your facts. Just because someone else said it, doesn't make it true.
Follow the spirit and intent of your compensation plan. Compensation plans are designed to incentivize specific behaviors and a specific culture. Undermining the plan undermines the culture.
If a divorce is absolutely necessary, do it with honor, integrity and generosity. When it is clear you made a mistake, get out quick and get out clean. Don't expect to be paid to compete with your former company. There is no leadership or integrity in such an expectation. Also, don't promote your new company at the public relations expense of your previous company. Remember, at one time you said that they were the best there was.
Be a "Do the Right Thing leader. You know what the right thing is. Do that.
What is your vision for Direct Selling in the future? Where is the industry going to?
I expect the overall profession will continue to grow as more and more companies are launched to take advantage of the business model. This will actually make it more difficult for distributors as the playing field will get even more crowded with marginal products and opportunities. I expect we will all fight our way across the finish line …that being the tipping point where most people accept network marketing as the most powerful way to build wealth for the individual.
About Richard B. Brooke
Through Richard's coaching, writings and seminars thousands of leaders have discovered new distinctions in listening, leadership, courage, relationships, team spirit and big-time fun. He is the author of The Four Year Career Plan, Mailbox Money, Mach II With Your Hair On Fire and co-author of The New Entrepreneurs: Business Visionaries for the 21st Century.
Some of the presentations that Richard has authored include:
The 4-Year Career Plan™
Listening Through Objections
Value-Based Prospecting
Vision and Self-Motivation
The Un-Boss
The New Leaders
Therapeutic Listening
Coaching For Personal Breakthrough
A Life Beyond Money
| | | | |
| --- | --- | --- | --- |
| | | | |
| Mach II Fire | | The Four-Year Career | Listening Through Objections |
Richard continues to play full out from his home on the lake in the resort community of Coeur d'Alene, Idaho and in Carmel, California . Richard enjoys Harleys, golf, water sports, scuba-diving, skiing, snowmobiling, helicopter flying, a good game of poker and a real Cuban cigar.