Kevin Thompson – Top MLM Lawyer Interview
December 18, 2011
By Team Business For Home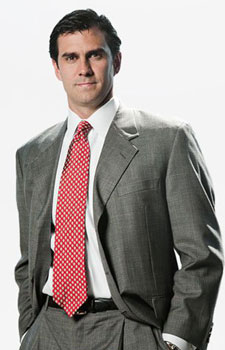 Recently, I had the privilege of interviewing
top MLM lawyer
,
Kevin Thompson
. Kevin is married to
I first met Kevin before his keynote presentation at our Direct Selling Congress held in Amsterdam. I've maintained a close relationship with Kevin since the conference and I've sought his advice on numerous occasions. I've found him very knowledgeable with
MLM law
and just enjoyable to work with.
Kevin specializes in providing legal services for startup network marketing organizations. Rapidly becoming one of the most influential people in the industry,
Kevin Thompson has extensive experience and helps entrepreneurs launch their businesses on secure legal footing.
Kevin's entry into the industry is very unique as he was in-house counsel for Orrin Woodward's company, TEAM. Orrin was one of Amway's top distributors and went through a bad divorce from them on his way to MonaVie.
During his time with TEAM, Kevin gained unique insights on the industry from a distributor perspective. Based on his experience with both distributors and MLM companies, he understands the challenges of getting the company and its field to work together with a shared vision.
Kevin, how did you get involved in MLM Law?
I started my journey in the industry as an excited distributor. Like a lot of others in the space, I started in Amway. I was introduced to the business through a family member. When I started in the business, I quickly realized the value of the business model. I recognized it as a great win/win relationship between the company providing unique products and the distributors getting paid to sell them.
It's the only opportunity where the brand new participant, given the right platform, has a shot at dramatically changing his or her financial future with such a low cost of entry. I began my steps as a MLM attorney when I accepted an offer from Orrin Woodward to serve as the in-house counsel for Team.
At the time, I was working at a law firm in Tennessee and looking for a change. I saw Orrin's offer as a great opportunity to learn more about the industry and participate in solving interesting problems affecting the space. Orrin would eventually cross blades with Amway, which exposed me to some amazing insights in litigation between distributors and their former companies. I also got to work closely with both Amway's and MonaVie's compliance departments, which accelerated my education in MLM law.
What do you like most about serving MLM clients?
I absolutely love their competitive spirit. Entrepreneurs that want to start network marketing companies are all ambitious people passionate about their product or service. They really want to change the world and they're convinced the network marketing model is the best way to do it. I really enjoy hearing their stories, listening to their vision and sampling their cool products. As a competitor, it's fun to be a part of their ambitious journey to realizing their dreams.
What are some of your experiences that make you well suited to serve clients in the industry?
I've been a competitor my entire life. I can really identify a client's ambition to defy the odds. In college,
I competed in the decathlon
, which is comprised of 10 different disciplines in track and field. Click the link for a short video. There's sadly an embarrassing blooper in there. I studied and worked hard for several years, sacrificing much and suffering a number of setbacks.
| | | |
| --- | --- | --- |
| | | |
| The Thompson Family | Hang gliding in Brazil | Kevin's Sport Career |
In the end, I managed to earn all-American honors in a very competitive field. In a way, starting a company is exactly like doing a decathlon. There are emotional highs and lows and several skill sets required. Strengths and weaknesses need to each be measured and handled. The key is to have patience, long term vision and good success habits. I really enjoy helping clients deal with the numerous challenges that go with launching a multilevel marketing business.
What is the state of the network marketing industry right now?
The MLM profession is absolutely growing. In my opinion, with the flood of information brought on by the internet and social media, traditional advertising is just less effective. Companies are looking for creative ways to market their products and network marketing is an option that makes sense. We'll also continue to see an uptick in the trend for startup MLMs due to the benefits plus the decreasing costs of starting one.
This is a great thing and a bad thing at the same time. It's great because competition makes everyone sharp. It's bad because there's a lot of companies launching with tragically flawed models due to minimal internal quality standards and external legal regulations. In an effort to attract leaders, companies are making the mistake of doctoring up pay plans to heavily incentivize recruitment over product sales, which leads to a problematic sales culture.
Unfortunately, this has led to the growth of pyramid schemes operating under the guise of network marketing, which harms the overall reputation. The victims of such fraud walk away associating the fraud with network marketing and they hit the airwaves blasting the industry.
What are things the industry can do to increase its credibility in the mainstream marketplace?
As a profession, we need to find a way to increase quality standards at the company level. While it's great for distributors to come together, network and discuss ways to elevate the profession, field behavior is largely driven by the contracts and incentives created by companies. Until companies increase their standards, the behavior that leads to trouble will persist.
There's plenty of examples of great companies operating with a long term commitment for excellence. Those companies are dwarfed by companies looking to make a quick buck with some new age compensation model. In my opinion, the strong companies should come together and push for increased standards whether by legislative means or by asking more of their trade associations.
The
Direct Selling Association
, the largest trade association of network marketing companies in the world, has a unique opportunity to lead this effort. As a member of the Code of Ethics committee at the DSA, I think the effort can begin there. The effort can also be led by fellow professionals in the space looking to start a certification program.
Len Clements
has been a proponent for this idea since I've known him and I think it's a great one.
What does the future hold for the industry?
I'm very optimistic about the future. I think the rate of growth will not only increase, but accelerate. I think we'll see new market segments test the MLM model as a legitimate means to distribute products. Premium coffee will do well in 2012 as well as products in the weight loss category. I'm also hearing rumblings about more celebrity involvement in 2012. I'm optimistic that we, as a profession, will find ways to help prospects distinguish the good companies from the bad ones.
Unfortunately, I also think we'll see more litigation as the younger companies continue to poach the leadership base of the more established companies.
Ted, I believe you've recently written about
Melaleuca suing several ViSalus distributors.
We'll see more of the same over the coming years as distributors are constantly enticed with endless options. In summary, the future is bright. As with decathletes, we need to be honest with our strengths and weaknesses as an industry. Thankfully, our strengths have more than made up the difference and pulled us in a positive direction. With strong leadership, we can get even better and position ourselves to be a strong force in commerce.
Contact Kevin Thompson: