Dr. Mehmet Oz Signs on as Keynote Speaker for Vemma
January 19, 2012
By Team Business For Home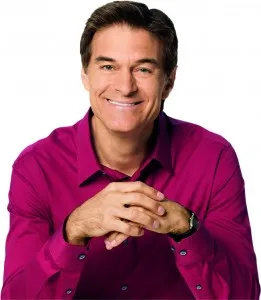 Vemma Nutrition Company is pleased to announce its Vemma Believe 2012 convention to be held at Caesars Palace Las Vegas, March 1–4. The Vemma Believe 2012 convention is all about believing in yourself, your goals and your dreams; and Vemma has assembled an A-list speaker lineup to provide the knowledge, tools and inspiration to help attendees turn that belief into the life they dream of.
For the third year, Dr. Mehmet Oz, the two-time Daytime Emmy® Award-winning host of Emmy Award-winning The Dr. Oz Show and Vice Chair and Professor of Surgery at Columbia University will educate Vemma Brand Partners about nutrition in an intimate and interactive, town-hall-style event. A select group of Brand Partners will have the opportunity to join Dr. Oz for a photo shoot opportunity, with all proceeds to be donated to HealthCorps, the proactive health movement he founded with his wife, Lisa, that works to fight the obesity and mental resilience crises through a peer mentoring program in high schools. Its goal is to get American students and communities across the country to take charge of their health.
Chris Powell, star of Extreme Makeover: Weight Loss Edition®, Vemma® Bod-e™ Product Endorser and author of Choose to Lose: The 7-Day Carb Cycle Solution, will discuss Vemma's newest product line, a first-of-its-kind healthy weight loss solution.*†
Successful publisher, author, entrepreneur and sought-after keynote speaker, Darren Hardy, will teach attendees how to increase their leadership potential and business savvy, sharing insider industry information and firsthand success techniques.
"I am excited about the upcoming Vemma Believe 2012 convention and thrilled to share this incredible lineup of speakers who believe in Vemma, our mission and our commitment to helping others," commented Vemma Founder and CEO, BK Boreyko.
Vemma won a Stevie Award for Best Trade Show or Convention for last year's Vemma Power of Why Convention 2011 at the 2011 American Business Awards.
About Dr. Oz:
Two-time Daytime Emmy Award-winning host of Emmy Award-winning The Dr. Oz Show, Dr. Mehmet Oz is Vice Chair and Professor of Surgery at Columbia University. He directs the Cardiovascular Institute and Complementary Medicine Program at New York Presbyterian Hospital. His research interests include heart replacement surgery, minimally invasive cardiac surgery, complementary medicine, and healthcare policy. He has authored over 400 original publications, book chapters, and medical books; has received several patents; and performs more than 100 heart surgeries per year.
About Chris Powell:
Chris Powell is the star of the hit, prime time show Extreme Makeover: Weight Loss Edition®, which will return for a second season in spring 2012, and author of Choose to Lose: The 7-Day Carb Cycle Solution. Chris holds a degree in Exercise Science with concentrations in biomechanics and physiology, and the training accreditation of Certified Strength and Conditioning Specialist (CSCS). Powell is a recurring expert on Good Morning America and The Dr. Oz Show and has appeared on The View, The Talk and many other local and national television shows. Powell also writes a regular column about healthy living for The Huffington Post.
About Darren Hardy:
Darren Hardy has been engaging and inspiring audiences with his messages of personal achievement for more than 17 years. As publisher and editorial director of SUCCESS magazine, Darren is in the unique position of sitting down with the leading experts on human performance and achievement, as well as many of today's top CEOs, revolutionary entrepreneurs, superstar athletes, entertainers and Olympic champions, to uncover and share the success secrets behind their extraordinary success. Darren shares these coveted insights in his keynotes. Darren's highly valued, actionable, and results oriented content along with his witty, commanding, and engaging style have made him a favored keynote speaker to audiences of 50 to stadiums filled with over 20,000 people all over the world.
About Vemma:
Founded in 2004 by BK Boreyko, Vemma Nutrition Company is rapidly growing as one of the premier industry leaders specializing in premium liquid nutrition. Every day thousands of people join the Company's mission to make a positive difference in the lives of others through the sharing of the clinically studied Vemma formula. Vemma wellness products coupled with the company's rewarding business opportunity help people live a better quality of life, physically and financially. Vemma is headquartered in Scottsdale, Arizona, and distributes its products through a global network of independent Brand Partners operating in over 50 countries. For more information, please visit vemma.com.