Ruth Elliott – Vemma Top Earner Interview
January 25, 2012
By Team Business For Home
Royal Ambassadors Ruth and Jeff Elliott are the second-highest Top Earners with Vemma Nutrition Company. The Elliotts reside in Normal, Illinois and are living what many would consider "the American Dream."
They've built an organization of over 200,000 representatives with estimated earnings exceeding $7.8 million since 2006 and combined sales revenue over $180 million.
Ruth actively built the business as a stay-at-home-mum and is supported by her loving husband Jeff, a retired Fire Fighter. Not only is Ruth an amazing wife, mother and grandmother, but she's also a successful career woman and role model to many. Ruth has been named "Best Entrepreneur – Service Businesses – Up to 100 Employees" in the 7th annual Stevie Awards for Women in Business.
Ruth and Jeff have two adult children and their family continues to grow. They are proud parents and grandparents to Eric Elliott (26) married to Laura, who now have 2 children of their own, and Jennifer (28) married to Jeremy Donhardt, who have 3 children and one more coming in May 2012.
Ruth never personally enrolled anyone outside the USA, but she now leads a team that spans 50 countries around the globe with a strong presence in Europe and Asia. How did she do it? Ted Nuyten had the honor of interviewing Ruth.
Ruth, who introduced you to the networking Industry?
I started in 1988; I was introduced to the network marketing business through an acquaintance that was enrolled in Matol. I did not have any professional skills; I was a stay-at-home-mum.
However, I was a good promoter so I partnered with the Boreyko family and invited my guests to home parties where we filled every seat. That quickly resulted in a $100,000 per year income. As we grew, I grew, and over the years I continued to pick up more skills and hone what I acquired. Between my growing residual income and my husband's income, we had a great life.
The Elliott Family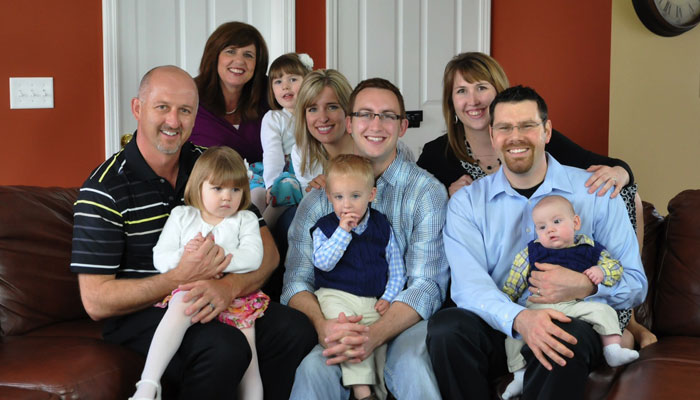 So you have had an easy life since then?
No
t
exactly
,
life is filled with ebb and flow and we encountered our fair share of challenges
both personally and professionally.
M
y network marketing company business slowed dramatically when both of our children became ill.
A
t that time
, my
13-year old son was diagnosed with
a
brain tumor and our daughter developed bacterial meningitis. Both she and her brother had to relearn many of the skills they had taken for granted after surgery. It was a rough five years. We had to downsize, sold our home and basically started over. We
were
not in
n
etwork
m
arketing for a long period
of time
.
Ruth Elliott – Royal Ambassador
https://www.youtube.com/watch?v=iRfXoMHd5So
How did you get involved in MLM again?
Through my sponsor, Lizz Samuelson; I received a phone call from the founder of a network marketing startup, BK Boreyko. He asked me to be part of the launch of Vemma and I signed up under Lizz.
However I was not working the business for 5 months as I still had a family-first focus. I was inspired to work the business when I saw the results with my own eyes. My husband, who was on Vemma, experienced results that motivated me. I believe Vemma's products are the finest health and wellness products in America today. I had to start all over again building a business.
I contacted my friends Gary and Marla Brady who teamed up with me. Thankfully, Gary and Marla were open-minded enough to give it a chance. That was the beginning of a multi-million dollar MLM business.
How large is your Vemma team?
Over 200,000 people worldwide, seven out of the ten top earners are in my team. Through the power of TEAM there are 36 team members in the Top 50. There are about 50,000 members outside the USA in 50 countries. I have strong teams in Austria, Sweden, Switzerland and Asia and I never personally enrolled anybody outside the USA.
There you see the full power of network marketing. Twenty levels deep, Clay Jackson found Harald Maier, who built a large organization in Austria and Switzerland; Brian McMullen built a large group in Sweden under Anders Karlsson and Matt Morrow is working in Asia.
| | | |
| --- | --- | --- |
| | | |
| With Vemma CEO BK Boreyko | 4 wheel Fun in the Nevada desert | A proud team |
What do you like about MLM?
It is an equal opportunity for everybody … a level playing field with no limitations. With word-to-mouth recommendations you can build an empire. You can work around your own limitations and work as a team. My philosophy: It is a people's business.
Lizz Samuelson is your sponsor, I guess she is happy with you?
I am very happy with her! She is one of the best sponsors you can have. She gets a 10% matching bonus because of my business which gives her a great residual income, one of the advantages of the binary compensation plan. Although I have developed a stronger organization, Lizz as my sponsor is rewarded.
What don't you like MLM?
How could I possible say I do not like anything? It made me a millionaire as well as seven others. Honestly, I cannot say anything negative.
Ruth Elliot as Corporate Presenter
https://www.youtube.com/watch?v=AHtNAPyMlHo
Could you tell us about when you received a Stevie Award, for women executives and entrepreneurs worldwide?
I was honored simply to be nominated already for a Stevie Award. The moment they called my name as the winner, my goal was to deliver the acceptance speech with poise and sincerity.
Though I am a woman of confidence in the world of network marketing and am known for knowing what to say, I was unprepared for the emotional roller coaster ahead of me that evening. I overheard conversations about scholastic achievements that were far beyond my high school education.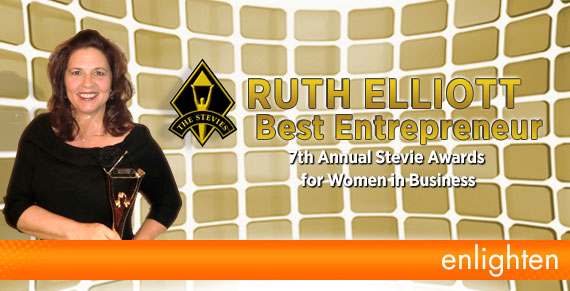 The opportunity did not arise for me to share my bio, which includes receiving an "F" in General Business in 1975, but I laughed imagining the buzz kill of that conversation! I met authors, inventors, and engineers who all seemed far more deserving of this award.
The industry of network marketing provides a level playing field for people across the world to be paid on time, talent and effort. This was why I was a recipient of this incredible gift. I found myself in the company of women from almost every industry and education level, from PhDs to authors and engineers, and yet somehow I won. My success story comes from the privilege to partner with the greatest company in the world. The company provides the educational and professional talents that allow ordinary people to make extraordinary incomes.
Where do you see Vemma and Ruth over the next 5 years?
I am convinced Vemma's new weight management product Vemma Bod-e will bring us to a whole new level. It will skyrocket the company!
My goal is to create 30+ millionaires. Bod-e has already done $1 million in its first week. Vemma could very well be a $1 billion company in 5 years as a result of Bod-e.
Ruth's International Team Millionaires
Gary and Marla Brady
Clay Jackson
Matt Morrow
Harald Maier
Hannes Sommer
Brian McMullen

Anders

Karlsson
What is your advice for a newbiein MLM?
Take it seriously in your first 30 days. Look at people's momentum and let them know you are exited. The longer you are in the business the more you learn. This is not a hobby; if you want to create a full-time income take action!
What are you favorite personal development books?
The Go-Giver by Bob Burg and John David Mann
• The Noticer by Andy Andrews
• The Traveler's Gift by Andy Andrews
• Start with Why by Simon Sinek
• Choose to Lose by Chris Powell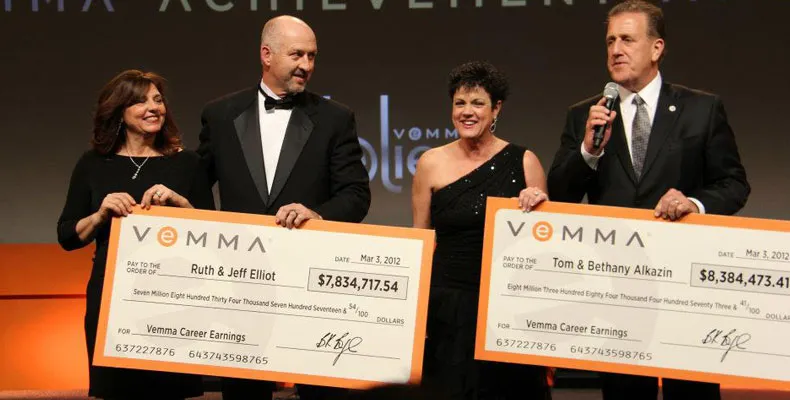 Ruth and Jeff achieve balance by always scheduling daily exercise time and setting their schedules around that. "Online meetings and webinars keep us connected worldwide with our Brand Partners," she says. "We also do one-on-one meetings." Before going to bed each night, she makes a list of the six most important things she needs to do the next day.
Ruth and Jeff can be contacted through Facebook or through www.bodetime.com