Direct Selling 2011 Growth 12.4% for Public Companies + Amway
February 26, 2012
By Team Business For Home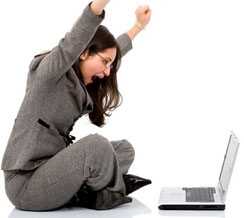 Huge Growth In A Weak Global Economy!
Below spreadsheet represents the annual revenue for 8 large public Direct Selling companies for 2010 and 2011 and the grandfather of Network Marketing Amway.
It represents approx. 24% of the total Direct Selling market which is estimated by the WFDSA (World Federation of Direct Selling Associations) on $132 billion.
As an independent distributor revenue growth is what you are looking for as it feeds the holy grail of MLM & Network Marketing: MOMENTUM
The total combined revenue for the public companies is $29,072 million for 2010. For 2011 the revenue is $32,674 a growth of $3,602 million or 12.5%.
Herbalife had the largest overall growth $766 million at the public companies. Visalus the largest growth in percentage: 579,4%.
Only one company was flat: Oriflame. Oriflame says that its fourth quarter results were 'slightly weaker' than expected, hit by a falling demand in both the EMEA and CIS markets.
Young distributors and Direct Sales prospects have often a concern: Will the Direct Selling market Saturated?
Above facts give the answer: The Direct Selling Market Has No Saturation …
| Rank | Number | Company | Revenue 2010 in $ Million | Revenue 2011 in $ Million | Growth in $ Million | Growth in % |
| --- | --- | --- | --- | --- | --- | --- |
| 1 | 1 | Avon | $10,731 | $11,112 | $381 | 3.6% |
| 2 | 2 | Amway | $9,200 | $10,900 | $1,700 | 18.5% |
| 3 | 3 | Herbalife | $2,734 | $3,500 | $766 | 28.0% |
| 4 | 4 | Tupperware | $2,300 | $2,585 | $285 | 12.4% |
| 5 | 5 | Oriflame | $2,007 | $1,982 | ($25) | -1.2% |
| 6 | 6 | Nu Skin | $1,537 | $1,743 | $206 | 13.4% |
| 7 | 7 | USANA | $518 | $582 | $64 | 12.4% |
| 8 | 8 | ViSalus | $34 | $231 | $197 | 579.4% |
| 9 | 9 | Lifevantage | $11 | $39 | $28 | 254.5% |
| 10 | | | | | | |
| 11 | | Total | $29,072 | $32,674 | $3,602 | 12.4% |