Joni and Chad Robbins – ViSalus Top Earner Interview
February 15, 2012
By Team Business For Home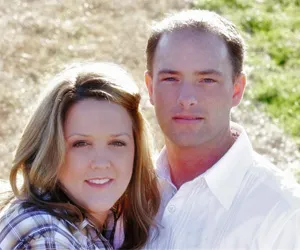 Joni and Chad Robbins are 2 stars Ambassadors with ViSalus Sciences.
The Robbins family resides in Nashville, North Carolina, USA and have two sons Anson who is 11 years old, and Ethan who is 8. Joni was a hairdresser, from 1994 to 2009 before she found Network Marketing.
Chad is still employed with the local telephone company where he has been for the last 15 years. Joni enjoys homeschooling their boys and having them travel with her when possible. They love the carefree lifestyle Network Marketing has afforded them.
In December 2009 Joni enrolled into her first Network Marketing company. Her intentions were to make a little bit of money in her spare time. What happened was she found a love for an industry many know little about. In March of 2010 changes in the economy made earning an income in her first company rather difficult.
A friend of theirs, Jim McIntyre convinced them that promoting the 90 Day Challenge would be a perfect fit for them and that they could really change their financial situation with a strong work ethic. Now this couple make an estimated $35,000 a month with their distributorship. Ted Nuyten had the honor to interview Joni and Chad.
Joni, how did you got involved into Direct Selling, why where you interested in the business model?
We had a neighbor that was in a health and Wellness MLM company and I (Joni) saw great results with the product. I immediately began to think of friends that could use the product and maybe have the same results I did. It didn't take long to figure out someone was going to get paid for these referrals, so why not me!
Who is your sponsor in ViSalus and why did you team up?
Our sponsor is Jim McIntyre, 2 Star Ambassador from Youngsville NC. I think his excitement and positive attitude is what won us over! It took several weeks for him to convince me that I should do this. We knew he would be there for us through thick and thin, and he was!
Is your sponsor still active / enjoys the rewards of introducing you as a top earner?
Jim is active and is working the business too. He is very proud of us and what we have done in a short period of 23 months. We really did not have any team or leaders to bring over to Visalus we built it from the ground up with our best friends.
| | | |
| --- | --- | --- |
| | | |
| $25,000 Ambassador Bonus Check | The free Told you so BMW | Going through the ranks |
Did your family support you from the beginning or did they not understand it at all in the beginning?
They did not understand in the beginning. My dad would always "check in" with me month to month and see how "that thing" was going. They did not know that the sacrifices we were making then would pay off so well. They are very proud and happy for us. We would not be where we are today without them. They know Visalus has changed our lives and the lives of many others. Now we have the pleasure of blessing them!
How large is your down-line / team and what do you make per month on average?
We currently have over 7,300 distributors in our down line, and we are over the 13,000 mark for customers too. Our income on a monthly basis is over $34,000.
How many people did you sponsor, are you still actively recruiting?
We have sponsored over 60 people and we actively recruit each day. We are very blessed to have had several couples join us at the beginning of our career with ViSalus. Jon and Jennifer Faulkner 2 Star Ambassadors of Red Oak NC trusted us with blind faith and are our very best friends.
I must contribute some of our success to Jon. He was the first person to encourage me to read and listen to positive books on a regular basis. Tom and Windy Elliott 2 Star Ambassadors of Emporia Virginia have been some of the best team leaders you could ever ask for. They are always reaching down to the newest person and helping them get started properly. Thanks to a post on facebook back in August of 2010, Thomas and Shellie Davidson 2 Star Ambassadors of Cambridge Ontario Canada and One Star Ambassadors Jim and Trish Howe came into our lives.
Now half of our team resides in Canada. Steven and Carmen Gilchrist 1 Star Ambassadors of Coats NC were very instrumental in our strong start since they were the most seasoned networkers on our team. We are very excited about what the future holds for us with this company. When ViSalus expands around the globe, we look forward to meeting new friends in places we have only dreamed of visiting.
The Robbins Team
| | | |
| --- | --- | --- |
| | | |
| Thomas and Shellie Davidson | Tom and Windy Elliott | Steven and Carmen Gilchrist |
| | | |
| Joni's Sponsor Jim McIntyre | Jon and Jennifer Faulkner | Jim and Trish Howe |
Many people find it difficult to get duplicationin, what did you do to have this challenge solved?
We just try to keep it simple! If we see promoters wandering off and not following the system, we try and reel them back in! Fortunately we have a Getting Started Training that is so simple to follow. We encourage anyone not seeing the results they want to see to simply re-start by going through that training again.
What is the biggest advantage of MLM?
MLM is a career that you can start at any age, young or old. At any education level…it doesn't seem that education determines someone's paycheck at all, but work ethic certainly does! So in other words if you are willing to work, you can practically write your own paycheck!
Is there something you do not like or would like to improve in the MLM business model?
YES! And the stigma that sometimes surrounds the industry. And if you take a really close look at ViSalus I think you will see that we are changing that pretty rapidly! The culture of ViSalus is so much fun! We aren't stuffy at all!
Why are you successful?
I think our success comes from putting other people's goals before our own. Sometimes you must be willing to take your eyes off yourself and focus on someone else's goals and dreams. I promise if you will do that, one day you will look up and your dreams will have also come true!
What are your goals for your team?
We desire to see our teams meet their goals, whether large or small. For some people their goal is to make a few hundred dollars per month and just be able to make ends meet. For others it is to make the kind of income that will leave a legacy for their families, and there are many in between. With ViSalus they can choose the amount of effort they want to put forth and decide what's best for them. Twenty one of our team members have reached the level of Ambassador ($25,000 Bonus) and we are so proud of them! But we are equally as proud of the hundreds of BMW qualifiers that now have a little extra to enjoy life more.
Which personal development books do you recommend?
Oh there are so many! I always have to say Good to Great by Jim Collins…why do you want to settle for just being "good" when you have everything you need inside you to be "great"? And of course the best seller of ALL time, THE BIBLE. Everything you could ever need to know about people is right there! I highly recommend the book of James to start with. It is short and the lessons are so important to anyone who works with people.
What would be your advice to a MLM newbie?.
Well, my best advice would be to please listen to your mentors! They see new people come in everyday and they know what works and what doesn't. If there is a proven system, your best bet is to follow it! Have faith in your leadership, one of the best things about MLM is that you will have multiple leaders to learn from. Try to learn a little something from each person and become a better YOU each and every day! Often times someone doesn't see success in MLM because they need personal development. Use the early morning and late evening hours, when you wouldn't be able to make phone calls, to read good positive books.
ViSalus Body by Vi Explained by 5 Year Old
https://www.youtube.com/watch?v=XBPfx2NNDuI
Joni and Chad Robbins:
Website: www.joniandchad.com
Joni 252-904-7114 cell
Chad 252-314-3929 cell