Onyx Coale – MonaVie Top Earner Interview
February 20, 2012
By Team Business For Home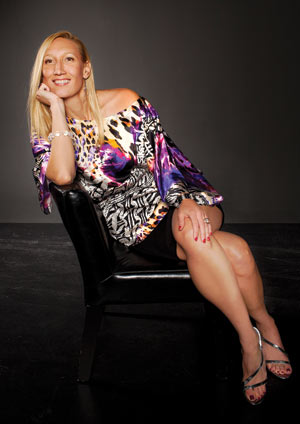 Onyx Coale is a Royal Black Diamond in MonaVie and one of the highest paid women in the Direct Selling Industry. Her estimated life time earnings are $14+ million in 6 years. She is a healthy, happy, 45 years young, single mother of three great girls. She loves running on the beach in South Florida, USA where she resides. She prides herself on creating leaders, and changing lives one person at a time.
She paid her way through college by waiting tables, then traveled the world in her mid-twenties.
Onyx settled in Blenheim, New Zealand, for about a decade, where she built several businesses. After starting businesses in New Zealand and taking time to travel the world, Onyx Coale returned to Florida to work in the real estate industry in 1999. She started working with MonaVie in 2005.
Despite leading a huge MonaVie organization of 340,000+ members in North America, Europe, Australia, New Zealand and Southeast Asia, Onyx still makes time to invite new recruits into her business and give presentations.
Onyx's mission is to continue promoting the network marketing profession as a path to a more prosperous, well-rounded lifestyle. Ted Nuyten had the honor to interview Onyx.
Onyx, how did you get involved into MLM?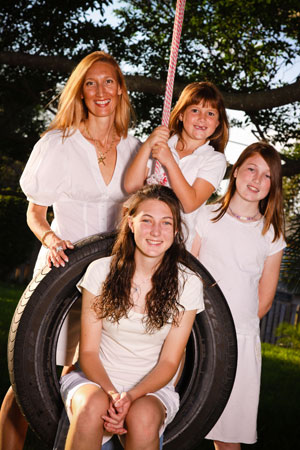 MLM was introduced to me for the first time 6 years ago. My babysitter's parents are my sponsors in Monavie. I told them NO many times before I would come to their house and listen to a presentation about Monavie.
But, once I saw those circles being drawn, and I tasted the product, and I saw the power of the binary comp plan. I knew that Monavie was a serious business opportunity.
You must be confident and know yourself
What is the size of your team, what are your life time earnings with Monavie and in which countries are your team members?
Monavie is my first MLM company and it is my last MLM company. I have been growing my business for 6 years now. I am a single Mom and my personal organization is over 340,000 distributors.
I am a Royal Black Diamond with the company (only 12 people company wide have reached this rank). In my personal business I have 6 Black Diamonds and 1 Royal Black Diamond.
I have over 50 people who have earned over $1 million USD. And I personally have earned over $14+ Million USD.
Half of my Black Diamonds are in the US and half are international. While I have biz in all 23 countries, my biggest teams are in the US, Australia, New Zealand, Malaysia, Singapore, Thailand, Korea, and India.
How has your life been changed by this industry?
This industry has changed me in so many wonderful ways. Sure I have time freedom, and financial freedom, but I have so much more. I have learned MANY things about myself, and I get to live my life's purpose – helping others. I think few people in the world get the pleasure of living their life's purpose. And beyond having a ball, living my life's purpose, my biz keeps growing and I have been honored to help create many new MLM millionaires. Not bad for a single mom.
Find your passion in your product
| | |
| --- | --- |
| | |
| Traveling to Bora Bora | Onyx on Stage |
How did you get duplication in?
I NEVER heard of Duplication until I joined MonaVie (my first MLM Company). Duplication is NOT something I strive for, I strive to create leaders, my style of leadership is called situational leadership. I meet people where they are at. I help them discover what they need to learn about themselves so that they can grow-both personally and professionally. So, I don't duplicate, I create. I believe that all people are different, especially when you take your biz internationally.
| | |
| --- | --- |
| | |
| Onyx and her husband D having fun on the Bahamas | With Indian Diamonds Jeyakumar and Dhana |
Which moments in your MLM life were decisive for you?
Some decisive moments in my MLM career where when I did NOT reach my goal date for the free Mercedes. I had a choice, pick a new date and keep working OR quit. I kept going. The day I met you Ted and you told me that I was the highest paid woman in MLM. I had NO idea. And it took months for me to digest this accomplishment. The day I helped another woman become Black Diamond and earn her own free Mercedes – WOW. I knew I was living my life's purpose.
Onyx Coale's Success Team
| | | | |
| --- | --- | --- | --- |
| | | | |
| Jianhong Lin | Cynthia Beals | Bob and Donna Bickis | Brandon Scully |
| | | | |
| Jon and Kathy Conti | Julia Ann and Gary Ehlert | Ken and Helen Suddeth | Van and Helen |
Have you had any negative experiences?
Negative experiences are common in this business. Why? I think they are part of life and I believe it's what grows us to become more. I had lots to learn about people and technology. I even had to learn Facebook and social media. I have long said that MLM is a PHD in people. And technology adds a whole new dimension to people.
The Customer is Always the Focus
What does your average day look like?
I don't believe in balance, I think this is something that is NOT obtainable for people. Instead I strive to be fully present with what I am doing, spending time with my kids, my teams, my man, or myself. So, my average days look very different depending weather I am home or traveling for my teams. If I am home, I make the kids breakfast and take them to school.
While they are at school, I work with my groups on the phone or Skype. I collect them from school and I am fully present for them. If I am traveling with my teams, I am meeting people, leading meetings, taking calls, I am focused on growing business.
| | |
| --- | --- |
| | |
| Onyx Coale's Mexico Team | Onyx Coale's Malaysia Team |
Are you still actively recruiting and how do you work?
I am still actively recruiting for my Monavie business. My newest distributors are Jeyakumaran and Dhana from India. I am VERY excited to work in India. Monavie opened in India a few months ago and I have already made 2 trips. I love the people, the food, and the culture is so amazing. I think we could all learn a lot from this amazing country and its people.
There are 1.3 Billion people in India, 20% of the world's population, its mind boggling really. And their culture is 10,000 year old – WOW.
The More You Learn, the More you Earn
Who is your biggest mentor / motivator and why?
My mentor in this business was a cross line leader in MV, Darrell Utterbach. He was a GREAT man, and he passed away about a year ago. But, before I knew Darrell and through my life I have had many mentors some I know personally and others only through their books. I consider Anthony Robbins, Robert Kiyosaki, Randy Gage, Mike Mahaloney, Andy Andrews, Brian Tracey, and Earl Nightingale my mentors.
Onyx Coale for Network Marketing TV about Inviting
What is your best tip for a MLM newbie in general?
My best tip for ANYONE in this business is to master the skill of inviting. This is the single MOST important activity in the MLM business. When you master this skill, NO one will be able to stop your business from exploding!!!
Onyx Coale's Contact details:
Facebook: Onyx Coale Presents
Onyx Coale's Facebook Friday success tips