SevenPoint2 Review 2012
February 14, 2012
By Team Business For Home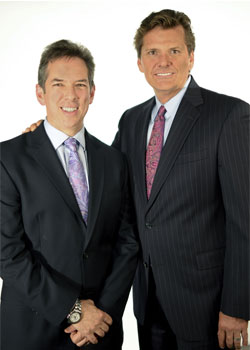 SevenPoint2 is led by the Jason Boreyko – CEO (photo) and Dr. Howard Cohn – CPO. The company pre-launched in Newport Beach, California on October 1st, 2011. SevenPoint2 has its head offices in Newport Beach, California, USA.
Jason Boreyko served as CEO & Co-Founder of New Vision International. Under his leadership New Vision was the fastest growing Network Marketing Company in the world and reached $100 Million in Sales in just 13 months. It went on to generate over 1.4 million members and moved over 1 billion in total sales.
Dr. Howard Cohn has lectured and taught internationally on the subjects of diet, nutrition, and natural and alternative health care. He's spent over 17 years in the direct sales and network marketing industry as a product and sales trainer and has been intimately involved in product development and testing of thousands of nutritional and health products since 1990.
SevenPoint2 primarily believes that maintaining an inner pH of 7.2 is the key to a healthy lifestyle and as such their products reflect this. The company markets a range of products designed to help you achieve what they call an alkaline lifestyle.
https://www.youtube.com/watch?v=k-WNO4mGcBA
CLICK HERE TO RECEIVE YOUR FREE SAMPLE OF THE ALKALINE PRODUCTS!
SevenPoint2 Products
SevenPoint2 is a Category Creator they are the first company in history to make Alkalinity simple and easy. The SevenPoint2 vision is to lead a Worldwide Alkaline Movement and create the next billion dollar giant in our industry.
SevenPoint2 has raised the standard with the highest-quality certified organic ingredients. They are the first company in this industry to take a stand for creating products that are 100% free of allergens and artificial ingredients are gluten-free, dairy-free, soy-free, sugar-free, whole food, raw, organic, vegan, non-GMO AND taste amazing!
If you want to represent a real nutritional product line, SevenPoint2 is the one for you. SevenPoint2 is focusing on a Huge Niche Market that until now was largely untapped, the Alkaline movement.
SevenPoint2 is currently introducing a 72 Day Alkaline Weight Loss Challenge to North America.
Niche markets are the road to success in this billion dollar industry and getting in early is always the way to be sure you profit. The Gluten free market alone did 6 Billion dollars last year. The Alkaline Movement, reaches a broader range of people while still maintaining the "niche" status.


SevenPoint2's product range includes:
7.2 Vegan Shake: This low glycemic, high performance vegetarian super food assists your body in burning fat and becoming alkaline all at the same time. It is an excellent source of high quality, low carbohydrate protein with an extensive array of naturally occurring amino acids.
7.2 Greens: A delicious, revitalizing essential supplement designed to gently detoxify the body and help you achieve an alkaline lifestyle.
7.2 Alkaline Booster: After having an acidic meal and/or beverage, this product works instantly to bring you from acidic pH levels to alkaline.
7.2 Coffee Drops: Makes your coffee 200x's more Alkaline! Acidic beverages such as water, coffee, or tea can become healthier by using these tabs.
CLICK HERE TO RECEIVE YOUR FREE SAMPLE OF THE ALKALINE PRODUCTS!
SevenPoint2 Offices
SevenPoint2 Compensation Plan
SevenPoint2 has implemented an Uni-Level Based Compensation Plan – including fast-track bonuses, matching bonuses, an Elite Car bonus and a Nothing Beats Free program. When three Preferred Customers go on Auto-ship with combined volumes totaling three times your Auto-ship order, your product is free the following month.
There are multiple ways to earn:
Initial Purchase Bonus: Distributors are paid on the initial product purchase of a new associate, and are paid to the first four active up-line associates in the enroller tree. This bonus is paid weekly.
Fast Track Cash: To qualify for this bonus an associate must hit the rank within 6 months of enrollment date and maintain rank for 3 months. If ALL ranks are achieved up to and including Black Diamond, the Bonus amount would total $34,000. This is a onetime bonus. Plus 50% Matching Fast Track Cash Bonus to the enroller.
Black Diamond Leadership Bonus: Help someone else within your organization to achieve the rank of Black Diamond; this bonus will be an additional 2% through that first Black Diamond's 8 compressed levels, and you will still earn a 2% bonus until you hit the second Black Diamond.
Black Diamond Infinity Bonus: Once you achieve the rank of Black Diamond, you will earn a 2% bonus on all the CV Volume from your level 9 through to the second Black Diamond.
Leader Enrollment Bonus Pool: 2% CV from the previous months of company-wide production is placed into the Leader Enrollment Bonus Pool.
Achiever qualifications: Achieve the Rank of Silver in the enrollment month or the following month and earn Double the Points on the Leader Enrollment Bonus Pool for life.
Uni-level Bonus: Pays up to 8 Levels down on your entire organization.
Matching Income Bonus: A reward for leadership starts at Platinum (10%), increases to (12%) at Diamond and then you enjoy (15%) at Black Diamond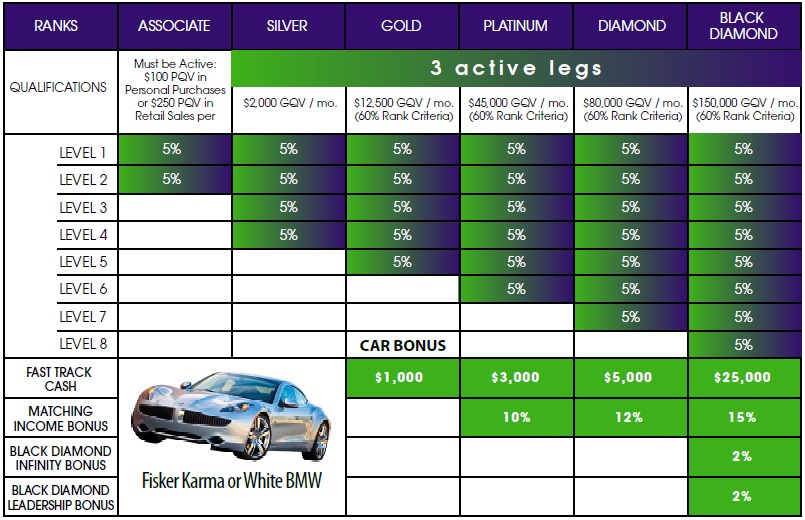 SevenPoint2 Corporate Leadership
Jason Boreyko

CEO

Dr. Howard Cohn

CPO

Daniel M. Cortes

CFO

Danielle Cohen

VP of Programs
SevenPoint2 Top Producers
[private_platinum]
Mike Zanardelli – Black Diamond
Jordan Klause – Diamond
Darla LeVeque – Platinum

Jessica Albuquerque

– Gold
Dr. Robert Hecht – Gold
Karie Simmons – Gold
Warren & Pam Chambers – Diamond
Cyndy Parkinson – Gold
[/private_platinum]