Scott & Sue Olsen – MonaVie Top Earner Interview
June 5, 2012
By Team Business For Home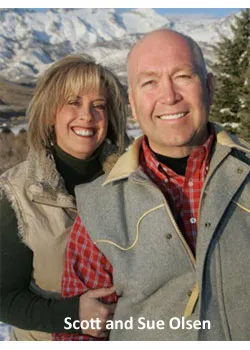 Scott and Sue Olsen are the International Founding Distributors in MonaVie (master distributor), Presidential Black Diamonds, and the first distributors signed up in MonaVie. They live in Alpine, Utah, USA and have 5 children, Justin, Owen, Andrea, Whitney, Parker Olsen the youngest son and they are grandparents to 6 grandchildren.
Scott and Sue Olsen have been in the network marketing and direct sales industry for 25 years, since 1981 having traveled across the country building businesses with Cambridge International, Nuskin, Rexall, I-Link International, Wave5 and previous to MonaVie, Morinda International. Scott and Sue have been written about in Up-line Magazine and later in Success Magazine as a new leader in the industry.
In 2001, Scott and Sue joined Morinda International, the parent company of Tahitian Noni, and began marketing a global business. Their group spread thoughout the world and two years later was grossing over $1 million dollars per month in sales volume. In Oct 2003, after 4 months of consulting with Monarch Health Sciences, the parent company to MonaVie, Scott and Sue sold their Tahitian Noni business and became the first distributors for Monarch Health Sciences. The MonaVie Division opened in January of 2005.
They have all the volume and all distributors in MonaVie in their down-line, with famous representatives as Angel Matos, Ken Porter, Steve Merritt, Brig Hart, Orrin Woodward, Oynx Coale, Corbin and Holly Roush,
Gem Morris, Marcelo Serakides, Allen Turner, Akira Tamai
and
many others. This is a networking process, you never know who people know that can end up connected to you in your downline. They travel all over the world building their business and supporting their teams.
Scott and Sue have business teams growing in 23 countries. Over 70 Black Diamonds reps, and over 100 millionaires in their worldwide organization and over 3 million people that have enrolled. They have earned millions in career earnings at Monavie, and through their 30 years as networkers.
Dallin Larsen, CEO MonaVie said: The company would not be where it is today were it not for the efforts, determination, commitment, persistence, and passion of Scott and Sue Olsen.
Ted Nuyten had the honor to interview Scott and Sue Olsen.
Scott, how did you got involved into the Direct Selling Industry
We were first exposed when we were in our early 20's, my first experience was short lived. Then a close friend told me about another young blooded company called Cambridge International, we got involved and began to learn about the industry and how to be a networker, that was over 30 years ago.
I have spend many years learning from many great leaders in the industry.
Scott and Sue Olsen – Royal Black Diamond
Why where you interested in Direct Selling as Business Model?
The idea of creating a stream of income that would pay you in the future was very attractive.
Calling For Thailand
How did you got involved into MonaVie?
I had a friend call me and tell me Dallin Larsen was starting a new company, I had known Dallin from the past in another company.
You started as the first distributor – the Nr. 1 – how did you got your first Business Partners?
Becoming the first distributor ever signed up in Monavie was challenging, no products, no materials, no company name yet, so we had to sell the vision of what was to become a massive company someday, based on what I knew would happen from my past years of experience. We contacted close friends and associates we knew, Angel Matos, Gem Morris, Allen Turner, and many others.
| | |
| --- | --- |
| | |
| Having Fun in Bora Bora | Travelling in Ierland |
You had massive success, why did people team up with you given the fact that MonaVie was a startup in 2005 and start-ups are considered High Risk.
We believed in the vision of the company and the Founders, we knew we would succeed, we all believed and never lost believe, people want to be connected to people that have a vision.
To get duplication in, could be a challenge for new distributors, what is your advice to reps?
Duplication is the key to this business. Follow a proven system. Systems create activity and duplication, activity and duplication create income.
Scott Olsen in Brazil
Is there a culture difference in the USA and in other regions towards MLM?
I believe that everyone in the world all want the benefits that MLM has to offer, regardless of the country people live in. Some network closer than others in their relationships when it comes to different country's.
Scott and Sue Olsen Team Members – Among many others
| | | | |
| --- | --- | --- | --- |
| | | | |
| Ken and Carol Porter | Brig and Lita Hart | Gina and Steve Merritt | Orrin and Laura Woodward |
| | | | |
| Onyx Coale | Marcelo Serakides | Corbin and Holly Roush | Sandra & Angel Matos |
| | | | |
| Allen Turner | Gem Morris | Akira Tamai | Todd and Angelique Hartog |
What wishes, goals and plans do you have for the future?
We hope to enjoy the benefits of residual income and have plans to continue to expose to people the power of networking, and help people realize the freedom it can create for them.
If you could change one thing in the MLM industry what would that be?
Changing one thing in the industry would be to help people understand the true freedom that it offers to those that are willing to pay the price to succeed.
In conclusion, do you have a success tip for our readers?
Plug in and learn all you can and Persist, No Matter What
$300,000 Presidential Black Diamond Bonus
Contact Details Scott and Sue Olsen
Skype: Dprranch