Aydar Gubaydullin and Elena Dmitrenko – Nu Skin First Blue Diamonds in Russia
August 5, 2012
By Team Business For Home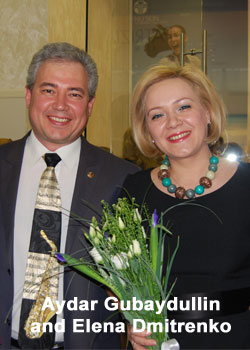 Aydar Gubaydullin and Elena Dmitrenko are the first Blue Diamonds in Russia.
Aydar says: In December 2011, we set a challenge and clearly defined what we wanted, and why the old plans have not yet been implemented. Not enough time, persistence and systematic work. We just got angry at ourselves and decided that we had to do this! Then everything started coming together…
Now, we've opened our diary and counted the number of meetings that have been conducted with customers and partners during the last three months. In January, this number was 57, in February: 104 and in March: 192. During these three months, we visited five cities, met with partners and made presentations. As a result – the Blue Diamond pin title! For this period of time, we created 16 new Executives, six of them in our first generation.
These global goals are not achieved easily. This is serious, hard work. But when you see the result, you get an incomparable pleasure. Working at this pace begins to attract other people: with fiery eyes and dreams. They say: I want to work with you only. Here we see the well-known Law of Attraction in action. But it all starts with the desire and willingness to help other people to achieve their dreams and goals.
Now it is simply impossible to stop, despite all of the difficulties. Society thinks we work a lot and spend all of our time on it. However, we do not notice this, as we achieve our goals and get enormous pleasure from it.
We wish that everyone will start dreaming. Dreams are the engine of our results and achievements. Be motivated, dream and turn it into reality, then dream again and again, never give up and step-by-step go ahead!
We'd like to thank our mentors, partners, officers and corporate management for their support, faith and dedication.
Aydar Gubaydullin and Elena Dmitrenko with Truman Hunt – CEO Nu Skin