Bernard Sjauta – CEO LifePharm Global Network Interview
November 28, 2012
By Team Business For Home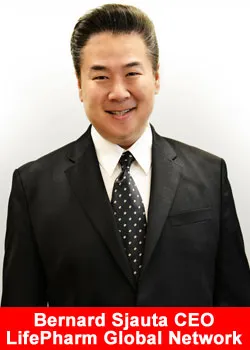 Bernard Sjauta, CEO and cofounder of rising Network Marketing company, LifePharm Global Network, is making waves as LPGN rises to the scene.
With their, one-of-a-kind scientifically based natural product, Laminine® – LPGN has entered the industry boasting over 80,000 Independent Business Owners and consumers.
The global headquarters are located in Orange County, California, USA with a staff of 40+ employees, and another 10+ team members around the world. Laminine is a product of the USA.
Ted Nuyten had the honor to interview Bernard Sjautu.
Bernhard, how did you get involved in Network Marketing. Have you been in the field?
Having been abundantly blessed with the success of our parent company, LifePharm Inc. we saw the struggles of millions in the US during these tough economic times. Although we were not born in the US, we now consider the US our home.
We knew the time was appropriate for us to focus on giving back to the society. With LifePharm, Inc. we felt we did our share of contributing to this country by manufacturing all our products in the US and marketing them in Asia. With LifePharm Global Network, we wanted to create a company that has the ability to enhance and empower people, beyond having them simply enjoy the health benefits of our product.
To answer the 2nd part of your question; no, I have never been in the network marketing field prior to being in LifePharm Global and I owe our success to the combination of our product, unique comp plan and having a professional group of executives and thousands of extremely dedicated hard-working leaders and members.
LPGN SOAR Event 5.19.2012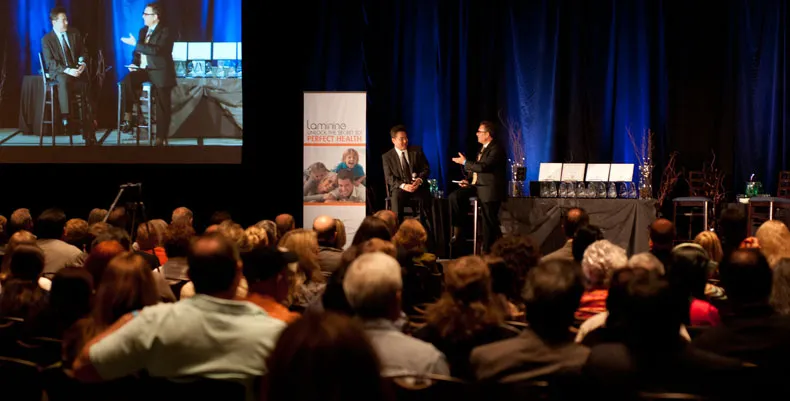 You've been open for a year now, how has your first year been?
We had a clear vision of how we wanted to create LifePharm Global Network and we worked hard to achieve this vision. We were determined to create a network marketing company that focused on its members instead of the shareholders' personal success. After all, we had already achieved success through LifePharm, Inc.
This is why our compensation plan was created 100% by our leaders without any interference from the Company. Armed with our unique product and 'By You For You' compensation plan, and nothing else, we marched forward.
I remember it was June 17th of 2011 when LPGN opened our back office and sold our first bottle of Laminine. We had zero members and only five people in our office. Our beloved Master Distributor, Stan Holden worked in the office day after day, calling and asking people to join our new company. By the first week, he had recruited 200 members.
This was how we started this journey only one short year ago. Here we are 17 months later with over 80,000 members and already congratulating our first Diamond Director. It gave us great honor to recognize Stan Holden, our Master Distributor with a $100,000 commission check along with the title to his 'fully paid' brand new Mercedes Benz.
Diamond Director Stan Holden with spouse Renee & LPGN Executive Team

Does the company have an MLM structure in other international markets?
Yes, in just one year LPGN has opened in multiple countries including Malaysia, Indonesia, Korea and the Philippines, as well as parts of Canada. And we're expanding to more locations at a steady pace. Because of our unique product and dedication to our members, we experienced exponential growth of 200% and 400% per month after only four months of opening our back office for business.
So much so that we had to make some tough decisions and we decided to pull back the reigns to control the tremendous growth within the first year. We needed to make sure the proper infrastructure was in place and that a strong foundation was suitably laid. Today, we are now poised to enter the next phase of progression.
LifePharm Global Network Corporate Team
Laminine is a unique product, what is your experience with the product?
Laminine is unique in the sense that its' key ingredient is something we've never come across before, complete with a long and rich history going back to the 1920s and numerous clinical studies showing an array of health benefits. We also know clinical studies do not mean much if the actual product doesn't work. However, when we received our first batch of Laminine, we saw that it was very effective in restoring overall health to so many different people…
It's still extremely thrilling to hear amazing testimonials everyday of how Laminine has restored health and how LifePharm Global has improved so many people's economic conditions – that is what drives us and what LifePharm Global Network is all about.
The compensation plan is developed with the input of many distributors, is it a binary and uni-level, matrix or a combination?
LifePharm, Inc.'s success was due to its unique, out of the box approach. 10 years ago, we defied the norms by manufacturing all our products in the US and selling them in South East Asia. People thought we would fail within 6 months. Instead our products became no. 1 and no. 2 in the industry, respectively. We wanted to create the same 'out of the box' approach with LifePharm Global.
So, against the advice of many industry experts, we looked to top industry leaders who helped us create a compensation plan that centered on our members' interest instead of the company's. We have since called this plan 'By You For You', which means a company created by them and centered on them.
Again, the industry experts thought we would not last more than 6 months giving so much control to the members. But we have thrived instead. We'd like to say that the 'By You For You' plan is a multi-nary compensation plan, which is a combination of Binary, Uni-level, and Matrix compensation plans.
LPGN Top Earners receiving commission checks
What are your plans and goals for the future?
Having personally seen and felt hundreds and thousands of our members' lives change before our very eyes; it gives us great satisfaction to know that we are doing our bit in helping people better their livelihood whether economically or physically.
Our goal is to spread this 'By You For You' concept worldwide and help as many people as we can. The network marketing industry is a wonderful way for members to create extra income for their household. It is unfortunate that many companies have taken advantage of this and gave the industry a black eye. In the hands of the right people whose main interest is in improving their members' lives, we sincerely believe LifePharm Global Network's message will be felt by people outside of our current markets and we will succeed in spreading this concept all over the world!
What is Laminine?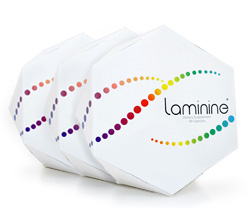 Laminine® is a unique and patented formula that provides essential proteins and amino acids. These amino acids contain the proper transport mechanisms that direct these nutritional building blocks to where our body needs it most. This natural, synergistic superfood contains most known vitamins, important trace minerals and eight essential amino acids sourced from land, sea and plant.
Laminine® unleashes a powerful repair mechanism inside all of us. It can bring physical, mental and emotional health to a new level.
Laminine® has a variety of potential health benefits, including strength, stamina, focus, improved sleep, increased libido, and sense of wellbeing. These various effects may all be related to the significant reduction of the stress hormone cortisol following the ingestion of Laminine.
Laminine is a form of a natural 'adaptogen' helping to create a state of balance and restoration, returning the body to its natural state of homeostasis. Regular use of Laminine helps to:
Moderate the stress response

Maintain healthy cortisol levels

Regulate serotonin levels

Reduce physical and mental stress

Promote more restful sleep

Build collagen for healthier skin

Reduce signs of normal aging

Improve emotional balance

Enjoy faster post workout recovery

Enhance muscle tone and strength

Improve stamina and energy

Increase alertness

Aid in brain function and activity

Increase physical and mental strength

Improve focus

Increase libido/sexual desire

Stimulate natural DHEA production

Improve the overall sense of well-being
Laminine History
In the late 1920s, Canadian Dr. John R. Davidson discovered an extract derived from the tissue in fertilized hen eggs at a precise point during the incubation period. It wasn't until almost 50 years later that the pursuit of fertilized egg extract was revived by Norway's foremost expert on egg research, Dr. Bjodne Eskeland.
Dr. Eskeland hypothesized that partially incubated, fertilized hen eggs contained a unique combination of amino acids, peptides, and protein fractions that could help provide an incredible array of health benefits upon consumption. It was found that on the ninth day of fertilization these partially incubated, fertilized eggs theoretically contain all the nutrients required to start a new life. This includes vitamins, minerals and proteins, as well as important defense factors, growth factors and hormones. It is during this very precise moment on the ninth day that this highly potent tissue is extracted.
Today
LifePharm Global Network has exclusive rights for the manufacturing and distribution of this unique blend of ingredients known as Laminine. The name Laminine is a metaphor that comes from the word 'Laminin*' which is a cellular substance found in all of us that literally "holds our cells together." The benefits people receive from Laminine are so profound that for many it is thought of as the 'glue that holds them together'- mentally, physically, and emotionally.