MonaVie Donates 75,000 Nutritional Bars to Hurricane Sandy Victims
November 4, 2012
By Team Business For Home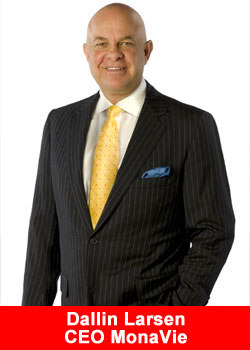 MonaVie, a global leader in nutrition products, and MORE Project, MonaVie's charitable arm, shipped 75,000 of its RVL Nutritional Bars to Feeding America, the largest domestic hunger relief organization in the nation, to distribute to victims and volunteers affected by Hurricane Sandy.
The donation was sent to Feeding America's Long Island Cares location for distribution to local agencies throughout the East Coast region.
The nutrition-packed snack bars were chosen by MonaVie's executive team because they are rich in antioxidants, contain 24 vitamins and minerals, and are easy to pack in an emergency situation.
"Like the rest of America, we were devastated to watch on the news as Hurricane Sandy wreaked havoc on our family, friends and colleagues on the East Coast," said Dallin A. Larsen, Founder, Chairman and CEO of MonaVie.
"We at MonaVie alone have literally tens of thousands of people across Delaware, New York, New Jersey, Pennsylvania and Washington DC who were impacted by this disaster.
Thankfully, Feeding America responded in a timely manner to our donation offer, and we were able to send the snack bars to their Long Island Cares location. We hope they provide that extra energy and nutrition to keep people going through this particularly stressful time."
About Feeding America
Feeding America provides low-income individuals and families with the fuel to survive and even thrive. As the nation's leading domestic hunger-relief charity, our network members supply food to more than 37 million Americans each year, including 14 million children and 3 million seniors.
Serving the entire United States, more than 200 member food banks support 61,000 agencies that address hunger in all of its forms.
For more information on how you can fight hunger in your community and across the country, visit https://www.feedingamerica.org. Find us on Facebook at facebook.com/FeedingAmerica or follow our news on Twitter at twitter.com/FeedingAmerica.
About MonaVie
MonaVie is a leading product innovator in the health and wellness category. Starting with the acai berry, MonaVie is fulfilling its mission to bring the rarest and most efficacious nutritional products to a global market. Using the powerful Community Commerce business model, MonaVie is effectively providing an opportunity to create a more meaningful life for the one billion unemployed and underemployed worldwide through a global network of more than one million independent distributors in 23 countries.
Consistent with its vision to generate abundance for people all around the world, MonaVie founded MORE Project in 2005 to empower disadvantaged individuals to break the cycle of poverty, fear and hopelessness through educational programs and services that restore dignity and provide long-term self-sufficiency. Learn more about MonaVie at https://www.monavie.com.