Talk Fusion Introduces The World's First Video Newsletters
November 7, 2012
By Team Business For Home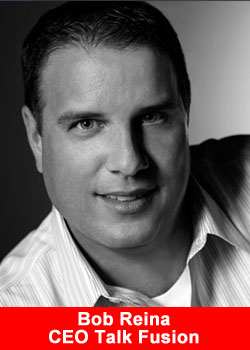 TALK FUSION LEADS THE WAY WITH THE WORLD'S FIRST VIDEO NEWSLETTERS
Global video communication company also unveils all-new Video Communications Center, introducing the new Talk Fusion Product Quick Launch.
Talk Fusion, a rapidly growing global video communication solution company, today announced that the World's First Video Newsletters are now live and available, adding to the company's growing list of cutting-edge video communication products.
Today is an exciting day," said Bob Reina, Founder & CEO, Talk Fusion. "We have launched the world's first video newsletter product, and it stimulates a multimedia experience like never before.
This game-changer allows users to build beautiful and interactive Video Newsletters in a snap. We are giving everyone around the world the greatest possible freedom to express themselves, connect with others, and meet their branding needs."
Talk Fusion Video Newsletters up the ante for multimedia email by adding both HD-quality video and unprecedented flexibility to the sort of eye-catching text-and-graphic newsletters currently offered by other companies. Users will be able to alter and edit any one of more than 400 pre-made templates, using their own video, banners, pictures, text and layout to create a look that best suits their needs.
Attractive themes designed by Talk Fusion's award-winning art department may also be used as-is.
The product's adaptability makes it a perfect fit for almost any kind of communication—from corporate correspondence with loyal customers to the family email update. The inclusion of video adds a whole new dimension of beauty, creativity and vitality. To view a select sample of Talk Fusion Video Newsletter designs, visit www.talkfusion.com/product/video_newsletters/showcase/.
The launch of Talk Fusion Video Newsletters coincides with the introduction of Talk Fusion's new Video Communication Center from where Customers and Associates can create their branded or personalized Video Newsletters and share them with everyone they know. The outstanding highlight of the Video Communication Center is the all-new Talk Fusion Product Quick Launch that easily provides point-and-click access to Talk Fusion's cutting-edge Video Communication Products.
Reina added: "Our Video Communications Center is even more streamlined and graphically driven. It will be available soon in multiple languages. This is all in response to our incredible global growth."
Talk Fusion Video Email, Video Conferencing, Live Broadcasting, the Fusion On the Go mobile app, Video Share, E-Subscription Forms, Video Auto Responders and Talk Fusion Video Newsletters, all represent both the ultimate products for business or personal use and a definitive value throughout the industry.
ABOUT TALK FUSION
Talk Fusion is a rapidly growing global company that provides a Cutting-Edge Video Communication Solution to businesses and individuals. The company, founded in 2007 by CEO Bob Reina, offers an exciting income opportunity based on a unique perspective of the Relationship Marketing business model. While other companies may pay commissions weekly or monthly, Talk Fusion has introduced the world's first and only Instant Pay Compensation Plan.
Bringing together the world with the power of video by delivering a superior Solution is a top priority because Reina, a former Hillsborough County Sheriff's Deputy, and the Talk Fusion team have a passion and enthusiasm for charity and the dream of helping people live life on their own terms. While the company adheres to the highest ethical business practices, Reina firmly believes that "with great success comes greater responsibility." To that end, his commitment to giving back has benefitted various charitable organizations. Like Talk Fusion at facebook.com/TalkFusion.
Learn more about us at TALKFUSION.com.