Tracey Walker – Empower Network Hits $332,000 In Career Earnings
December 16, 2012
By Team Business For Home
Tracey Walker from Atlanta, Georgia, USA has hit the $332,000 Career Earnings Mark with her Empower Network distributorship.
Tracey:
I was introduced to the industry of Network Marketing in January of 2007 by a good college buddy of mine. He happened to be a mortgage broker who too was facing the music of not making money like we used to.
When I saw the presentation, I signed up right away! I just knew I was going to hit the ball right out of the park…in no time flat! I listened to my thriving upline and decided to follow their lead.
However Tracey was not very succesfull.
I had a conversation with 2 of my friends, Dave Wood and Dave Sharpe in Oct 2011. They shared with me some info about a new company they were starting in an effort to help people make more percentages in the commissions they received and the platform by which this was going to be done was blogging!
YES, I thought! My favorite strategy, which had helped me to brand myself, build teams, have 5-figure income months and speak on stages was now available to others where they didn't have to learn everything from scratch like I did.
So I partnered with them right away. That was Oct 26, 2011. By May 31, 2012 (approx 7 months later) I had earned over $98,000 in commissions from Empower Network.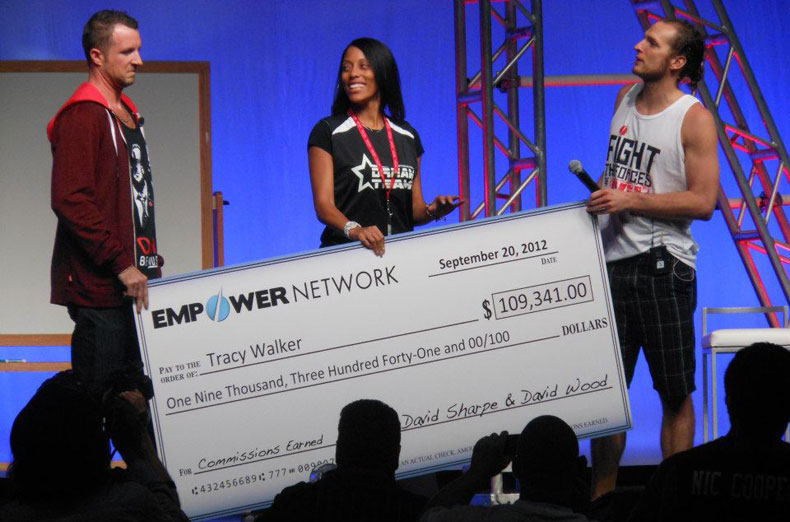 Empower Network Disclaimer:
The results mentioned above and below are extraordinary, and by no means typical. To view Empower Network's full income disclosure document and the average earnings please visit: https://www.empowernetwork.com/income.php
Empower Network Top Earners Est. Earnings:
[private_platinum]
[/private_platinum]