Jeremy Miner – WMI Hits $205,000 Per Month
February 27, 2013
By Team Business For Home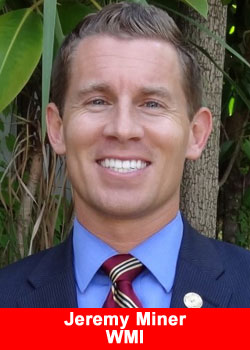 Jeremy Miner – Wealth Masters International consultant, has hit the $205,00 per month mark, which means a Top 50 place in the Business For Home Worldwide Top Earners ranks.
Direct Selling News reports 66 million people in direct sales worldwide, with over 15 million active in the U.S. Reflecting on the announcement, Jeremy said, "making the Top 50 means a lot to me when you consider that I was totally new to network marketing seven years ago. Back then I recall watching Nathan Ricks from the audience at a recruiting event, and now our names are side by side on the same list."
"Think about the significance of this," said WMI CEO Kip Herriage. "To be named in the top fifty out of 66 million people is a huge accomplishment. Jeremy's discipline and persistence earned Jeremy over $205,000 a month in 2012 for a total of nearly $2.5 million. The truth resonates, and this achievement just confirms how far a committed person can really go with a time tested business model like this."
Success as an Inc 500 sales executive left Jeremy wanting more family time without sacrificing income or quality of life. He left the corporate world in 2005 to build his own seven-figure enterprise and has never looked back. "I didn't want to be that guy in the movies who completely missed out on his kids' lives," he said. Since that time he has consistently earned over seven figures per year as a full time network marketer.
WMI President Karl Bessey said, "Jeremy's out there every day proving that network marketing is a real business that delivers real results. You can't argue with the numbers. We're thrilled to see his name in the Top 50, but we want everyone to know that they can follow in his footsteps no matter what background they come from."
About Wealth Masters International
Incorporated in 2005 and based in Sugar Land, Texas, WMI is among the world's fastest growing financial education and entrepreneurial resource companies.
Promoting Wealth, Health and Wisdom, WMI serves a growing community of more than 35,000 members and consultants with operations in the US and over 100 countries worldwide. Learn more at www.wmitoday.com.