Empower Network – 10,000 New Blogging Customers In February 2013
March 1, 2013
By Team Business For Home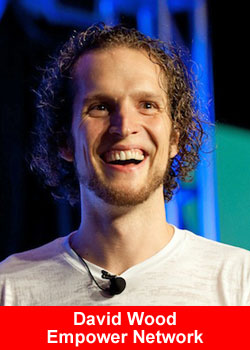 David Wood CEO Empower Network announced 10,034 new blogging customers from February 1st, through the 28th.
The Empower Network is founded by David Wood and David Sharpe and launched on October 31, 2011 and since it launched it has attracted close to 100,000 paying members and paid out over $20+ million in commissions. (December 2012).
As per February 2013 the Empower Network website received 21 million visitors and 15 million unique visitors with 34,9 million pageviews.
According to Alexa, Empowernetwork.com is already the 420 th largest global site. It attracts a lot of web traffic from Australia (Nr. 150), Canada (Nr. 189) and the USA (nr. 210) as per October 2012.
Essentially, it is a hosted platform for you to blog on, similar to WordPress.com or Hubpages.com. It fact it uses WordPress Multi User on the backend.
A basic membership to the Empower Network gets you access to the viral blogging platform and it will cost you $25 a month. if anyone signs up via your link, you get 100% commissions, sent instantly and directly to your bank account. So if someone you refer purchases a basic membership you will get $25 a month recurring commissions.
Empower Network Google Analytics February 2013:
Empower Network Top Earners est. income for 110+ affiliates:
[private_platinum]
Empower Network Disclaimer:
The amount of time it takes to achieve the stated income varies by participant. The estimates provided above were the result of an informal sampling of Empower Network participants. Basically, it takes hard work to make substantial income in this business. The income statistics above are for all active affiliates world wide for the date specified above, are based in US dollars, and update daily.
An 'active affiliate' is defined as someone who: 1) Has executed an affiliate application; 2) has an active membership with a minimum of the Empower Network blogging platform; 3)has received at least one direct commission in the last 30 days; 4) has either an approved merchant account, or integrated a payment method in the members area; and 5) has not been terminated, or chosen to discontinue for any reason.
[/private_platinum]